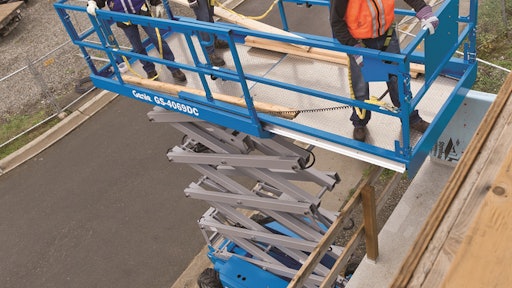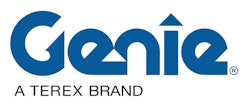 Genie says its new GS-4069 DC scissor, introduced this week at the Lift & Access Showcase & Symposium, is the world's first 40-ft. full drive-height electric scissor lift in its class. The electric GS-2669 DC and the GS-3369 DC offer similar increases capacity along with the full-drive height feature.
"Genie was the first to offer AC electric drive technology on our groundbreaking Z40/23N articulating boom. Now, we have brought this innovation to our exceptional line of electric rough-terrain scissor lifts," said Jeff Weido, Terex AWP senior product manager. "These models offer increased energy efficiency, productivity, reliability, and durability because the AC drive motors are now sealed, all of which are aimed to reduce maintenance and service costs."
The addition of electric drive motors provides emissions-free, low-noise performance in enclosed buildings. And rough-terrain capability allows the scissor series to be used outdoors for a number of applications. All three scissor lifts are capable of driving through dirt, sand and mud. Non-marking, rough-terrain tires are standard, with turf tires offered as an option.
Request More Information
Fill out the form below to request more information about
GS-2669 DC, GS-3369 DC and GS-4069 DC Scissor Lifts