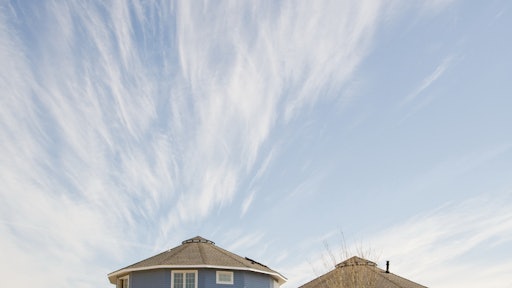 The amount of residential green building programs is numerous, but they are not all concrete specific. However, concrete does play an important role in green building. It can help earn points in multiple categories toward a green certified home, and decorative concrete is gaining popularity among home owners looking to remodel instead of buy new. The below national programs as well as many local programs are available to help you go green.
NAHB National Green Building Program
The National Association of Home Builders (NAHB) launched its new National Green Building Program in February of 2008. The NAHB program is not a rating system or certification program but rather a tool to help local green building programs and contractors who want to build green, says Emily English, Green Building Program manager.
"What the national program does is allow HBAs (home builders associations) to have something in common. It also makes it easier for a new home builder association to come on board because its members don't have to spend time setting up a program and figuring out criteria," English says.
Although the program officially launched in 2008, NAHB released its Model Green Home Building Guidelines back in 2005. The guidelines were the start to the program, which now consists of three major components, English says.
The first component is the technical component. NAHB provides a green scoring tool that helps contractors figure out what the home may potentially score when certifying it green. However, English points out this is just a tool and not a way for contractors to get a home certified.
Another technical aspect of the NAHB program is the National Green Building Standard which is waiting ANSI approval (see "Defining Green Building" sidebar on page 42).
The second component is education, including training, conferences as well as other educational tools available on the NAHB website (www.NAHBgreen.org).
A major education aspect for NAHB is its Certified Green Professional Designation. This certification comes from taking a couple courses - which are taught both locally and at national shows - signing a code of ethics, and earning continuing education credits. English says by August 2008, NAHB had certified 702 green building professionals since the program started in February.
English says after contractors earn their diplomas, NAHB provides them with logos to use for advertising as well as an imprint for business cards. "We also have a searchable directory of certified green professionals online, for those looking for an expert in green," English says.
The final component of the program is networking. "Builders can talk to each other and share information and materials," English says.
Contractors can use the NAHB program and green building guidelines in planning the concrete elements of the building process. A concrete contractor can also use the online scoring tool to calculate the number of credits the concrete work might earn and then use that when bidding on a job, English adds.
LEED for Homes
Launched in November 2007 by the United States Green Building Council (USGBC), LEED for Homes is a voluntary rating program designed to help enhance construction of residential building, says Nate Kredich, vice president of residential market development for USGBC.
The rating system consists of eight categories in which contractors must earn a certain number of points to achieve various levels of certification: certified, silver, gold and platinum. "A basic rule of thumb is that each of the successive certification levels require about 33% more points than the prior," Kredich says.
The categories are location and linkages, sustainable sites, water efficiency, energy and atmosphere, materials and resources, indoor environmental quality, innovation and design, and awareness and education.
Kredich says over 600 homes had been certified in 2008.
To get certified through LEED for Homes, a contractor needs to work with a LEED for Homes provider, go through several inspections throughout the building process, accumulate the desired number of points, and then submit the project for certification.
Concrete contractors working on green projects can earn points through their choice of materials, Kredich says. For example, using concrete for hardscapes can help reduce local heat island effects. Insulated Concrete Forms (ICFs) are also a good green resource. "Insulated Concrete Forms are called out specifically in LEED for Homes as possible strategies to meet insulation prerequisites and potentially earn points," Kredich says.
Using fly ash or slag mixes in place of straight Portland cement can earn points in the materials and resources category, Kredich says. Sealed and decorative concrete floors can also earn points in this category, as long as they contain low VOCs.
REGREEN
Not all residential green building is done on new homes, and with the current economy, remodeling existing homes seems to be a popular option. Even if the home wasn't built green that doesn't mean contractors can't remodel green.
REGREEN is a program created by the USGBC and the American Society of Interior Designers. The program consists of a set of guidelines, or best practices, for remodeling, Kredich says. The 180-page document is available free and provides contractors with a basis on how to remodel in a sustainable matter. You can find the guidelines at www.regreenprogram.org.
Concrete contractors may find the guidelines useful. For example, decorative concrete contractors can benefit from following the VOC content guidelines.
REGREEN is not set up as a rating system similar to LEED because remodeling can be a complex process. "Because the house is really just an entire system onto itself, we chose to think about remodeling in an element point of view," Kredich says.
REGREEN was launched in March 2008 and will continue to be enhanced as the program grows, Kredich says.
For example, he says they have seen interest in learning programs around core green remodeling practices, and they are looking to develop more programs based on these practices.
Defining "Green" Building
When it comes to green building, one question contractors and their customers might ask is, "What is green building?" The National Association of Home Builders (NAHB) along with other organizations have taken steps to clear up the confusion. They created the National Green Building Standard for residential construction and development as well as renovation and remodeling which received ANSI (American National Standards Institute) approval in 2009.
The standard was created to define "green" building, says Kevin Morrow, program manager for green building standards with NAHB. The nearly 100-page standard is fairly comprehensive, Morrow says. "The standard was created by a consensus committee of various interests groups representing a broad array of industry interests," Morrow explains. This included people from the building side as well as the energy efficiency side of things. "The idea was that if we could get all these parties together - each with their own idea of what green building is - that we could hammer out what would be a generally recognized standard," he says.
The standard defines six categories and four different "thresholds" for a green building point-based rating system, Morrow says. A contractor must achieve a minimum amount of points in each category to reach the different threshold levels, which are bronze, silver, gold and emerald. Contractors are also asked to acquire extra points to ensure their projects qualify as green. But Morrow says these extra points can come from any of the six categories of the standard.
The six defined categories in the standard are lot design, resource efficiency, energy efficiency, water efficiency, indoor environmental quality, and operation maintenance and building owner education. "There's also the general site development," Morrow says. "That is its own entity within the standard that has its own set of criteria, just to make sure the specific best practices for doing a more environmentally concerned project from a site development standpoint are taken into consideration."
Even though the standard is a national document, it is not a mandatory requirement for contractors looking to build green. "It's not designed to be a requirement. The standard is meant to be used by the builder and developer that want to use it with the idea that they can then make a legitimate claim that the project has been built in accordance with a nationally recognized standard for green building. It's not intended to be mandated, though," Morrow says.
The standard is also not a certification system but a tool for contractors looking to build a legitimate green home. Nate Kredich, vice president of residential market development for USGBC, says USGBC was excited about the standard. "It will provide a positive, entry-level path for builders without prior green home building experience to incorporate more sustainable practices into their products," he says.