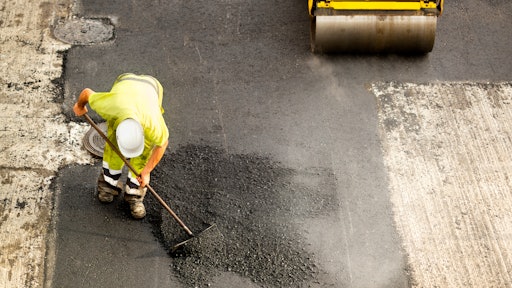 AdobeStock_184633508
According to a press release by the U.S. General Services Administration (GSA), a record $2 billion investment set aside by the Inflation Reduction Act (IRA) is now set to be distributed over 150 construction projects nationwide that utilize a special type of "low-embodied carbon" (LEC) construction materials. The funds will go to 39 different states, the District of Columbia, and the Commonwealth of Puerto Rico with the goal of supporting the the American-made market for greener, more sustainable asphalt, concrete, glass, and steel products. $384 million of the investment is specifically set aside for asphalt related projects, with more details listed below.
The IRA funds are intended to grow the industrial output of domestic manufactured goods and materials now and into the future, while fighting the effects of man-made climate change, while creating good jobs for American workers. This is in parallel with the overall Biden-Harris administration's Buy Clean Initiative.
"Today's announcement shows how the Biden-Harris Administration is delivering on our commitment to use the federal government's buying power to strengthen American leadership in clean manufacturing and jobs," said GSA Administrator Robin Carnahan. "By incorporating clean construction materials in more than 153 projects (82 involving asphalt) across the country, we're helping create good-paying jobs in the clean manufacturing industries of the future and sending a clear signal that the homegrown market for these sustainable products is here to stay."
While the investments aren't exclusive to the asphalt and road building industry, it is important to note that the federal government recognizes the need for systemic change in maintaining our current infrastructure in regards to sustainability, while mitigating any damage done to the workforce economy. Asphalt is part of the government's plans for the greener future.
The Inflation Reduction Act—the largest climate investment in history—provided $3.375 billion for GSA to invest in federal buildings to help reduce carbon emissions and catalyze innovation, primarily by acquiring and installing LEC materials for construction projects. More on GSA's LEC projects can be found in this fact sheet [PDF - 976 KB].
GSA has identified over 153 federal government buildings projects that will prioritize the procurement of LEC materials. This includes:
$384 million for asphalt
$767 million for concrete
$464 million for glass
$388 million for steel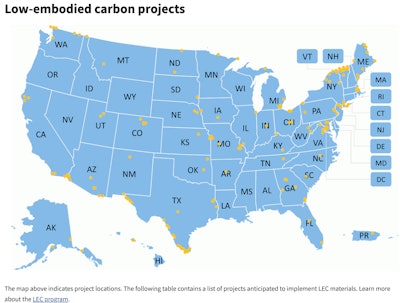 The projects include repaving, seismic upgrades, structural repairs, facade, and window replacements. It is estimated that the $2 billion investment will reduce approximately 41,000 metric tons of greenhouse gas emissions, and support around 6,000 jobs annually. It also represents another step in the Biden's administration's goal towards a net zero emissions building portfolio by 2045, and net zero procurement by 2050 without doing damage to American labor or manufacturing.
This is inline with the asphalt industry's own goals under the National Asphalt Pavement Association's Road Forward initiative working towards net zero industry emissions by 2050.
"EPA is thrilled to be partnering with GSA and other federal agencies to support construction projects that cut harmful climate pollution, protect public health, and help grow the economy in communities across our county," said EPA Deputy Administrator Janet McCabe. "At EPA, we are also working with the construction materials manufacturing industry and NGOs to help track the climate impacts of their operations and to develop a labeling program that will clearly identify lower carbon construction materials in the marketplace."
A selection of asphalt projects identified under GSA's plan are below. View the full list of more than 150 projects and a fact sheet [PDF - 976 KB] on the plan.
John W. McCormack Parking Garage - Boston
$13 million for LEC steel, concrete, and asphalt to repair and replace structural deck, vehicular travel surfaces, and other related foundation and waterproofing items within the below-grade parking garage.
Champlain Land Port of Entry - Champlain, N.Y.
$11 million for LEC asphalt, concrete, and steel to address deteriorating infrastructure including repairing and replacing aging roads and parking areas.
Joseph F. Weis, Jr. Courthouse - Pittsburgh
$16 million for LEC asphalt, concrete and steel to complete critical repairs to the building's crumbling loading dock, including replacing corroded steel members, delaminated and spalled concrete, and damaged asphalt.
CMS Headquarters - Woodlawn, Md.
$11 million for LEC asphalt to support the replacement of aged parking lots while incorporating environmentally preferable paving features to further enhance sustainability and reduce the burden on the local stormwater system.
Denver Federal Center - Lakewood, Colo.
$33 million in LEC concrete, steel and asphalt to replace parking lot, sidewalk, roadways, bridge replacement and to install new fencing, all aimed at improving safety, drainage and accessibility.
Wallace F. Bennett Federal Building - Salt Lake City, Utah
$10 million in LEC glass, concrete, steel, and asphalt to replace aging curtain wall windows and repair the plaza infrastructure.
For more information, please visit GSA's Inflation Reduction Act page or contact [email protected].