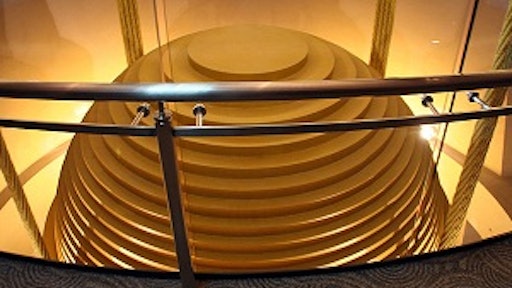 TAIPEI 101, one of the world's tallest buildings, is also now the world's greenest skyscraper.
The 1,667-foot (508-meter) tower in Taipei has earned the US Green Building Council's LEED (Leadership in Energy and Environmental Design) Platinum certification, the highest level for energy efficiency and environmental design.
Working in partnership with EcoTech International and Steven Leach Associates, Siemens' building technologies division helped TAIPEI 101's operators maximize the skyscraper's green features. Over the past two years, TAIPEI 101's building automation and energy efficiency were optimized to achieve a 10-percent saving in electricity usage, water consumption and garbage production. As a result, the tower's energy consumption is 30 percent lower in comparison to that of an average building, which helps reduce energy costs by some $700,000 a year.
The building's cooling system was made more efficient by applying improved algorithms for the chiller plant and changing the sequence of operation, as well as through energy modeling, energy audits, commissioning services and the installation of additional sensors.
"Buildings account for 40 percent of the world's energy consumption and 21 percent of the global CO2 emissions," said Hubert Keiber, CEO of Siemens' Building Automation Business Unit. "The energy and cost saving potential is substantial. Owners or operators of green buildings can not only generate a significant impact on environmental mitigation, but they can also substantially save costs over the entire lifecycle of the building."
"What makes the 'going green' of buildings attractive is that it's technically feasible and that the return on investment is guaranteed," added Peter Weiss, CEO of Siemens Ltd. Taiwan. "Buildings in Taiwan — new or old, private or commercial, single-story or skyscraper — are capable of becoming certified green buildings, thus helping to shape sustainable development in Taiwan."
Completed in 2004, the 101-story TAIPEI 101 is the second-tallest building in the world, surpassed only by the 2,717-foot (828-meter) Burj Khalifa in Dubai.