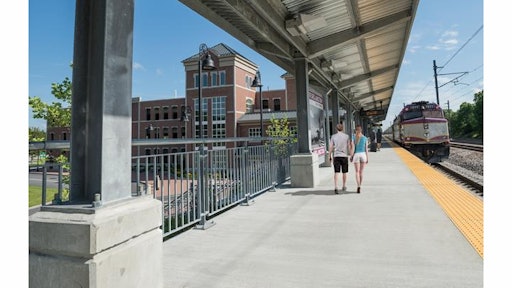 Better overall performance, an aesthetically pleasing finished appearance and enhanced sustainability are among the hallmarks of three types of Lafarge North America cement used in the construction of the Wickford Junction Commuter Rail Station in North Kingston, RI.
Lafarge Type III cement was used in the station's 662 precast concrete elements, including columns, stairs and wall panels. Its design flexibility and efficient erection properties help reduce long-term maintenance needs. For the cast-in-place concrete foundation and slabs, Lafarge Type II cement and NewCem® slag cement provide enhanced durability and reflectivity.
NewCem is also notable for its environmental benefits. It makes use of an industrial by-product material that might otherwise end up in landfills, and avoids the use of virgin raw materials. The resulting lighter-colored, high-performance concrete mix also absorbs less heat from solar radiation, giving it an extended service life and lower life cycle costs.
The more than 250,000-square-foot multimodal commuter rail station includes a parking garage, public lobbies and a café, and features a distinctive "millwork building" façade that is reminiscent of early 20th century New England textile mills. Functionally, it is an important component of extending Northeast Corridor rail service, and an excellent example of how Lafarge infrastructure solutions contribute to building better, more connected cities. The station has helped extend commuter rail service from southern Rhode Island to Warwick, Providence, Boston and beyond, and relieved traffic congestion along the Route 4/I-95 corridor.
Wickford Junction Commuter Rail Station has received the 2012 Infrastructure Project of the Year Award from the Construction Management Association of America, and the Best Use of Innovation Award from the American Association of State Highway and Transportation Officials.