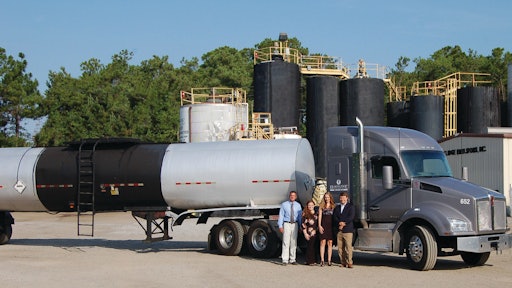 As a growing number of transportation departments around the country spec its Trackless Tack product, Blacklidge Emulsions needed reliable transportation to meet the increased demand and move raw materials to its production facilities, then finished products from those facilities to contractors and jobsites. To find the right vehicles, the company put its options to the test.
Paul Johnson, director of logistics for Blacklidge Emulsions, offered up a challenge to five truck dealers: "Let us rent one of your trucks and we'll evaluate performance and fuel economy on a line-haul run from Gulfport to Tampa Bay and back." This represented more than 1,100 miles round trip.
Johnson provided key specs to the dealers – a 455-hp engine mated to a 9-speed transmission, and a mid-size sleeper.  Each tractor was piloted by the same driver to eliminate driving variables. A fully loaded trailer was hauled from Gulfport to Tampa Bay, returning empty to Gulfport.
"Kenworth's T880 with the PACCAR MX-13 was the clear-cut winner in our evaluation of which tractor to order," said Johnson. "A key for us was fuel economy since we run so many miles." The company averages 120,000 miles per tractor per year.
"The T880 was the runaway winner and beat the second-place tractor by nearly 10%* in fuel economy," said Johnson. "It also beat all of our existing fleet tractors by that number or better. We calculated we could save $6,500 in fuel per year with the T880. That's huge."
Making the decision easier was the monthly payment for the T880. "We asked each dealer to come back with payment numbers for a four-year, walk-away lease, plus extended warranties," said Johnson. "Since the lease factored in purchase price, subtracting residual value, Kenworth's high resale value came into play. What PACCAR Financial is giving us on the back end more than offsets any premium the T880 had on any of the competitive models. The monthly payment for the T880, through our finance plan with PFC, was lower than all others."
Fuel Efficiency Plus Flexibility
Blacklidge Emulsions recently put into service eight T880s, which joined 12 more company tractors. The tractors were purchased through Truckworx Kenworth – Mobile.
Since the trucks were put into service, Johnson said the fuel economy numbers have been very consistent with what the test vehicle achieved. "And fuel economy numbers should get better once the tractors are broken in," he said.
According to Johnson, the T880's 52-in. sleeper gives the company flexibility and saves weight. "We can deliver in a 500- to 600-mile radius of our terminals, which cover the southeast," said Johnson. "This gives our dispatchers the opportunity to utilize every tractor in our fleet regardless of distance. Our drivers may spend a night or two per week in the sleeper, but for the most part, they're home every night. We really didn't need a full apartment-sized sleeper, just a room with a bed and the 52-in. sleeper Kenworth offered is the right size for our operation."
When delivering product to customers, Johnson said it's normally a drop-and-hook operation – most times in construction areas. "We typically will drop a trailer (normally with up to 5,500 gal. of emulsion) and bring home one of our other trailers delivered earlier. If no trailer is there, we have a pump and PTO, which allows us to offload Trackless Tack into our customer's own vessel."
Johnson said the new truck model is making a visual impression on customers. "Image is very important to us," he said. "We manufacture and distribute a unique and patented product that is cutting edge. We think the new Kenworth T880s mirror that image."
*Individual fuel economy improvement will vary depending on use, road conditions and other factors.
Companies in this article