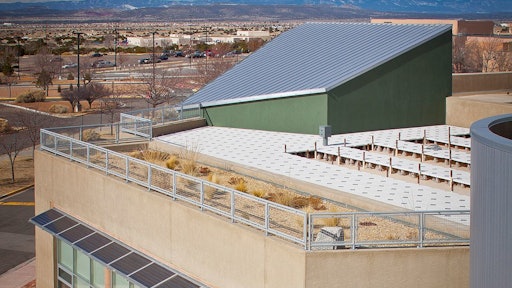 The Trades and Advanced Technology Center at Santa Fe Community College (SFCC) has earned the highest certification possible from the U.S. Green Building Council – LEED Platinum. 
 The designation is a high point for a facility that was built in 2011 to propel students into newly developing careers in the green economy.
 "Before the labor shortages and technology gaps in emerging green collar jobs," says Randy Grissom, president of SFCC, "it was evident that the future success of our students in securing higher paying jobs would be shaped by their knowledge of sustainable technologies in building sciences and construction, engineering, plumbing and HVAC, solar and water resource management, and alternative fuels."
 Situated on 366 high desert acres, SFCC was among the first campuses in the nation to adopt a sustainability plan in tandem with their campus master plan. The plan, approved in 2009, called for the increase in the use of renewable energy to lower the college's carbon footprint and provide strategic educational opportunities campus-wide.
Comprehensive, Sustainable Curriculum
The Trades and Advanced Technology Center offers a broad curriculum that includes associate in applied science degrees in building science and construction technologies, drafting and engineering technologies, greenhouse management and sustainable technologies, among others.
 Specialty certifications in biofuels and biodiesel/alternative fuels, green building construction and systems, residential energy auditing and inspection, green infrastructure/IT, solar energy and water treatment operations and resource management are also offered.
 All degree-seeking students at SFCC, approximately 12,000 per year, are required to enroll in Environmental Technologies (ENVR111), which introduces them to sustainable concepts.
 From Adobe Construction to Rainwater Harvesting
One of the more unique concentrations in SFCC's building science degree plan is adobe construction, a highly sought after skill by New Mexico's construction industry. Last month, SFCC renewed its three-year agreement with the American Rainwater Catchment Association to provide a 16-week "Active Water Harvesting and Distribution Systems" course that meets ARCSA/ASPE/ANSI Standard 63 and to become the first national educational institution to accredit rainwater harvesters. The recently introduced aquaponics program has a waiting list.       
"SFCC programs are built by including input from local employers and regional experts," says Camilla Bustamante, Ph.D., dean of trades and advanced technology. "Students know that an education from SFCC can help them gain meaningful employment."
 Federal Policymakers Take Notice
In recent months, the Trades and Advanced Technology Center has been visited by municipal, State and Federal leadership, including U.S. Deputy Secretary of Energy Dr. Elizabeth Sherwood Randall, who toured the Center and participated in a roundtable on engaging diverse communities in energy workforce opportunities. The Deputy Secretary was on campus to hear from students, faculty, public officials and business and local leadership on how to further develop the energy workforce in New Mexico.
 "The private sector needs a skilled workforce, and there are tremendous opportunities in renewables. One of the most dynamic is the solar sector, which is generating jobs at an astonishing rate," said Deputy Secretary of Energy Randall. "The Department of Energy wants to support places like SFCC to bring opportunities to young people, people who are moving into a new chapter after a first career, and those leaving active military duty."
 Affordable Sustainable Education
As a two-year institution of higher education, tuition is 51 percent cheaper at Santa Fe Community College than the national average for two-year community colleges. In-state residents pay approximately $1,545 per year, and the cost is 28 percent cheaper than the average New Mexico tuition for two-year colleges. Students residing at home with parents providing food and housing can expect a total cost of $2,885. Out-of-state tuition carries a 90 percent premium of approximately $2,940, and housing and food are comparable to other colleges.
Source: U.S. Department of Education IPEDS Surveys for school years 2013-2014.
 Sustainable Learning Environment
Earning LEED Platinum certification was a goal from the day of conception for the Trades and Advanced Technology Center. Designed by Allan Baer, AIA of Lloyd & Associates Architects in Santa Fe, the 45,336 sf facility boasts:
Rooftop teaching decks, classrooms, a demonstration theater, technologies and technical workshops and labs, lounge areas, computer lab and administrative areas
Solar thermal and photovoltaic rooftop system
Heliodynamic concentrating solar collectors for hot water to provide heating to closed loop system
A 12,500+ gallon hot water storage tank with closed loop system for HVAC to TATC and campus buildings
Rainwater catchment for lavatory use
Motion-sensing lights with 96 percent LED lighting
Skylights with fiber optic tubes to reflect and expand light distribution
Rooftop water collectors and waste water/gray water recycling for irrigation use
ICF construction and reflective roofing to ensure an efficient building envelope with R-Value of 30
15.25% of the project's energy cost is offset by renewable site-generated energy
High efficiency systems, including adsorption-based mechanical system, reduced fan and pump power, and on-site renewable energy from photovoltaic and solar collector systems
21.51% of total building materials and products extracted, harvested, recovered or manufactured within 500 mile radius of project site
100% of wood-based building materials are certified by the Forest Stewardship Council (FSC)
96.9% of all regularly occupied spaces provide direct line of sight to outdoor views
Indoor air quality uses natural ventilation design and is monitored by CO2 sensors
100% zero use of refrigerants
Bicycle storage to serve 20% of full-time equivalent (FTE) and transient building occupants, and
Parking spaces for low-emitting and fuel-efficient vehicles
The benches outside TATC are made from milk bottles, and an outdoor trellis provides a living wall as an agriculture/horticulture learning space.
In addition to Lloyd & Associates Architect, the project team comprised: 
General contractor:        Flintco West, Inc.
Lighting Designer:            DB Power of 3
Landscape Architect:      Baker-Morrow Landscaping
Furnishings:                        Anna Lewis & Goodman
At a total cost of $12 MM, the Trades and Advanced Technology Center represents the fiscally responsible and collaborative efforts and support of SFCC's Governing Board, Santa Fe's citizen/taxpayers who approved the $7.5 MM bond in 2007 and the $4.2 MM bond in 2008 to build the school, and the faculty who continue to refine and advance the school's sustainable curriculum and offerings.
 "Our high desert environment and drought conditions provide a natural bridge to using innovative, sustainable technologies to address pressing issues of the future," says Grissom.  "We believe it is our mission to continue to advance the conversation and the education that will give students both the learning opportunities and the leadership