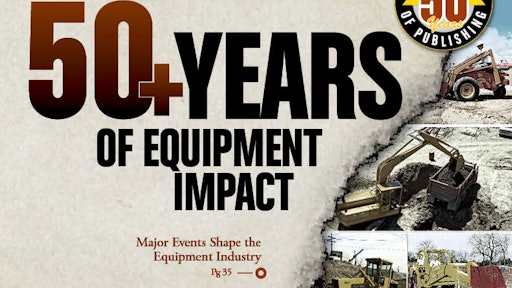 The construction industry has changed dramatically over the past 50 years, and the equipment it uses has evolved with it. Equipment Today, under varying names and formats, has covered all of these changes, updating our readers about the latest equipment and technology that impacts construction businesses and their profitability.
Equipment Today Magazine Celebrates 50 Years and Counting
To celebrate 50+ years of publishing history, we tasked senior field editor Curt Bennink with compiling a historical perspective on some of the most significant innovations influencing earthmoving and road building equipment design from the mid-'60s forward. Little did we know what a massive undertaking this would be!
Curt has spent weeks pouring over historical documentation, interviewing leading industry historians, reviewing corporate histories and more. The results of his research can be found starting with the exclusive pull-out poster in the August issue, which includes a pictorial timeline containing some key equipment-related highlights over the past five decades.
Celebrating Five Decades of Progress
50 Years of Construction Equipment History: Interactive Timeline
Curt next went on to explore the various industry-related events that helped to shape the complexion of today's construction equipment design. In "Major Events Shape the Equipment Industry", he discusses these events and their impact on trends in equipment development and application, as well as on major players in the construction equipment market. Turn to the online timeline for significant happenings in the industry and among major equipment suppliers.
Next, Curt explores advances in engines ("50 Years of Diesel Engine Evolution") and hydraulic systems ("Hydraulics Drive Equipment Transformation") and how they drove construction equipment to ever greater levels of performance and productivity. Finally, he places himself inside the cab for a look at the much-needed progression to a safer, more comfortable work environment for the equipment operator ("Attention Shifts to the Operator").
Clearly, 50 years of construction equipment history is a lot to cover, and we know we're just getting started. We welcome your help. Please contact us to share your stories, comments (including additions or corrections to information and dates), images of equipment, video links and more so we can grow our historical coverage online at ForConstructionPros.com. Our goal is to continue to build the history of construction equipment as you continue to make history using it on your jobsites.