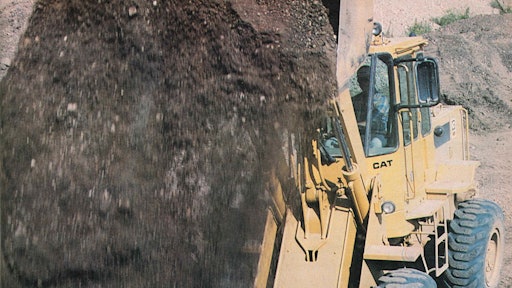 Much like the equipment and technology it covers, Equipment Today magazine has gone through an evolutionary process, passing from one incarnation to another over the past 50 years.
50 Years of Construction Equipment History: Interactive Timeline
The publication first appeared in the mid-1960s as The Reporter of Construction Equipment, published by Equipment Guide-Book Co. based in Palo Alto, CA. A product and news tabloid printed on newspaper stock, its black and white pages provided brief new product introductions and news items relevant to the construction marketplace.
In March 1972, The Reporter began publication under a new name, Equipment Guide News. It now featured a slightly heavier paper stock that facilitated the introduction of color, including the first four-color ads, into its pages. Later that decade saw an increasing use of color throughout — even on its cover!
1983 saw the initial signs of a shift for Equipment Guide News. It was by then owned by Palo Alto-based Dataquest Inc. and Frank Manfredi had taken the helm as publisher, with James Harrah moving to a strictly editorial role. The publication saw glimpses of the move away from a strictly product/news tabloid, introducing original articles and its first editorial column, written by Manfredi, in May 1983.
The transition slowly progressed, but it wasn't until February 1984, after its acquisition by Johnson-Hill Press, a Fort Atkinson, WI-based publishing company, that real changes began to take shape. Under the helm of publisher Tom Swetland, the publication underwent a dramatic transformation when Greg Sitek, editorial director, launched the inaugural edition of Equipment Today in October 1986. At that point, the move to a true "magazine" format was largely complete, as the publication took on a new name, a new look and a focus on providing content to help contractors in the selection, application and maintenance of equipment assets.
Equipment Today has gone through the hands of several owners, publishers and editors over the past two decades, and is currently published by AC Business Media (ACBusinessMedia.com), Fort Atkinson, WI, a company formed in August 2014 when Anil Narang, chairman, and Carl Wistreich, president and CEO, acquired the Construction Network properties from Cygnus Business Media. Along with ForConstructionPros.com, the construction industry's No. 1 web portal, Equipment Today continues to lead the construction marketplace, providing ground-breaking editorial content designed to keep commercial contractors informed about new equipment and technology, and the ways they can use it to be more productive, competitive and profitable in all aspects of their construction operations.
Equipment Today: Proudly serving the construction industry for 50 years - and counting!
50 years of construction-equipment history in an interactive timeline