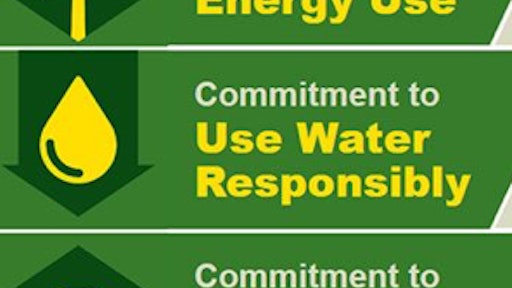 Deere & Company is setting its sights on a robust set of sustainability goals that the company and its employees will work to achieve by the end of fiscal year 2022.
"The 2022 Sustainability Goals address John Deere's commitment to an ever-changing world and the need to protect its most valuable resources — both natural and human," said Samuel R. Allen, chairman and chief executive officer. "The goals will spur improvements in performance and innovation."
The commitments focus on five key areas:
Occupational safety

 

—

Achieve safety excellence through increased focus on leading indicators, risk reduction, health & safety management systems, and prevention.
Sustainable energy use

 

—

Reduce GHG emissions by 15% through 50% renewable electricity supply and excellence in energy efficiency.
Responsible water use

 

—

Implement water best management practices in 100% of water-scarce manufacturing locations.
Increased recycling

 

—

Recycle 85% of total waste.
Sustainable products

 

—

Reduce environmental impact, including CO2e emissions, on 90% of new products. Increase the use of sustainable materials by growing remanufactured and rebuild sales by 30% and by increasing recyclable, renewable, and recycled content.
"The sustainability goals will help drive manufacturing and supply excellence, focus on environmental stewardship, and further enhance John Deere as a great place to work," said Allen.
More information on Deere's sustainability goals is available on its website at https://www.deere.com/en/our-company/citizenship-and-sustainability/.