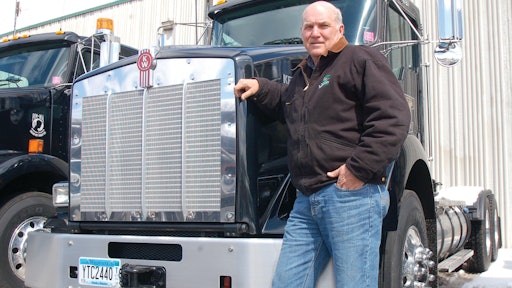 As one of the largest road pavers in the Minneapolis/St. Paul area, Valley Paving operates 22 company Class 8 trucks, and compliments it with up to 80 additional owner operators (depending upon demand) pulling belly dumps for its windrow paving operations.
Rich Carron, Valley Paving's owner, has worked in the highway construction business since returning from service in Vietnam in 1969. After a failed attempt at starting his own business, he took a trip to California that changed his way of doing business.
"I saw the wave of the future when it came to road building – windrow elevators," he says. "They weren't being used much in Minnesota, not at all within the metro area. I saw how fast they allowed roads to be built. So I started using this technology and our productivity went way up. We figured it out before others in this area; however, soon after, the rest followed. But it helped launch our business and increased our ability to tackle larger projects."
Growth for Valley Paving has been steady ever since. "We've had controlled and increasing growth through the years, and continue to be one of the major players in the Twin Cities," says Carron.
One of Valley Paving's largest projects this season is a 13-mile repaving stretch on Highway 95 that is estimated to use 100,000 tons of asphalt. "It's a three-month job and will keep us plenty busy coupled with other projects within the metro area," says Carron.
Reliable Work Trucks Required
Since Carron uses his trucks till they drop, his preference is Kenworths. "I have a 1994 Kenworth W900 with more than a million miles on the odometer," he notes. "I've never had a problem with that truck and it's still running strong with a rebuilt engine we put in this spring.
"We've tried other trucks, but with high usage demand, and the need for dependability, we decided to go with Kenworth," he comments. "I've been in this business long enough to know experimenting with unproven equipment of any kind will cost you more money in the long run."
Equipped with Cummins ISX15 engines rated at 450 hp and driven through 10-speed transmissions, the trucks were purchased through Rihm Kenworth.
"Reliable equipment is such a critical thing for us, especially since we have a short working season (from mid-April to Thanksgiving)," says Carron. "When we get contracts with governmental agencies, there are penalties attached if you can't get the work done as stated. Penalties are not cheap, which makes us demand both good people and excellent equipment. For airport work, for example, fines can be as high as $5,000 per half hour. So, if you have a piece of equipment down, you not only lose money and pay penalties, you also may be answering to the public on the nightly news.
"For this company, we can't have that," he continues. "It's why we're going with Kenworth. They've proven to me they'll hold up over the long haul."