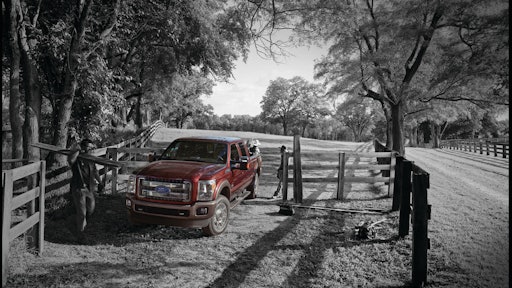 Ford introduced the 2015 F-Series Super Duty pickup truck line at State Fair of Texas, featuring a second-generation 6.7-liter Power Stroke V8 turbo diesel engine; increased towing capabilities; and a refreshed, Texas-inspired King Ranch model.
The 6.7-liter Power Stroke V8 turbo diesel debuted in 2011.
A key Ford innovation on the original 6.7-liter Power Stroke V8 turbo diesel was its so-called reverse-flow layout. The advanced design places the exhaust inside the engine's V-shape while the air intake is positioned on the outside of the V. This segment-exclusive design naturally improves a variety of attributes:
Shorter airflow from the exhaust system to the turbocharger sitting between the engine's cylinder banks improves turbo responsiveness – key to providing torque quickly to truck customers when they need it most
Positioning the turbo inside the engine's valley helps isolate the engine's hottest temperatures, improving performance and efficiency, while also reducing noise, vibration and harshness
Ford engineers built upon the many benefits of this design as they upgraded the Power Stroke. One improvement is a larger GT37 turbocharger that replaces the previous GT32 model, enabling more airflow to the engine to produce more power beyond today's 400 horsepower and 800 lb.-ft. of torque.
Increasing boost
The GT37 features a single, larger 88-millimeter compressor wheel that replaces the GT32's dual-sided compressor design. The compressor forces air into the engine's cylinders to improve performance – especially at high altitude where the air is thinner than at sea level. The turbine size is increased to 72.5 millimeters from 64 millimeters, so exhaust gases have a larger surface area to spin the turbo, providing extra power. The wastegate and the wastegate controls are eliminated, because the turbo operates at lower peak pressures than the GT32.
A further benefit of the larger turbo is improved engine exhaust braking, manually controlled by a push-button switch on the dashboard. Extra braking power helps reduce wear and tear on wheel brakes and requires less manual brake application from the driver, especially on downhill grades.
Improvements in fuel delivery
Turbo changes drove improvements to the fuel delivery system, specifically a new high-pressure fuel pump and fuel injectors. The pump's cam stroke is increased to deliver more fuel when desired for increased power. All-new injector tips better atomize the fuel, resulting in improved combustion that enables lower noise, vibration and harshness. Other benefits include cleaner emissions and a reduction in the buildup of fuel deposits on the valves over time.
In addition, a new exhaust temperature sensor enables more accurate fuel control, which improves both durability and driveability – especially when towing – and helps the customer drive the Power Stroke diesel to its maximum capability.
Even though the fuel system delivers extra fuel as needed to provide more power, other efficiency improvements ensure 2015 Ford F-Series Super Duty pickup customers see similar fuel economy performance.