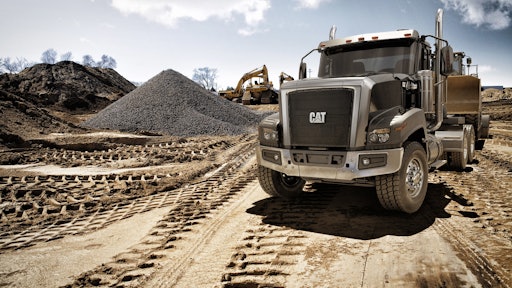 Among the most significant changes to the medium-duty/heavy-duty truck market for 2016, General Motors is going to re-enter the medium-duty market with a partnership with Navistar, while Ford brings production of its F-650/750 in-house.
GM and Navistar to Jointly Develop Chevy Medium Duty Trucks

GM exited medium-duty truck marketing in 2009 amid the recession and bankruptcy proceedings. In 2015, GM and Navistar reached a long-term agreement to develop and assemble medium-duty, conventional cab, Class 4/5 commercial vehicles, allowing GM to return medium-duty trucks to its Chevrolet commercial truck portfolio. New Chevy medium-duty trucks will be jointly developed using Navistar rolling chassis configurations and manufacturing capabilities and GM commercial components and engines. The vehicles are slated for production in 2018 and will be manufactured at Navistar's facility in Springfield, OH.
Ford Moves F-650/F-750 to U.S. Production
On August 12, Ford F-650/F-750 medium-duty trucks rolled off the line for the first time in the U.S. Previously built in Mexico, production of the trucks is now located at the Ohio Assembly Plant.
Offered in Regular Cab, SuperCab and CrewCab body styles and in straight-frame, dock-height and an all-new dedicated tractor model for heavy towing applications, the 2016 F-650/F-750 line features a completely Ford designed and built engine and transmission combination. Along with its 6.7-liter Power Stroke V8 diesel engine option, Ford offers a gasoline-powered engine in the medium-duty truck segment. The 6.8-liter V10 with 320 hp and 460 lbs.-ft. of torque will be available for both F-650 and F-750 models with the heavy-duty TorqShift six-speed automatic transmission. The 6.8-liter can also be factory-prepped for converting to compressed natural gas or liquid propane gas.
Ford claims its 2016 F-650/F-750, when powered by the 6.7-liter Power Stroke V8 diesel engine, is 25% quieter inside the cabin at 60 mph than the previous model. At idle, the new Power Stroke diesel is as much as 45% quieter inside the cab and 35% quieter outside in front of the grille. The 6.7-liter diesel will be offered in three power levels: 270 hp and 675 lbs.-ft. torque, 300 hp and 700 lbs.-ft. torque and 330 hp and 725 lbs.-ft. torque.
Caterpillar Brings Production In-house
Caterpillar Inc. announced the end of its truck building arrangement with Navistar and will begin independently designing and manufacturing Cat vocational trucks at its Victoria, TX plant. The plant, which opened in 2012, currently produces hydraulic excavators.
Caterpillar launched its first vocational truck, the CT660, in North America in 2011. The CT680 and CT681 have since been added to the lineup. To date, Caterpillar has worked with Navistar for the products' design and build, and the trucks have been manufactured in Escobedo, Mexico. The move to the Texas plant will give Caterpillar more flexibility to respond to customer demand and allow better integration of existing Caterpillar technologies, such as the Product Link telematics solution.
"We have developed a firm base with the relationship that we had with Navistar that got us off to a good start. But as we look forward, we have an opportunity to more directly influence the design and the velocity of the speed of response," says Ron Schultz, sales & product support manager, Caterpillar.
For the foreseeable future, Caterpillar will source the Cat-branded engines that Navistar was building. "The CT13 engine that you see in the Caterpillar truck right now will continue to be available in the truck," says David Schmitz, product manager, Caterpillar.
A 15-liter engine is also in development. That 15-liter engine is key to future growth. "We know there is a gap there that we soon will be filling," says Schultz. The 15-liter engine will allow expanded applications such as heavy-haul and is popular in some dump truck markets.
Earlier this year, Caterpillar also introduced the third vocational model in its on-road truck line, the long-nose CT680, which measures 124 in. from bumper to back of cab (BBC) for improved ride and maximum bridge-formula advantage. The CT680 comes in truck or tractor configurations, with set-forward axle and standard parabolic taper leaf suspension.
The 13-liter Cat CT Series vocational truck engine comes in three power ratings from 410 to 475 hp, and peak torque ratings from 1,450 to 1,700 lbs.-ft. There is a choice of a six-speed Cat CX31 automatic transmission (specified on more than half of CT660 and CT681 trucks already in production), a variety of manual transmissions or Eaton's UltraShift Plus vocational transmission. Ninety-two percent of CT680 components are common with the CT660.
Navistar to Launch New Line
Navistar Inc. plans to launch a new line of premium vocational trucks for the severe service segment beginning in early 2016, leveraging shared technology and intellectual property from its venture with Caterpillar, which will end by December 31.
Navistar has been supplying trucks to Caterpillar since 2011. Both companies will have the opportunity to leverage certain joint intellectual property, collaborate with suppliers and utilize licensing agreements moving forward.
"Navistar and Caterpillar have had a strong, collaborative working relationship through a number of projects and partnerships for many, many years," says Bill Kozek, president, Navistar Truck and Parts. "This next phase provides Navistar with an exciting opportunity to introduce new technologies and product features into our new line of premium vocational trucks that we'll launch in 2016."
Mack Builds its Own vocational AMT
Earlier this year, Mack Trucks unveiled a heavy-duty version of its mDRIVE automated manual transmission (AMT). Available as standard equipment on the Granite and Titan truck models, the transmission offers improved performance for demanding on- and off-road applications.
The mDRIVE HD is designed and engineered to work exclusively with Mack MP7 and Mack MP8 engines. The 12-speed mDRIVE HD has an automated clutch, so no clutch pedal is required. Operation is controlled through a dash-mounted shift pad by selecting drive, neutral or reverse. For more demanding maneuvers, the premium shift pad can be operated manually to hold a gear, downshift or upshift.
Available in overdrive and direct drive, the mDRIVE HD continuously monitors changes in grade (both up and down), vehicle speed, throttle position, acceleration, torque demand and gross vehicle weight. It automatically chooses the best gear for the road condition, allowing drivers to focus on the terrain rather than shifting gears, increasing safety on work sites.
The mDRIVE HD includes unique software packages specific to the customer application. The "Enhanced Construction" package provides optimal on/off-road capability and gives the driver full control over any terrain. "EZ Shift" delivers smoother shifts for sensitive payloads.
A Rock Free feature allows the driver to rock the truck back and forth simply by pumping the accelerator should the vehicle become stuck. And a Grade Gripper feature works with the truck's ABS system to momentarily hold a hill, giving drivers time to move their foot from the brake to the accelerator pedal without rolling backward.
Kenworth Announces Three New Vocational Truck Options
Allison's 4700 RDS 7-speed automatic transmission, with optional second "deep reverse", can be ordered on the Kenworth T800, T880, W900 and C500.
The Allison 4700 RDS offers a lower reverse ratio and a lower first gear ratio for maneuverability. The new transmission also features no power interrupts, which gives full power shifts and allows full use of the engine's horsepower.
For those operating the T880, the company is now offering a "box bumper" in steel or aluminum. The bumper's tapered design allows for hood pivot clearance and more protection for the grille and headlight area.
For those running the W900S with the PACCAR PX-9 engine in a set-forward front axle configuration, a fixed grille option is available.
Kenworth also updated its medium-duty offerings, including heavier front axles for its T370 Class 7 model. The 18,000- and 20,000-lb. front axles allow customers to put more weight on the front ends in fuel hauling, dump, mixer, utility and crane applications. This also allows more payload in a shorter BBC truck package.
In addition, the 10-speed Eaton UltraShift PLUS VAS transmission is now offered for the T370, T440 and T470 equipped with the 8.9-liter PACCAR PX-9 engine.
The UltraShift PLUS has a maximum torque rating to handle all medium-duty engine ratings. It features Hill Start Aid, creep modes, auto neutral and engine and clutch overspeed protection.
Volvo Trucks Adds Severe-duty AMT
Volvo Trucks' biggest product introduction and enhancement is the recent introduction of the I-Shift automated manual transmission for severe-duty applications. With the incorporation of the I-Shift into vocational models, Volvo has addressed the demand to provide an AMT in vocational applications.
The I-Shift for severe duty features a dash-mounted shifter offering additional space for the driver. To withstand hard use and wear, reinforced gears and hardware improvements are specifically designed for heavy-duty application and frequent shifting. Higher viscosity oil allows for higher ambient temperature operation. A new transmission cooler is also mounted to the transmission to provide more consistent temperature control.
The I-Shift for severe duty also offers improved transmission serviceability with no need to drain oil to remove or service the transmission.
Freightliner Adds Options
Freightliner Trucks announced new option packages that are now available to order for its Class 6/7 M2 106. They include:
Allison's FuelSense technology: This set of software packages includes features that automatically adapt to shift cycles and torque, maximizing transmission efficiency based on load, grade and duty cycle. When ordered in the Efficiency Package, FuelSense is paired with a Cummins ISB6.7 engine with 220 hp and 600 lbs.-ft. of torque.
Driver Retention Package: This package for the M2 106 has premium interior features that include a roof console with storage; premium insulation; wood grain instrument panel; additional in-dash power outlets; Bluetooth-enabled SiriusXM radio; high-back air suspension heated driver seat; dual driver seat armrests; power windows and door locks; and adjustable tilt and telescoping steering column.
Professional Image Package: This package has a variety of chrome and bright finish options for the M2 106.
New options for the 122SD are best suited for severe terrain and off-road applications. They include oil pan skid plates, 12-in. frame rails, threaded front suspension spring pins and bushing and heavy-duty bolted crossmembers. Front bumper mud flaps and fog lights with rock guards are also available as factory-installed options.
In addition, the 122SD can now be spec'd with Allison 4700 Rugged Duty Series (RDS) and Oil Field Series (OFS) automatic transmissions. The combination of the 122SD with Allison's vocational transmissions is ideal for tough off-road and oil field applications. Better performance comes from such features as 2nd Reverse, which offers a second "deep reverse" in addition to the standard reverse; automatic shifts, which automatically and smoothly make the right shift at the right time; and greater startability, which uses less torque to launch and go.
Both transmissions are available with Detroit DD13, DD15 and DD16 and Cummins ISX heavy-duty engines. In addition to the new transmission options, under the passenger seat battery mounting is available for all 122SD day and sleeper cab configurations. It provides additional space for body builders by freeing up valuable rail space.
Peterbilt Rolls Out New Model 567 Configuration
The Model 567 SFFA (set-forward axle) helps customers maximize payloads while meeting state and federal bridge law requirements.
Like the set-back front axle configuration, the Model 567 SFFA is available in 115- and 121-in. BBC lengths. The 115-in. BBC has a bumper to front axle distance of 29 in. and the 121-in. BBC has a bumper to front axle distance of 31 in.
Both the set-forward and set-back front axle configurations of the Model 567 come standard with the PACCAR MX-13 engine with up to 500 hp and 1,850 lbs.-ft. of torque. Both are also available as a day cab or with Peterbilt's complete lineup of detachable sleepers, including the new 58-in. sleeper.
On the medium-duty side, this year Peterbilt introduced compressed natural gas (CNG) configurations of the Model 337 and Model 348. The Model 337 is available in Class 6 and 7 configurations, and the Model 348 is available with a GVWR up to 66,000 lbs. and features a more robust vocational spec. Both CNG models can be ordered as a truck or tractor and are optimized with a 110-in. BBC and a 2.5-in. lower cab height. The vehicles are powered by the Cummins Westport ISL-G with 320 hp and 1,000 lbs.-ft. of torque.
PACCAR also recently introduced the PACCAR MX-11 engine. This 10.8-liter engine will be available for Peterbilt's aerodynamic Model 579 and vocational Model 567. It goes into production in January and has an output of up to 430 hp and 1,550 lbs.-ft. of torque.
Western Star Enhances Product Line
Western Star Trucks continued to enhance its current product line. Highlights include:
"In Track" floor wiring system provides a dedicated path inside the 4700's cab for body wiring harnesses
Dash gauge updates improve driver visibility and vehicle serviceability
Ergonomic enhancements benefit driver comfort and reduce fatigue
Hood-mounted, heated mirrors for the 4700
Re-locatable DEF tank options mount fuel tanks forward and increase frame space availability
Fabco prep kit for the FAT-30 3-speed auxiliary transmission for high-torque applications
Neway ADZ suspension system
Rock grille guards now standard for the 4700 to protect radiators from damage
New safety grip grab handles improve driver access