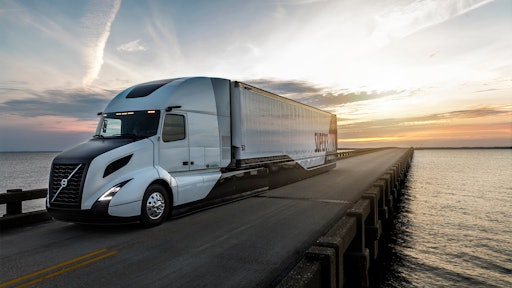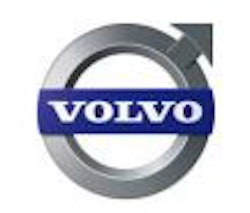 From the top-of-cab solar panels powering its battery and interior lights, to its ultra-light aluminum frame and advanced 425 hp 11-L proprietary engine, the SuperTruck concept vehicle allowed Volvo engineers to push the boundaries of heavy truck efficiency. Volvo says the tractor-trailer combination boosted fuel efficiency by 70% in road tests, exceeding 12 miles per gallon, with some test runs showing more than 13 miles per gallon. Powertrain brake thermal efficiency reached 50%.
"Even more impressive is the fact that these tremendous gains were made against a base model Volvo that already in 2009 averaged 7 miles per gallon," said Göran Nyberg, president of Volvo Trucks North America.
The SuperTruck program was a five-year DOE research and development initiative to improve freight efficiency – meaning more payload carried while burning less fuel – by 50% compared to 2009 base model trucks. The DOE recently selected the Volvo Group to participate in DOE's SuperTruck II program, which will target a 100% improvement on a ton-mile-per-gallon basis, and a powertrain capable of 55% brake thermal efficiency.
Volvo's aerodynamic SuperTruck has a shorter front end than conventional trucks on the road today, and the hood has a sharper downward slope. Lightweight fairings run the length of the tractor and trailer, and cameras have replaced rearview mirrors. Its redesigned chassis is made almost entirely of aluminum, which halved the chassis weight and contributed to an overall tractor-trailer weight reduction of 3,200 lb.
An enhanced version of Volvo's I-See, a new feature that memorizes thousands of routes traveled and uses that knowledge to optimize cruise speed and keep the I-shift automated manual transmission in the most fuel-efficient gear possible, was an integral part of the fuel efficiency gains seen during SuperTruck on-road testing.
A key part of the overall efficiency gain is the downsized 11-liter Volvo engine, featuring advanced fuel injection, cooling, oil and turbo-charging systems, as well as new "wave" pistons and other improvements. The SuperTruck powertrain includes a complex Rankine waste-heat recovery system, which converts heat normally wasted in exhaust into torque, boosting fuel economy by helping to power the vehicle.
While not every technology demonstrated in the Volvo SuperTruck will be commercialized, three of the engine advancements developed through SuperTruck research – the wave piston, turbo compounding system and common rail fuel injection system – are already featured in Volvo Trucks' 2017 engine line-up. Likewise, a number of SuperTruck-derived aerodynamic improvements – like flared chassis fairings improving air flow around the drive wheels, a redesigned bumper and turbulence-reducing deflectors – can be found on today's Volvo VNL tractors.
"Our work through this program is paying dividends for today's customers through the SuperTruck innovations we've already integrated into our products," said Nyberg.
Not every idea made it to the concept vehicle. Working with suppliers and academic partners, the team explored the performance and safety of a number of lightweight materials. While some of these, like recycled carbon fiber, were not used in the SuperTruck, the knowledge gained in material science will be applied to future programs.