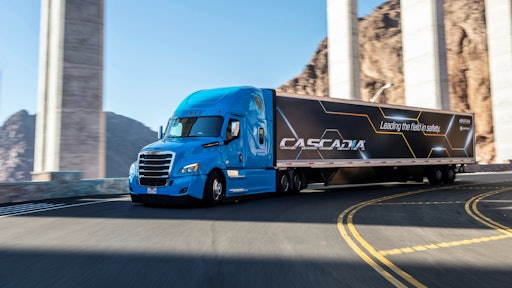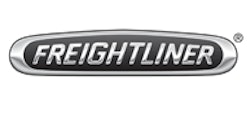 Daimler Trucks North America (DTNA) introduced the first SAE Level 2 automated truck in series production in North America with the latest enhancements to the Freightliner new Cascadia. Level 2 automation means the truck is capable of both lateral (steering) and longitudinal (acceleration/deceleration) control, and is part of the  technologies featured by DTNA at the Las Vegas Motor Speedway during the 2019 Consumer Electronics Show (CES).
According to NHTSA, ninety-four percent of crashes are attributable to human error. Automating acceleration, deceleration, and steering reduces the chance for human error, mitigates collisions, and can potentially save lives. These technologies can also enhance the driver experience by making the truck-driving task easier, thereby improving driver comfort and well-being.
DTNA's expertise in automation is backed by Daimler Trucks, which announced today at CES an investment of over half a billion dollars and an addition of more than 200 new jobs in its global push to put highly automated trucks (SAE Level 4) on the road within a decade. Most of these jobs will be located at the new Daimler Trucks Automated Truck Research & Development Center at DTNA's headquarters in Portland, OR.
In May 2015, DTNA pioneered automated driving with the introduction of the Freightliner Inspiration Truck, which was the first automated truck licensed to operate on U.S. public highways. Today, the new Cascadia delivers SAE Level 2 driving capabilities with the Detroit Assurance 5.0 suite of camera- and radar-based safety systems. 
The system can accelerate, decelerate, and steer independently. The Detroit Assurance 5.0 Adaptive Cruise Control and Active Lane Assist features make automated driving possible in all speed ranges:
• Adaptive Cruise Control to 0 mph: Improves safety, efficiency, and driver comfort by automatically decelerating and accelerating to maintain a safe following distance. This technology is especially important for maintaining a comfortable driving experience in congested traffic conditions where repeated braking, accelerating and resetting of traditional cruise control can lead to driver fatigue.
• Active Lane Assist: Consists of Lane Keep Assist and Lane Departure Protection. When Adaptive Cruise Control is enabled, Lane Keep Assist supports the driver by using micro-steering movements to keep the new Cascadia centered in its detected lane. With Lane Departure Protection, if the truck begins to drift without the turn signal engaged, the system will counter steer the truck back into its lane and give an auditory and visual warning. 
In addition to Level 2 automated driving features, the Detroit Assurance 5.0 active safety and advanced driver assistance systems are designed to keep truck drivers, pedestrians, cyclists, and other motorists safe:
• Active Brake Assist 5.0: The fusion of Detroit Assurance 5.0 camera and radar technology detects moving pedestrians and cyclists in front of the truck and can deploy full braking – an industry first. It can also detect and mitigate a collision with full braking on moving and stationary vehicles and objects.
• Side Guard Assist: Detects objects, including pedestrians and cyclists, in the passenger-side blind spot for the tractor and a full-length 53-foot trailer, another industry first, and delivers an audible and visual warning. 
"The enhancements we've made to Detroit Assurance have the potential to make an immediate, measurable and positive impact on overall North American road safety," said Kelly Gedert, director of product marketing for Freightliner and Detroit. "In fact, fleets with trucks equipped with forward collision mitigation systems can experience a 60% to 80% reduction in rear-end crashes, resulting in potentially fewer accidents and reduced operational costs to our customers."