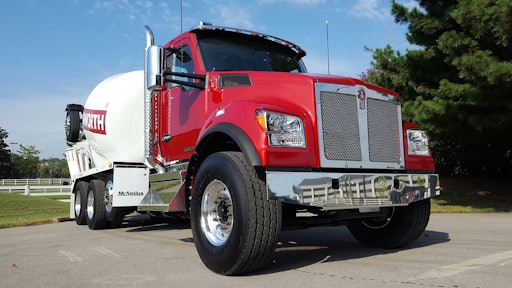 Kenworth added a set-forward front axle configuration to its T880 vocational truck at the National Ready Mix Concrete Association's ConcreteWorks tradeshow.
"Available with a 114-in. BBC and best-in-class 28-in. bumper setting, tare weight is minimized, weight distribution is optimized, Federal Bridge Formula can easily be met, and body installations are enhanced," says Jason Skoog, Kenworth assistant general manager for sales and marketing.
The bumper setting is especially important in specifying Bridge Formula chassis required to stay under the 40-ft. length limit. Also offered are 29.5-in. and 31.5-in. bumper settings. Truck operators can specify the mixer tapered (114-in. BBC), dump tapered (115.5-in. BBC) or straight box bumpers (117.5-in. BBC) in a variety of finishes and materials. Removable and cast center-mounted tow hooks are available, depending on bumper selection. 
Set-forward front axles ranging from 14,600 lb. to 22,800 lb. ratings
Single, tandem or tridem drive axles and a wide variety of factory-installed lift axles
Clear back-of-cab options available to simplify body upfitting
3.6-in.-lower hood crown (than legacy Kenworth W900S) adds 4 ft. of ground visibility
Kenworth T880 Short Hood Available with Allison 4700 RDS Automatic Transmission
Kenworth T880 40-in. Sleeper Option

Kenworth T880s Bring Home 10% Fuel Economy Boost For Blacklidge Emulsions
Request More Information
Fill out the form below to request more information about
Kenworth Adds New Set-Forward Axle with T880S