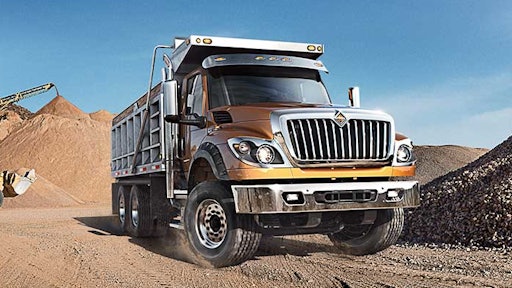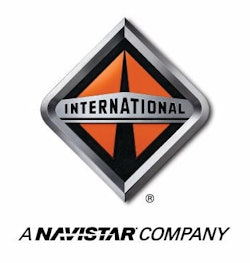 International continues to update its product line with the HV Series, which will replace the Workstar. The International HV Series is the first severe service truck available with the International A26 12.4L big bore engine. Built from the proven MAN D26 engine crankcase, the A26 produces up to 475 hp and 1,700 lbs.-ft. of torque from a design that is 600 to 700 lbs. lighter than a traditional 15L big bore engine. The HV Series is also available with the Cummins B6.7 and Cummins L9 engines. 
[VIDEO] Navistar Launches Mid-range Diesel Model for HV Series at WOC 2018
The company's Driver First focus has concentrated many of the changes on the engine and cab. A heavy duty, double-sided galvanized steel cab provides for long-term durability. The redesigned cab doors giving the driver a single large piece of glass to look through, greatly improving side visibility and reducing blind spots. By reshaping the doors and side glass, the position of the optional pedestal mirrors was optimized so drivers turn their heads 15% less on the left side and 5% less on the passenger side, making it easier to keep their eyes on the road while reducing neck strain over the long haul. A new dash is designed for the driver with more space for additional rocker switches. An optional premium gauge cluster is designed with driver input and it is customizable with virtual gauges. In addition, an easy-access column-mounted stalk shifter is integrated with engine braking to help keep hands on the wheel and eyes on the road. The dash contains space for up to 30 customizable switches ensuring functionality of any type of body that is mounted on the back.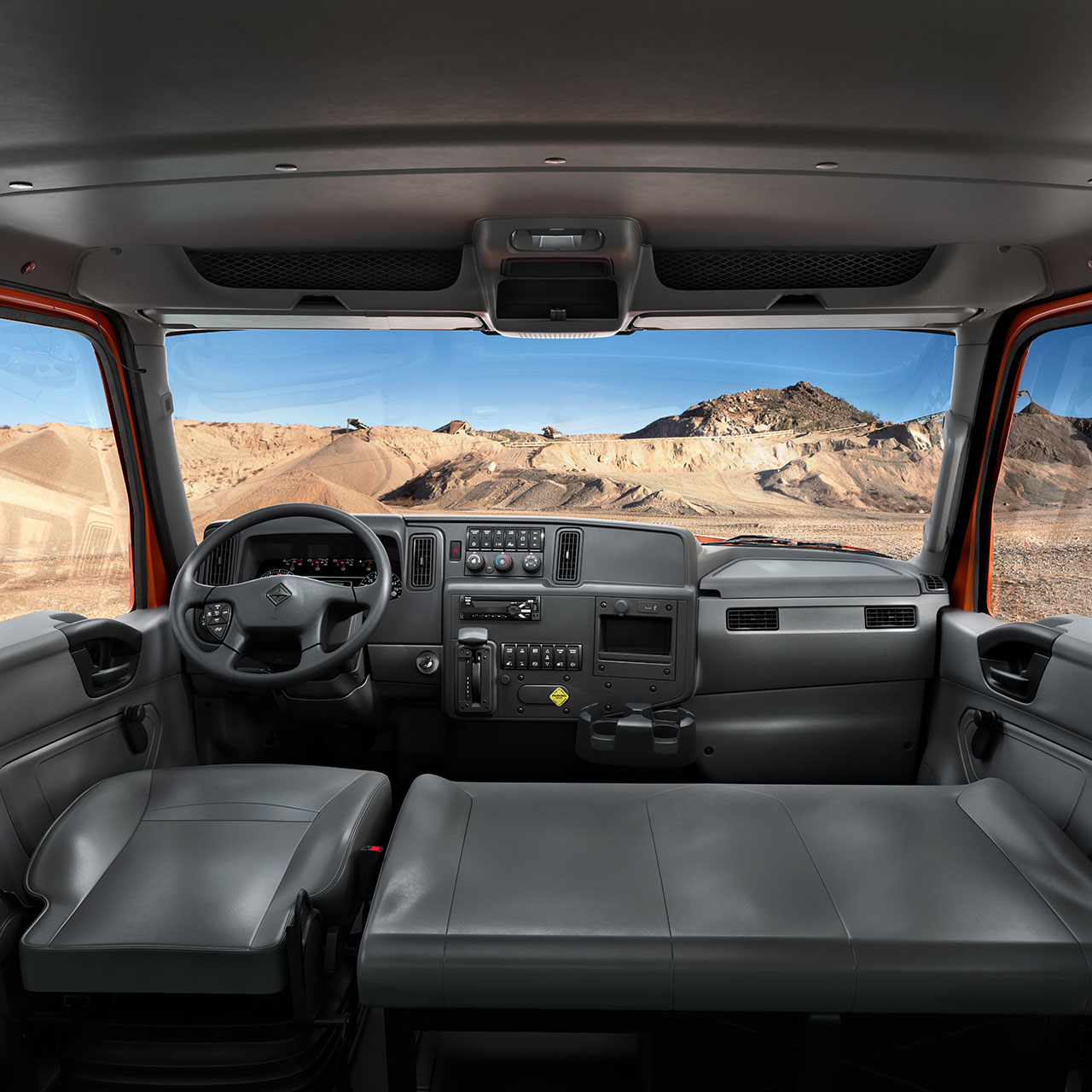 A clean Cab-to-Axle (CA) configuration minimizes costly post-production modifications while a 20,000-lb. offset bowl front drive axle allows for a lower ride height than a traditional center bowl. Super Single 1/2-in.-thick fame rails are rated up to 3.35M RBM and integral 20 -n.  and 27 -in. frame extensions (not bolt-on) for greater strength and reliability.
An available stainless-steel oil pan reduces corrosion in highly corrosive applications while an industry-standard J1939 electrical system architecture and improved harnessing to maximize uptime.  Al new HVAC system, designed for reliability, now includes a high-performance MAX defrost feature.
Every HV Series can be equipped as an option with OnCommand Connection, the company's leading-edge remote diagnostics system and Over-the-air (OTA) programming. OTA, available through the nine-pin International LINK device, enables drivers or fleet managers to utilize a mobile interface to  initiate authorized engine programming at the customer's facility over a safe, secure Wi-Fi Connection. The service offers drivers and fleets an easy, secure means of updating engine control modules to reflect the latest manufacturer-approved calibrations, without the necessity of visiting a dealer or other service facility.
Diamond Logic Provides Seamless Integration for Truck Equipment Manufactures Customers can order the specific chassis configuration needed for any application upfront which substantially reduces the time and expense involved to up fit the vehicle in post-production.
With an inside wheel cut of up to 50°, the HV Series can easily navigate tight city streets or construction sites, saving driver time, reducing work-site collisions and boosting productivity. The HV Series is available in a variety of specifications: Regular Cab, Extended Cab, and Crew Cab.
Request More Information
Fill out the form below to request more information about
Navistar Rolls Out International HV Series with Available Big Bore Engine