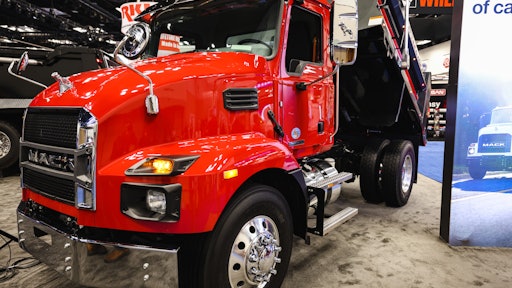 Wayne Grayson
When Mack re-entered the medium-duty market following an 18-year hiatus in 2020, it wasn't targeting its core customer base. After all, the truck maker has exited and re-entered the segment a couple of times due to its bread being buttered firmly on the heavy-duty side of things.
But two years following the introduction of the Class 6 MD6 and Class 7 MD7—and one year and change into the trucks being available—Mack announced a single tweak to these trucks during an event at Work Truck Week 2022 in Indianapolis that will open the trucks up to more heavy-duty vocational applications: the Allison 3000 Rugged Duty Series (RDS) will now be an available transmission option.
Prior to the MD6 and MD7, the last medium duty Mack model rolled off the line in 2002. But around 2018, the stability of the medium-duty market and the number of customers running Mack's heavy-duty offering who also needed a Class 6 or Class 7 truck became too large to ignore.
With around 100,000 medium-duty trucks sold each year in North America—75% of which are Class 6 models—Mack said the MD6 and MD7 open the company up to new customers and fleets at a pivotal moment in time as pressure mounts from two directions: the acceleration of commercial electric vehicle development and the growing power and vocational capabilities of light-duty trucks.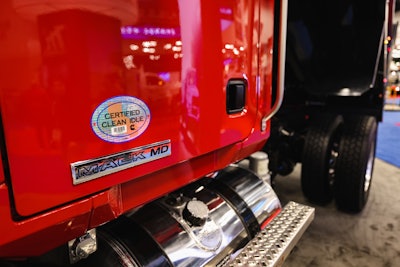 And Mack says the MD6 and MD7 have been a successful re-entry, taking the company from 0 to 3.7 % market share in 2021 alone. The trucks are available in 4x2 configurations and the cab design has an industry-leading bumper-to-back-of-cab measurement of 103 inches.
However, the trucks also represented a deviation from the norm for Mack; a deviation that dealers found themselves navigating around in creative ways as customers came to them with certain expectations around what a Mack Truck should be.
Mack aimed the MD6 and MD7 at the heart of the medium-duty market: dry and refrigerated van customers and those looking for stake trucks. Van and stake sales accounted for 72% of Mack's medium-duty sales, and while the company is happy with the in-roads it has regained in those segments, Mack dealers had a lot of customers coming in expecting to be able to use these trucks for, well, Mack-type applications: dump, tank, refuse and service trucks.
But those are applications that Mack takes great pride in purpose-building for, with Mack engines, the Mack mDrive transmission, Mack axles—everything you'll find on the Granite. Meanwhile, one of the engineering goals of the MD6 and MD7 was to build these trucks with on-the-shelf parts. The engine is a Cummins B6.7, the standard transmission an Allison 2500 Highway Series and the axles made by Meritor. Nevertheless, a lot of customers saw the potential of the MD6 and MD7 for use in these applications, and the dealers agreed with them.
In fact, nearly one-third of all medium-duty sales for Mack in 2021 were aimed at those vocational applications. "We're into applications and vocations that we initially didn't target and we sure didn't stop from doing it either," said Dayle Weatherell, Mack Vice President for medium-duty trucks. "They used some creativity and enthusiasm and they did the job."
The optional Allison 2500 RDS was a helpful aid to that enthusiasm, but Mack found it lacking in terms of unlocking the true vocational capability of these trucks.
With that enthusiasm in mind, Mack says adding the Allison 3000 RDS as an available option is a simple tweak that will make a meaningful impact on these trucks' capability, specifically in "applications that require more power, but are best suited for medium-duty vehicles," according to a Mack press release.
Mack estimates that this new option will increase the MD Series' addressable market by 25,000 units annually.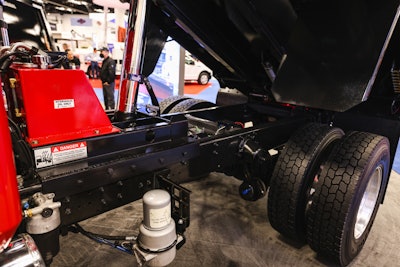 Production of Mack MD Series trucks with the Allison 3000 RDS will begin in July and the option will be available in the order book next month.
Equipped with the Allison 3000 RDS, the Mack MD Series trucks can haul more. The MD7 is approved at a 33,000-lb. Gross Vehicle Weight Rating (GVWR), for refuse and recycling applications. The MD6 has a GVWR of 25,995 pounds.
"So with the 3000 we're able to realize the full 33,000 pound weight capacity with the Allison 3000, said Tim Wrinkle, Mack's construction product manager. "The 2500 is a little bit more limited. But now with the 3000 we can maximize that load capacity here in the MD7."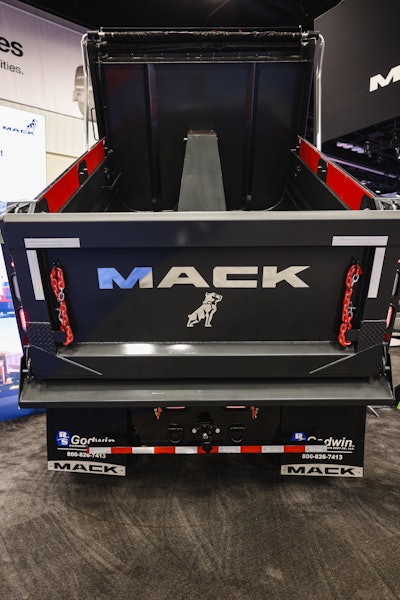 The 3000 RDS also allows for live power PTO, allowing the trucks to move while operating a dump body or a snow plow, or deliver salt, oil, water, fuel and propane as a tanker.
Another benefit of the 3000 RDS is that it increases the trucks' Gross Combination Weight Rating to 45,000 lbs., allowing a dump truck to pull utility trailers with compact equipment, for example.
Beyond the increased capabilities of these trucks, the benefits of their smaller size remain: a sharp wheel cut for maneuverability in tight environments; exemption from the 12% Federal Excise Tax; and the MD6 does not require a CDL to operate.
Granite updates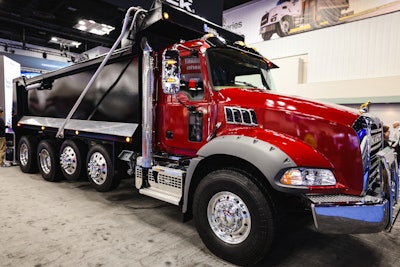 Mack's Work Truck Week announcements weren't limited to the MD Series, however. The company also announced a few updates to its Granite line as well.
For starters, the Granite is now available with a new bench passenger seat. Mack says that a growing number of Granite customers have a need for seating a third person in the cab.
The new bench seat will be offered in two widths: a full-width bench and a narrow option if you need to out bodybuilder controls between the seats. The seat also increases rear legroom by up to three inches and can be lifted up for storage.
Mack is also adding a dual PTO to its mDrive automated manual transmission on the Granite. The feature is designed around dry and wet bulk and other applications that require two PTOs running at the same time.
"So we have a true left and right position, which upfitters love because it's very easy to get from those positions to the sides of the rails where they need (to get)," Wrinkle said.
Mack will offer different configurable options for the adapters and connectors that you can place on the end of the PTO, including DIN-type and SAE flange to run jack shafts. "These actually work independently with two dash switches inside, and even from the factory we can direct mount hydraulic pumps right to this, so you can have two pumps from the factory, so it's a very good economic option."