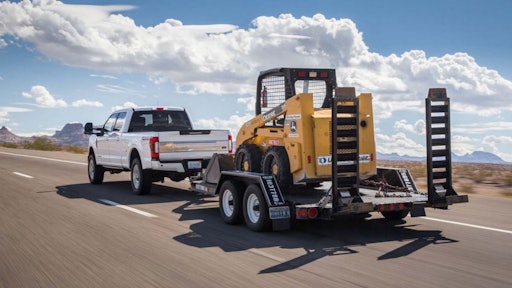 Motortrend says sometimes, a vehicle so clearly satisfies or exceeds its vehicle-of-the-year criteria that the magazine's editors spend more time looking for faults than attributes. In this year's field, the Ford Super Duty trucks emerged as the intuitive choice, one that had to be scrutinized, analyzed, and picked apart in subsequent days of testing. Some competitors – the list this year included Ram 2500/3500 HD, Ford F-150, Nissan Titan and Honda Ridgeline – rose in standing in the course of our evaluations, but none so much that the Super Duties needed to sweat. Indeed, the Fords' ability to remain cool under extreme pressure made it all the more clear they deserved this award.
Motortrend says Ford Super Duty topped all of its criteria, including:
Efficiency: Motortrend's Real MPG testing showed Super Duty, with class-leading torque and towing/payload capability, at 11.0/16.4/12.9 mpg city/highway/combined (16.3/20.5/18.0 mpg for the F-350 diesel), significantly more efficient than the equivalent Ram
Engineering: 'With 16 tons burdening the rear axle, the F-350 Super Duty will begin rolling forward at idle when you release the brake—despite a gross combined vehicle weight of more than 40,000 lb. Give it some throttle, and it's a strong, steady pull to freeway speeds. Braking from such speeds is handled with confidence thanks to a powerful exhaust brake, a well-calibrated Tow/Haul mode, and strong 14-inch rotors front and rear.'
Get more comparison of the Super Duty and Ram HD load-hauling performance at the Motortrend story, and find out how Super Duty came out on top in additional criteria such as Design, Performance of Intended Function, Safety and Value.