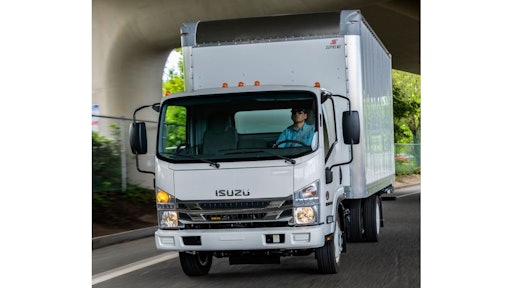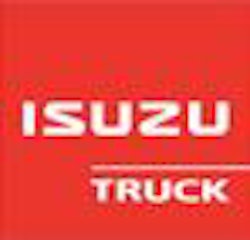 Isuzu Commercial Truck of America, distributor of low-cab-forward trucks celebrating Isuzu's 35th year in North America, will add two new Class 5 gasoline-engine models to its 2019 and 2020 model-year lineup.
The NQR Gas (with a target GVWR of 17,950 lbs.) and the NRR Gas (with a target GVWR of 19,500 lbs.)  will be powered by a General Motors 6.0-liter Vortec V8 supplied by PSI and will be mated to an Allison 1000 RDS transmission with PTO gear.
Production is expected to begin in mid-2020.
Isuzu also announced new Mobileye driver-assistance technology and audio options on all Isuzu N-Series and F-Series trucks beginning in May 2019. The package includes:
Forward Collision Warning
Pedestrian Collision Warning
Lane Departure Warning
Headway Monitoring Warning
Active at any speed, Forward Collision Warning alerts drivers of an imminent rear-end collision with a car, truck or motorcycle up to 2.7 seconds in advance.
Pedestrian Collision Warning notifies the driver of a pedestrian or cyclist in the danger zone, and alerts the driver of an imminent collision. Operational during daylight hours only, this feature is active at speeds under 31 miles per hour.
Lane Departure Warning monitors lane markings and alerts drivers with visual and audible warnings when a lane deviation occurs without proper signal activation. The system employs both a left- and right-lane warning icon and is active over 34 miles per hour.
Headway Monitoring Warning helps drivers maintain a safe following distance from the vehicle ahead, providing visual and audible alerts if the distance becomes unsafe. Active at speeds above 19 miles per hour, the system displays the amount of time, in seconds, to the vehicle ahead. When the time becomes 2.5 seconds or less, and is no longer considered safe, an alert is provided.
The Mobileye suite of driver-assistance features will carry a manufacturer's suggested retail price of $1,132. Mobileye, an Intel Company, has provided driver-assistance technology since 1999. Currently, 30 million vehicles are equipped with Mobileye technology.
Also starting in May 2019, all Isuzu N-Series and F-Series trucks will offer new audio and backup camera options.
The Alpine iLX-207 audio upgrade ($1,264 MSRP) features a 7-in. VGA touchscreen display and Bluetooth hands-free capability. The system is compatible with Apple CarPlay and Android Auto and, with an additional tuner, SiriusXM satellite radio.
For an additional $200, the upgraded audio system can be augmented with the Alpine HCE-C1100 backup camera. Thanks to High Dynamic Range (HDR) technology, the display offers incredible image quality in varying levels of light, eliminating "washout" common when going from areas of heavy shade into areas with bright sunlight. Parking is more precise thanks to the camera's 131-degree horizontal viewing angle and 103-degree vertical viewing angle.
The base NPR Diesel and Reach models have been discontinued.
Request More Information
Fill out the form below to request more information about
Isuzu Adds New Class 5 Gasoline Trucks, Driver-Assist Features