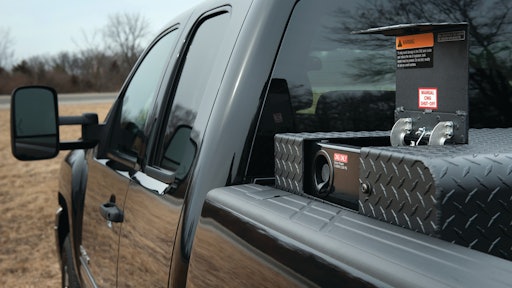 Ford, General Motors and Ram Trucks offer new technologies for 2013 that address increasing demand for alternative fuels, better fuel economy and improved towing capability. Compressed natural gas (CNG) has taken center stage and manufacturers have engineers working overtime to squeeze as much fuel economy as possible out of conventional powertrains.
Ford focused on combustion efficiency
Half of Ford vehicles will run on alternate fuels, and Ford remains focused on coaxing efficiency from internal combustion engines. "We can talk all we want about alternative fuels and how we anticipate those are going to grow into the future, but the internal combustion engine is still going to be the primary powertrain choice of the consumers," says Gerry Koss, fleet marketing manager at Ford. "While we are making leaps and bounds from where we were in the past [in terms of alternative technologies], we still believe in internal combustion, so we need to make these powerplants more efficient."
The efficiency drive touches components throughout vehicles, from better transmissions and power trains to reducing parasitic load with advancements such as electric power steering.
Ford's leading technology today is EcoBoost. It primarily consists of three components – direct fuel injection, turbocharging and downsizing of engine displacement. "Those three give you improved fuel economy, reduced CO2 and improved performance," notes Koss. With its current EcocBoost offerings the company has witnessed a 20% improvement in fuel economy, a 15% reduction in CO2 and an increase in performance - measured by horsepower and torque.
Ford has also accommodated a recent surge in demand for compressed natural gas (CNG) and propane. "Requests for CNG and propane far exceed requests for hybrids," says Koss. CNG and propane require special engine prep packages. "It is a diverse market, so we offer engine prep packages on as many products as we can where customers demand it," says Koss.
Recently Ford rolled out the Westport WiNG Power System. It is a fully-integrated, compressed-natural-gas bi-fuel system available for Ford F-250 and F-350 pickup trucks. It is based on Ford's 6.2L hardened engine platform. The trucks run on either CNG or gasoline. Westport starts the WiNG Power System at $9,750, and claims the average Ford pickup will save $2 per gallon in fuel cost to earn back the price in about two years. The WiNG Power System has undergone the same original equipment manufacturer testing for safety and durability used by Ford for their gasoline and diesel products. It is installed at the Westport facility adjacent to Ford's Kentucky Truck Plant, in Louisville.
F-Series Super Duty increases towing and payload
F-Series engineers have raised the conventional towing capacity of its Super Duty trucks to 18,500 lbs. and payload capability to 7,260 lbs. This was possible due to an improved brake system. The brake rotor swept area has increased by 16.4 percent in front and 14.5 percent in rear. These changes support a 700 lb. increase in the maximum Gross Vehicle Weight Rating to 14,000 lbs.
Improved brake pads and a retuned booster enable enhanced brake pedal feel. "We've really improved brake feel," says Michael Watkins, brake system engineer. "There's refined modulation in the pedal – you really feel the stopping power."
With all of the technology unveiled for the 2013 Ram 1500 pickup line, it is difficult to call this merely a product update. "For 2013, we looked at available technology and aligned systems with the goal of greatly improving fuel economy," says Fred Diaz, president and CEO, Ram Truck brand and Chrysler de Mexico-Chrysler Group LLC.
The most noteworthy innovation is the 3.6-liter Pentastar V6 engine, which Ram says improves horsepower 42 percent and torque 13 percent while delivering 20 percent better fuel economy compared to the previous 3.7-liter powertrain. Extra gear ratios improve both fuel economy and towing performance. The Pentastar V6 with class-exclusive eight-speed TorqueFlite 8 transmission combine to deliver EPA 17 mpg city/25 mpg highway in two-wheel drive models. The powertrain is an option over the 5.7L V8 and six-speed. The new eight-speed is also available with the 5.7-liter V8 with Fuel Saver Technology. A dash-mounted rotary gear selection switch was chosen to accommodate the electronic transmission.
Another unique option is the Ram Active Level air suspension, which features five height settings for optimum ride and aerodynamic performance. It operates automatically, or may be controlled manually via console or key fob controls. Normal ride height is 8.7 in. of clearance as measured from the base of the door sill. The 2013 Ram 1500's Aero mode lowers the vehicle 0.6 in. to improve efficiency by up to one percent and is activated by vehicle speed, adjusting for optimal performance and fuel economy.
Off-Road 1 mode lifts the truck 1.2 in. from normal ride height for clearing obstacles. Off-Road 2 mode increases ground clearance by 2 in. over normal ride height. Park mode lowers the vehilce 2 in. from normal ride height for easy entry/exit and cargo loading. Another neat feature, when weight is added to the tailgate the truck self-levels.
Electric Power steering is another innovation creeping into the industry as manufacturers search for fuel savings. An electric motor powering the truck's rack-and-pinion steering relieves the engine from the burden of turning a hydraulic pump, improving fuel efficiency up to 1.8 percent and adding 5 hp.
The 2013 Ram 1500 combines an array of fuel-efficiency improvements that, each by itself, may not seem significant. Added together, they deliver noticeable economy. For example, a concerted effort to improve aerodynamics takes the pickup to a .363 coefficient of drag.
The 2013 Ram 2500 and 3500 heavy-duty trucks will boast improved towing and Gross Combined Weight Ratings (GCWRs) with new frames, suspension and upgraded powertrain options. "To answer the needs and wants of our customers, Ram Trucks has taken a big step forward in capability while improving the cost of ownership and efficiency," says Fred Diaz, president and CEO, Ram Trucks Brand and Chrysler de Mexico.
The backbone of the trucks is a frame constructed of high-strength 50,000-psi steel, which adds much more capability than the 30,000-psi steel typically used. In the rear portion of the new frame, the structure includes fully boxed rear rails and a factory-installed rear axle crossmember with provisions for 5th wheel and gooseneck hitches.
The conventional trailer hitch system has been upgraded to Class 5 with a 17,000-lb. load capability and 1,800 lbs. of tongue weight for use with 2-in. or 2.5-in. receiver hitches.
New powertrain options compliment the new frames and further enhance capability. The 5.7-liter HEMI V-8 that is standard in the Ram 2500 Heavy Duty makes its debut in the Ram 3500 Heavy Duty single rear wheel drive pickup as standard equipment. This engine pumps out 383 hp at 5,600 rpm and generates peak torque of 400 lb.-ft. at 3,950 rpm. It is mated to a 66RFE six-speed automatic transmission.
For those that prefer a diesel, the 6.7-liter Cummins High-Output Turbo Diesel I-6 is now available in three versions. The first version, paired with a six-speed manual transmission, delivers 350 hp at 2,800 rpm and 660 lb.-ft. of torque at 1,500 rpm. This is an increase from 600 lb.-ft. of torque last year. The second option matches the Cummins to the 68RFE six-speed automatic transmission. This combination cranks out 370 hp at 2,800 rpm and 800 lb.-ft. of torque at 1,600 rpm.
Finally, the Cummins for Ram 3500 is paired with a new Aisin six-speed automatic transmission to produce 385 hp at 2,800 rpm and 850 lb.-ft. of torque at 1,600 rpm. This new transmission features wide gear ratios that contribute to upgraded shift performance and improved driveability.
The Cummins engines offer a 15,000-mile oil change interval and a 10% improvement in fuel efficiency. This is partially due to the design of the SCR system with a larger EGR cooler and a high-pressure common rail fuel system. These diesels are also compatible with B-20.
Diesel-equipped Heavy Duty pickups feature the Ram Active Air intake system. When the intake system senses extreme heat, it draws cool air from the front of the vehicle. This function also engages at high altitudes for improved throttle response in low-oxygen environments. When conditions are wet from snow, ice or water-fording, the system pulls air from an underhood inlet clear from snow packing and water ingestion.
In addition to frame, powertrain and suspension enhancements, there were other new features added to the 2013 Ram Heavy Duty pickups. Central locking includes the RamBox cargo management system and tailgate power locks, creating a convenient solution for locking all exterior doors and storage with one push of a button. Auto rain-sensing wipers and SmartBeam headlamps are also offered.
Ram Trucks unveiled a 2500 HD Heavy Duty CNG pickup that is powered by a 5.7-liter V8 and features both compressed gas storage tanks and an 8-gal. gasoline fuel tank (Canadian customers can opt for a 35-gal. tank).
The pickup's 4.6-cu.-ft. (130-liter) CNG tanks are located in the forward portion of the 8-ft. bed. Both tanks are mounted to the frame and covered by a painted 50 ksi high-strength steel cover. The CNG filler connection is located next to the gasoline fuel neck, accessed through the fuel filler door. Range on compressed natural gas alone is estimated to be 255 miles, while the backup supply of gasoline extends the range to 367 total miles.
The 5.7-liter HEMI bi-fuel engine has been modified to run on compressed natural gas as well as gasoline. Redesigned cylinder heads with specifically designed CNG compatible valves and valve-seat materials allow the engine to burn both fuels. It also gets a second, CNG-specific fuel rail and a set of injectors. New spark plugs improve combustion and durability, and a new powertrain control module allows the HEMI to seamlessly operate on either of the two fuel sources.
Fuel system operation is automatic. It transitions from CNG to gasoline with little discernible difference in operation or capability. Although a small amount of gasoline is used during engine startup, the pickup runs exclusively on compressed natural gas. If the CNG tanks are emptied, the vehicle will automatically switch to gasoline.
The big news from Chevrolet and GMC is yet to be announced as General Motors is scheduled to unveil a new platform for the model year 2014 1500 pickup trucks in December. But there are also changes to the current pickup line as well. New for 2013 the 6.0L powertrain now features powertrain grade braking in the normal transmission mode – it was previously incorporated only when the Tow/Haul mode was activated. It uses engine torque to help slow the vehicle on descents, which helps reduce brake wear.
Powertrain grade braking is now included in all six-speed automatic transmissions. This feature reduces brake rotor temperatures 100 degrees Celsius on grade tests by downshifting transmission gears, thereby reducing brake applications on long downhill conditions.
Under the hood, the 397-horsepower Duramax turbo-diesel is now available on 3500HD Chassis Cabs and box delete Silverado/Sierra trucks. Previously, these configurations were available with the 335-hp version of the Duramax.
Chevrolet Silverado/GMC Sierra pickups also continue to offer proven V-8 power with an EPA highway estimate of 21 mpg for mainstream 2WD or 4WD models, and a 22-mpg highway estimate for the Silverado XFE. The Chevrolet Silverado/GMC Sierra XFE 1500 (2WD crew cab) incorporates unique aerodynamic enhancements, a 5.3L/six-speed automatic powertrain and other details. It also boasts a towing capacity of 7,000 lbs.
The Silverado Hybrid 1500 returns for 2013, delivering fuel economy estimates of 20 mpg city/23 mpg highway, while offering the Silverado's traditional capabilities – including a 6,100-lb. towing capacity. It is the industry's only hybrid full-size truck.
A lineup of small-block V-8 engines and six-speed automatic transmissions complement the 1500 chassis by enabling a maximum payload capacity of 1,937 lbs. When equipped with the available max trailering package and the 6.2L V-8, the Silverado 1500 can tow up to 10,700 lbs.
Variable valve timing is standard on all V-8 engines and cylinder-deactivating Active Fuel Management is incorporated on 5.3L engines. These technologies help optimize performance and efficiency.
General Motors adds bi-fuel option
General Motors adds a factory-installed option for natural-gas bi-fuel versions of the 2013 Chevrolet Silverado and GMC Sierra 2500 HD extended cab pickups. These vehicles are powered by a Vortec 6.0-liter V8 engine that can run on compressed natural gas (CNG) and gasoline. The engine features hardened valves and valves seats that enable to run on gasoline or compressed natural gas.
"Our customers are going to be able to get this truck in either a long bed or a short bed," says Mike Jones, General Motors' CNG product manager. It will be available in either two-wheel or four-wheel drive.
To address the issue of range and refueling, the bi-fuel pickups can work on gasoline or CNG. GM uses a lightweight Type 3 CNG tank that holds 17 gallons. It is made of composite material with an aluminum liner and a carbon fiber wrap.
Gasoline is carried in a 36-gallon tank and all of the gasoline and high-pressure fuel lines are inside the frame rails. With the two fuel tanks combined, the pickups have a range of over 650 miles. "It allows the customer to get out of the range of a typical CNG station if required," says Jones.
Companies in this article