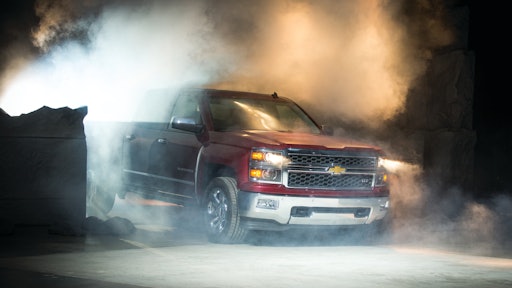 Equipment Today was in attendance in Pontiac, MI, when GM pulled the wraps off its 2014 Chevrolet Silverado and GMC Sierra 1500 pickups. These full-size pickups are new from the hood to the hitch. This includes a trio of EcoTec3 engines based on the proven small-block design with all of the fuel-saving technologies together for the first time in a pickup.
GM's 2014 Silverado and Sierra 1500 Top V8 Pickup Truck Fuel Economy, Towing Capacity
Engine choices will include a 4.3-liter V-6, a 5.3-liter V-8 and a  6.2-liter V-8. Each engine features standard direct injection, continuously variable valve timing and Active Fuel Management, which means they seamlessly switch to run on four cylinders during light-load driving to save fuel. These technologies will be standard on every Silverado and Sierra and work together to precisely control the buring of fuel in the cylinders.
The V-6 is a purpose-built engine. "Rather than adapting a V-6 intended for use in passenger cars, we built a new engine from the ground up based on the unique demands of a truck," said Jordan Lee, powertrain chief engineer.
2014 Chevy Silverado and GMC Sierra Confirmed Most Powerful Pickups
All three engines use lightweight aluminum blocks and heads and are mated with durable six-speed automatic transmissions. A "cruise grade braking" feature down-shifts the transmission on downgrades, which is intended to reduce brake wear. The V-8 models use new, larger 9.5- and 9.76-inch rear axles with the strength to accommodate the engines' higher output. An automatic locking rear differential optimized traction without any driver intervention.
An updated, fully-boxed frame provide a robust foundation. The main rails and key crossmembers are made of high-strength steel. Hydroforming is used to further increase strength and reduce mass.
GM Hikes Pricing More than $2,000 on 2014 Chevy, GMC 1500 Pickup Trucks
Product differentiation
"No one truck can meet the needs of all pickup buyers, that is why GM is continuing with our three-truck startegy," says Mark Reuss, president, GM North America. "We are offering these Silverado and Sierra pickups unveiled today. These will followed by new Heavy Duty models for customers that demand even more from their pickup trucks. After that you will see the all new Cherolet Colorado GMC Canyon mid-size trucks. At Chevrolet and GMC our goal is to meet the specific needs of a broad customer base - no compromises."
2014 Chevrolet Silverado 1500 Pickup: FCP First Drive
But with the two brands it really becomes a six-truck strategy- three sizes off of two brands. "In addition to different needs, customers also have different styles and personalities and they want completely different styles and personalities from their trucks," says Reuss. "They also want the brand to be a reflection of who they are and what they stand for. The key is to provide clearly differentiated trucks that appeal to different customers."
He explains, "The new Sierra and Silverado are more differentiated than ever in unique features and materials, in their standard content and in their design and details. These are two strong and distinct brands – each one appealing to a different kind of customer. The Silverado customer wants a truck that is hanest, hard working and dependable. Sierra customers are the people that others turn to for expertise and advice. They believe if something is worth doing, it is worth doing right. They look for things that make them better at what they do. They are will to pay more for premium productswith distictive craftsmanship and the craftsmanship they want."
Improved cabs
Among the design goals were quieter, more comfortable and more functional cabs.Two-thirds of the cab is made from high-strength steel to help Silverado and Sierra meet though new safety standards. This new structure also creates an interior that is far quieter and more refined.
Video: See the Key Features of Chevy's 2014 Silverado
It also allowed the company to rethink its door startegy. New inlaid doors on all models fit into the body instead of over top the roof. This reduces wind noise and improves aerodynamics. The rear doors on crew cabs are longer than before, providing easier access for the rear-seat passengers.
Extended Cab models now feature forward-hinged rear doors with outside pull handles at the rear, providing improved access in tight parking spaces. Unlike trucks with rear-hinged doors, Sierra's layout allows rear passengers to enter and exit the vehicle with the front doors remaining closed.
Crew Cab customers can choose between two bed lengths; in addition to the current 5-foot, 8-inch box, a new 6-foot, 6-inch box is available. Regular cabs continue to be available with the 6-foot, 6-inch or 8-foot box lengths, while the extended cab will come exclusively with a 6-foot, 6-inch box. A corner step bumper with contoured handles make for easy access to the box whether thetailgate is up or down. An easy lift tailgate uses an integrated torrsoin bar to make lifting easier and a rotary damper that allows for controlled and quiet lowering. LED lighting is available under the rails of the box, making loading and unloading much easier in the dark. These are standard on the Sierra and available on the Silverado.
There was also a lot of empahsis placed on the interiors. Sierra and Silverado feature an upright instrument panel designed for visibility and accessibility. Knobs and buttons are large, legible and within reach. All knobs are coated using a rubber-over-mold technology, so they're easy to grip even through gloves.
A new instrument cluster on all models features six gauges with an available centrally located, 4.2-inch color Driver Information Center with vehicle status information, a trip computer, and other information, like radio and navigation.
A second, high-mounted glove box with a flat floor joins the traditional box below. Each of the doors has storage crafted to hold most beverage containers and other personal items. Along the center stack and center console are additional cupholders, discreet compartments large enough for most laptop computers, and connectivity options. Sierra is available with a 110-volt outlet, up to five USB ports, four 12-volt outlets and an SD card slot.
Available Chevrolet MyLink or GMC IntelliLink connectivity uses an available high-definition, fully reconfigurable eight-inch color touchscreen with an intuitive layout and easy-to-read icons that control audio features, a Pandora app, Bluetooth phone features, and available navigation with all-new map displays. Many of the system's features can be controlled by voice command, allowing the driver to keep eyes on the road and hands on the wheel.
Seats use dual-density foam designed to stay comfortable over long hours and continue to look great after years of use. Leather and cloth will be offered, and a new high-wear cloth is designed to last longer and resist staining. A spilled drink will bead on the fabric, not soak in. Heated seats are available with cloth seats and standard with leather.
Improved brakes and electric power steering
Strong brakes are important for stopping trucks, whether they're full of people, payload or both. Four-wheel disc brakes with Duralife brake rotors feature a hardened and strengthened surface to reduce corrosion. Duralife rotors are expected to last twice as long as conventional rotors and provide quieter braking with less vibration.
The 2014 pickups also use electric power steering. An electric motor in place of an engine-driven hydraulic pump saves fuel and allows for tuning that's expected to result in a more consistent, crisp steering feel and plenty of assist for parking maneuvers.
Premium safety fetures
The GMC Sierra comes with projector beam headlamps. In addition, a suite of active safety features will be optional for the 2014 Sierra, including Forward Collision Alert, which uses a forward-facing camera to notify the driver of an imminent collision, and Lane Departure Warning, which uses the same camera to track the truck's position in relation to a road's lane markers.
Paired with Forward Collision Alert and Land Departure Warning is GMC's first-ever Driver Alert Seat, which generates vibrating pulse patterns on the left and/or right side of the lower seat cushion bolster to alert the driver of potential dangers, such as an un-signaled lane change or approaching another vehicle too quickly. According to GM research, the seat's vibrations may direct driver attention to the location of a potential collision more quickly and accurately than audible alerts. Drivers have the option of selecting either audible or vibrating alerts.
Quieter, stronger, more aerodynamic
Quietness doesn't only come from factors within the cabin. The pickups feature new aerodynamic measures that benefit fuel efficiency and reduce wind noise. Updated mirrors that reduce wind turbulence, triple-sealed inlaid doors, as well as roof and tailgate design features all help air flow smoothly quietly over the Sierra. Additional sealing around the grille, headlights and space between the cab and box are also designed to lower drag for the new trucks, along with new aerodynamic spats located in front of the rear wheels. The result is the aerodynamic coeifecient of drag is 5 percent less than current models.
The full-size truck market has shown growth due to pent-up demand says Mark Reuss, president, GM North America. "We have seen an explosive growth in crew cabs. The have gone from zero to more than 60 percent of the market in the last ten years. With the increased versatility the pickup can offer the customer even more - more comfort, more connectivity, a nicer, quieter interior and improved fuel economy. The new Silverado and Sierra will do all of this and more without sacrificing any of the core truck capabilities that we are known for.
The fuel economy and performance specs have yet to be realeased, so stay tuned for further updates.