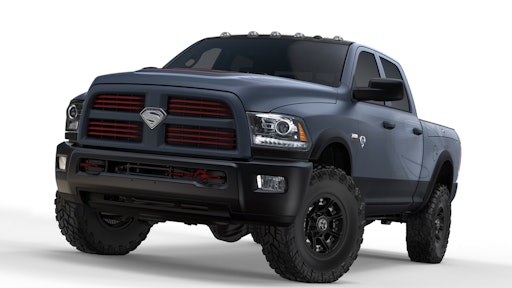 Ram Trucks is co-branding a new commercial with Warner Bros.' "Man of Steel" movie, but the real headline getter is the one-of-a-kind "Man of Steel" Ram 1500 Power Wagon designed to take advantage of the marketing alliance.
The "Man of Steel" pickup truck leads with the Superman icon replacing Ram logos all around the truck's exterior and interior.
The Dark Ceramic Gray truck features Anodized Red grille accents, created from a 14-coat paint process. It has black forged-aluminum 17-inch off-road wheels and a custom, one-off vehicle wrap inspired by the Superman crest.
The Pewter leather seats not only wear Superman's icon, but custom mesh seat inserts reminiscent of Superman's suit texture. There are more Anodized Red paint trim accents inside, and "Man of Steel" logo badging on the glove box. A "Man of Steel" screen backdrop and start-up screen appear on the radio cluster.
The Man of Steel Power Wagon will debut June 10 in New York City at the movie's world premiere. It will tour special events through the summer and fall, including the National Finals Rodeo and State Fair of Texas, before being auctioned off for charity at a later date.
The 30-second "Action" spot intersperses scenes from the movie and footage of the Ram truck as the voiceover says, "Everyone has the ability to do something amazing … Some just do it on a more regular basis." It is reinforced with print ads that will promote Ram trucks and the "Man of Steel" movie through the July 4 weekend.
Watch for vintage trucks and other vehicles that Chrysler provided for action scenes in "Man of Steel," which opens in theaters June 14.
"Ram celebrates those who dare to be great and never back down from a challenge," said Reid Bigland, president and CEO – Ram Truck Brand. "This is the essence of Superman and also embodies our Ram truck buyers, who believe in hard work, integrity and standing up for what is right."
Video: How Motor Trend Picked Ram 1500 for the 2013 Truck of the Year
Companies in this article