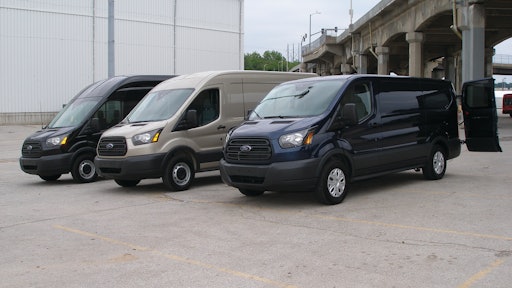 When Ford invited ForConstructionPros.com to drive the all-new Transit vans, we jumped at the chance to find out how the changing shape of commercial vans might fit in heavy construction. It turns out the Transit is more capable and efficient than Ford's perennial market-leading E Series commercial van, and probably worth serious consideration even to replace some industry pickup trucks.
While they're light on towing capacity – Transit tops out at 7,500 lbs., compared to F-150's 11,300-lb. trailer capacity – they're remarkably agile even in the jumbo, 487-cu.-ft. configuration.
Transit is available in three roof heights, with interior clearance of up to 81.5 in., and three body lengths accommodating cargo more than 14 ft. long. It's all about cargo and/or interior work space.
Even with half of its 4,650-lb. cargo capacity on board (F-150 will carry a maximum of 3,120 lb.), the rear-wheel-drive Transit is nimble. The 350-sized unit with high roof handled snap lane changes at boulevard speed with almost no evidence of body roll. A similarly configured 250 model demonstrated just a bit more pitch and yaw with quick maneuvering. And a low-roof 150 was as sure-footed as the 350. All the half-loaded vans delivered excellent ride quality.
Ford announced this week that the U.S. EPA estimated Transit gets 14-mpg city/19-mpg highway fuel economy with the optional 3.5-L EcoBoost engine. That makes Transit as much as 46% more fuel efficient than the E-Series – saving as much as $1,700 annually. Ford says the variety of Transits will average 25% better fuel economy in a package that can haul at least 300 lb. more, and as much as 600 lb. more than today's E-Series.
Driving the Transit with EcoBoost suggests why that twin-turbocharged V6 is convincing a lot of pickup truck buyers to give up V8s. Rated at 310 hp and 400 ft. lb. of torque, it's more powerful than the 3.2-L Powerstroke diesel option, for example, and the EcoBoost is noticeably snappier at lower speeds, and at any change in throttle input.
In fact, the 3.5-L EcoBoost in Transit is more powerful than both of the V8s available in Ford's E Series vans.
Diesel buyers won't be disappointed with the performance of the all-new 3.2-liter Power Stroke diesel. And the standard 3.7-L V6 engine moves the big van with confidence.
The body and wheelbase choices (Ford offers 129.9-in. and 147.6-in. wheelbases) allow Transit's interior space to range from 247 cu. ft. to 487 cu. ft. Ford gives you remarkable access to all of this space with rear doors that open at least 180 deg. – more on the medium-and high-roof models – and a sliding side door that is more than 51-in. wide.
It's a vehicle that should attract users who want to secure tools and materials inside, and who are climbing in and out of the cargo area regularly. The high-roof option also creates a protected work space that allows people up to 6 ft. 4 in. tall to stand upright with head clearance.
Ford appears to be pricing Transits much like pickup trucks. A low-roof, short-wheelbase 150 Series I drove was powered by the standard 3.7-L V6 and nicely appointed at an MSRP of $29,600 with 10-way leather driver's seat and My Ford Touch information console.
At the high end was a 350 Series high-roof, long-wheelbase mdoel with the Powerstroke diesel and a cloth 10-way seat at just over $49,100. What surprised me was that the most-expensive Transit I drove was otherwise pretty plain-Jane despite the diesel. The same basic 350 Series – high-roof, long-wheelbase – with EcoBoost engine was set up with 10-way power seat, My Ford Touch and a heavy-duty alternator at nearly $9,000 less, for $40,400.