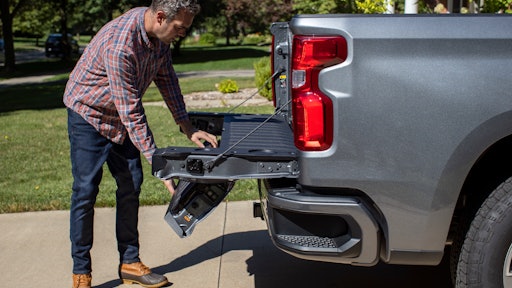 General Motors
The 2021 Chevrolet Silverado 1500 offers mechanical and technological updates, including the addition of an available Multi-Flex Tailgate.
The Multi-Flex Tailgate offers Silverado customers six unique functions, allowing for easier access to bed cargo, enhanced loading solutions and a standing workstation. With a weight capacity of 375 lbs., different configurations for the Multi-Flex Tailgate activate using a key fob or two tailgate-mounted buttons, one for the full gate and another for the second-tier loading and storage options. The Multi-Flex tailgate combines with the Silverado Durabed – featuring LED lighting, a 120-volt outlet and 12 fixed tie-downs. The Multi-Flex Tailgate will be available in early 2021 on all new Silverado 1500 models.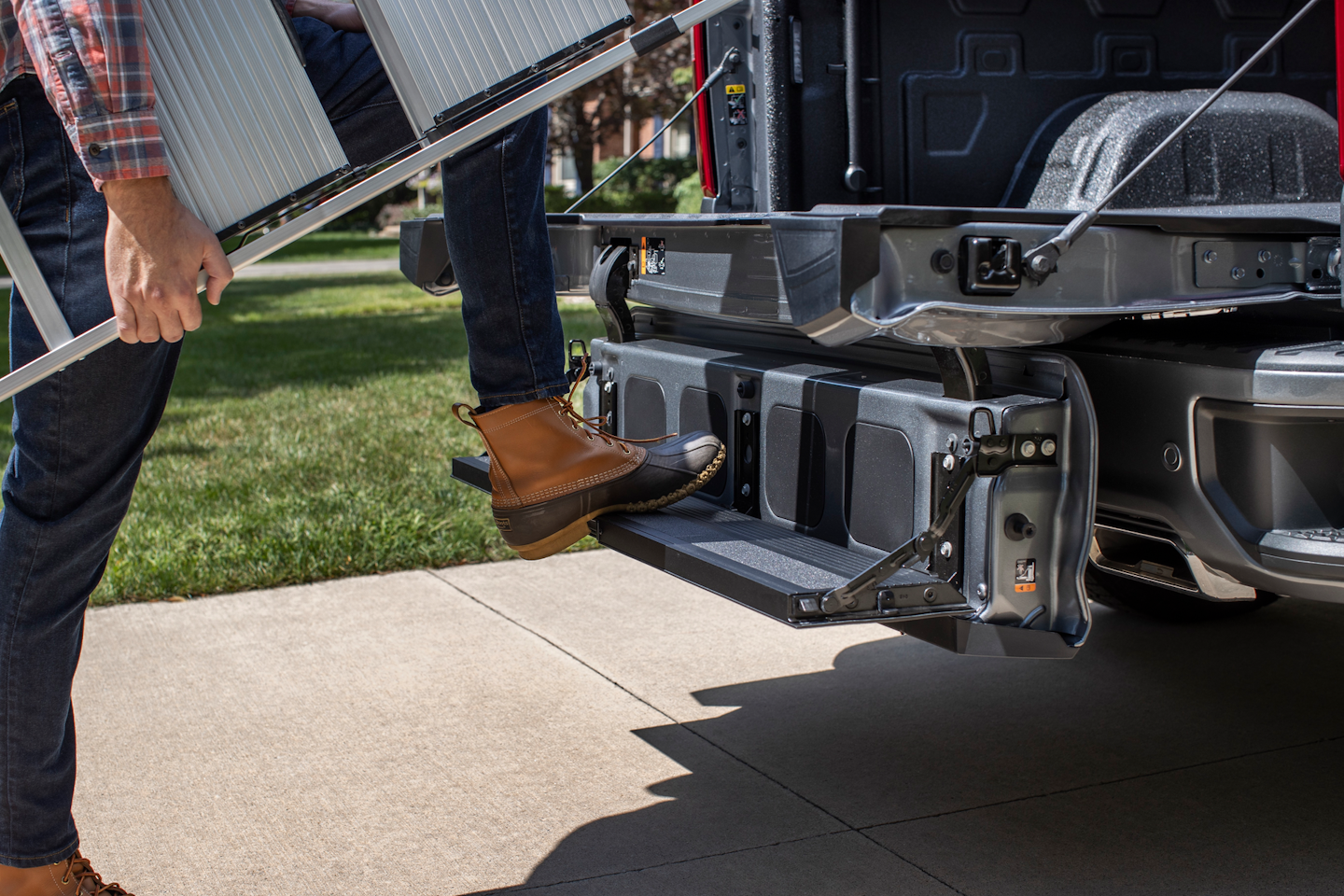 General Motors
Improved Trailering Capability on Silverado's Most Efficient Engine Options
The 2021 Silverado will feature increased conventional trailering capability for two of its most efficient engines, compared to the 2020 model year.
The 2.7L Turbo adds thousands of pounds of trailering capacity to every configuration. The popular Crew Cab Short Box model increases its rating by 2,500 lbs. to a max capacity of 9,300 lbs. in two-wheel drive. A newly available Regular Cab Long Box model provides the maximum 2.7L tow rating of 9,600 lbs. and increases Silverado's overall max payload to 2,280 lbs. in 2WD.
The 3.0L Duramax turbo-diesel adds an additional 1,900 lbs. of trailering capacity to nearly every configuration and provides the maximum capacity of 9,500 lbs. to 2WD models. The 3.0L Duramax engine also receives a $1,500 MSRP price reduction for 2021 models.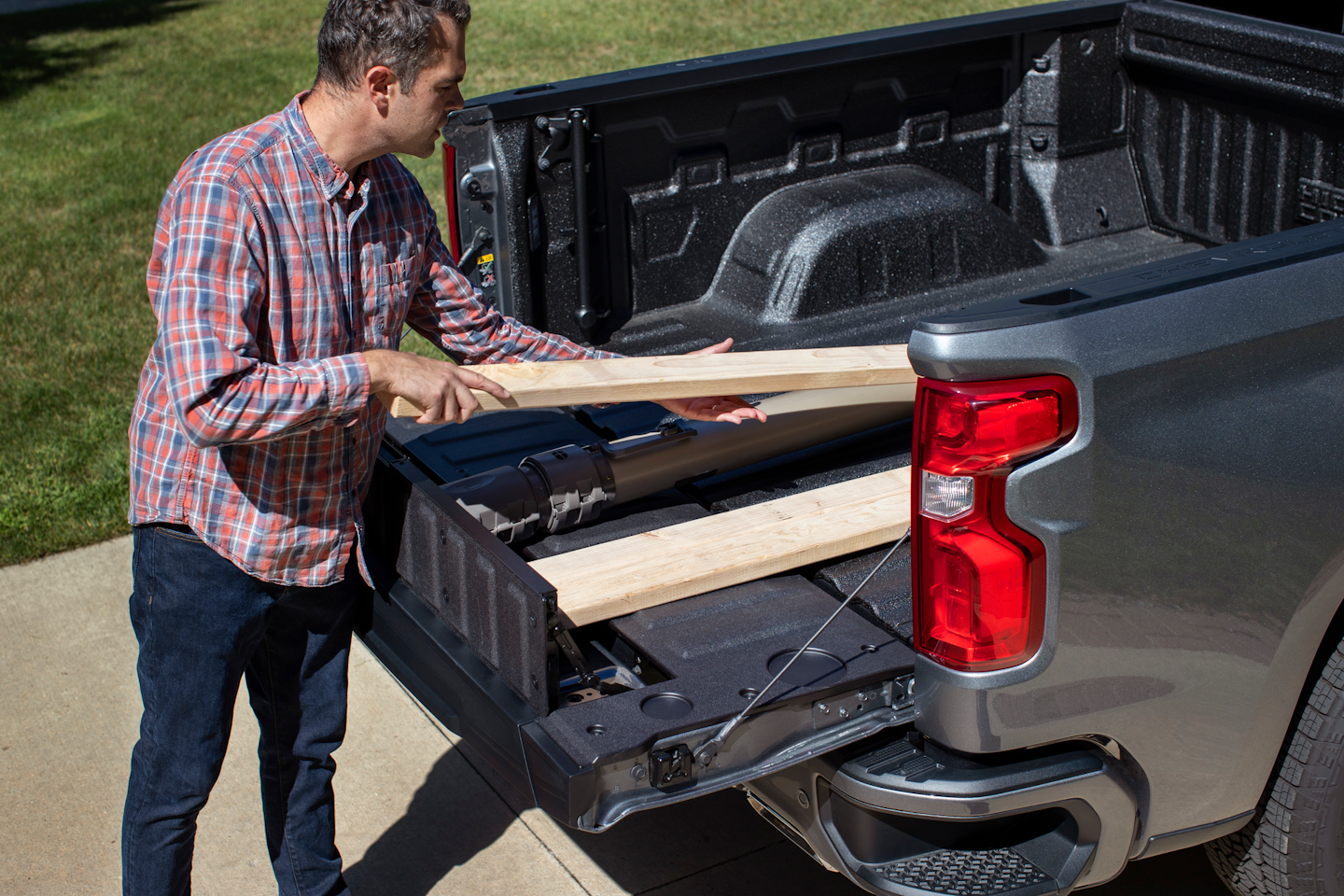 General MotorsChevrolet is confident these engines meet or exceed most trailering needs, as 96 percent of light-duty pickup owners tow less than 10,000 lbs., according to data from MaritzCX an InMoment Company. Additional testing and validation revealed the 2.7L Turbo possesses better-than-expected cooling performance, while the 3.0L Duramax improvements are attributed to the better-than-expected rear axle durability. Chevrolet engineers recertified both engines to the SAE J2807 standard. A full list of trailering specifications can be found here.
Enhanced Trailering Technology for Additional Views and Confidence
The latest generation Silverado launched by offering up to 15 unique camera views. The  2021 models will offer even more enhanced trailering technology, including:
Trailer Length Indicator (new for 2021): When making a lane-change maneuver with the turn signal activated, a red overlay twice the length of the compatible trailer is shown on the center console screen, which can help show when other vehicles are present.
Jack-Knife Alert (new for 2021): Tracks the position of the compatible trailer in relation to the vehicle and provides an alert if a potential jack-knife situation is imminent.
Cargo Bed View enhancement (new for 2021): Cargo Bed Zoom View and Bed Hitch Guidance are now available, which help to align and hook up a gooseneck/fifth-wheel trailer.
Rear Trailer View now features guidelines and Trailer-Angle Indicator: Enhanced to include assisting guidelines when backing a compatible trailer into place and a Trailer-Angle Indicator shows the relationship between the truck and trailer.
Rear Side View enhancement: Provides a split view, automatically biased based on the trailer's angle, of the left and right sides of the truck and compatible trailer. This view was previously only available while driving forward and is now available in Reverse for better visibility when positioning a trailer.
The 2021 Silverado 1500 will begin production in September and arrive at Chevrolet dealerships throughout fall 2020.