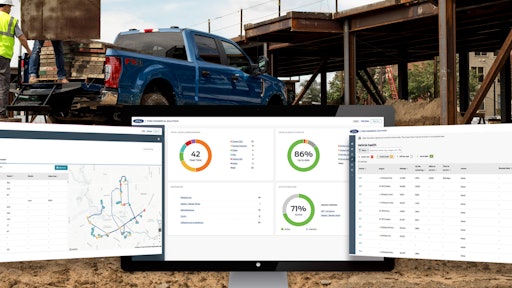 Ford Motor Company
Connectivity provides fleets with the visibility needed to improve operating efficiency. "Our investments double down on connected services and technology," says Philip Podgorny, general manager, commercial and government sales, Ford Motor Company. "One hundred percent of Ford commercial vehicles include embedded modems with 4G LTE WiFi for up to 10 devices. These modems unlock connectivity to intelligent fleet management tools offered by Ford Commercial Solutions. These are designed to seamlessly integrate into your business. They are simple to use and improve operational efficiencies.
"These new services can help improve behavior and bring electric vehicle data and charging solutions to fleet customers," adds Podgorny.
Software solutions can unlock increased fleet productivity. Our intelligent software management tools are designed to increase productivity, maintain uptime and decrease total cost of ownership to help your businesses thrive," says Alex Purdy, Director of Business Operations, Enterprise Connectivity, Ford Motor Company. "When building solutions for small, medium and large commercial fleet customers, our focus is providing fleet managers with meaningful, intelligent and actionable data about their fleet. Knowledge is power.
"With a connected fleet, our full suite of products allow fleet managers to see what's going on in real time, driving productivity improvements across their business," says Purdy. "At Ford, we're delivering this data in ways individual fleet owners need it in the preferred systems that they choose to run their businesses." If a customer has their own in-house tools, Ford's data services API provides manufacturer grade data with no incremental modem cost.
"If you are looking for an integrated telematics platform with manufacturer grade data, Ford Telematics is designed to provide you with clear, actionable insights that help you get the most out of your fleet," says Purdy. "Ford Telematics is a modern, web-based product that gives customers access to vehicle health reports, vehicle location, driver behavior and more. Now, with the benefit of modems embedded into the electrical architecture of every new Ford, we have direct access to vehicle systems and architectures so we can offer unique services like remotely locking or unlocking a single vehicle or group of vehicles, remote scheduled preconditioning and the ability to offer predictive maintenance and trouble alerts to help you stay ahead of potential downtime issues."
A Ford telematics drive mobile app can help drivers identify physical issues that can not be spotted by a telematics system, such as a broken mirror or worn tires.
Telematics Offers All-Makes Compatibility
"Since launching Ford Telematics in 2020, we are constantly evolving our telematics tools and doing so with direct feedback from our customers," says Purdy. "For example, our newly updated dashboard makes visualizing the important information about your fleet and spotting the key trends and insights easier. Ford telematics already works with all model year 2020 or newer Ford vehicles without any additional hardware. Last year we added a Ford plug in modem kit for older Ford vehicles, giving fleet managers greater visibility into their entire fleet.
"Today, we're happy to announce that Ford Telematics is now compatible with non-Ford vehicles by a plug-in device," says Purdy. "Now you can gain clear, easy to access insights for Ford Telematics across your entire fleet, regardless of make."
Ford Telematics will now support all makes and models – regardless of automaker. With this expanded functionality, fleet managers will be able to analyze all of their fleet vehicles in one easy to use dashboard– including the ability to improve uptime, monitor performance and plan maintenance services.
Customers can leverage this capability on most non-Ford vehicles by using a plug-in device that connects to each vehicle with a wiring harness that leaves the OBD II port available for use. Additionally, this expanded functionality is provided as part of the regular subscription cost for Ford Telematics.
"By supporting all makes and models, expanding the capabilities of Ford Telematics and providing complimentary management tools, we're arming fleet managers with the knowledge they need to maintain uptime and increase productivity across their fleet," says Purdy.
Monitor Driver Behavior and Vehicle Health
The service is constantly introducing new features to do just that, including a fleet-wide driver behavior dashboard and individual driver scores that help improve performance. "The driver dashboard and driver scorecard is an insightful and intuitive tool that enables fleet managers to provide targeted coaching to help improve driver behavior."
The driver behavior dashboard gives managers a survey of how their vehicles are performing, providing information about trends that involve harsh braking or acceleration, speeds driven over posted limits and/or fleet-set thresholds, seatbelt use and idling time. A personal driver score also lets fleet managers quickly see how specific drivers are doing, giving them opportunities to further coach them on best practices and areas of improvement.
Ford Telematics Essentials for Ford vehicles, a complimentary level of service for commercial customers, will be available beginning in the second quarter of 2021.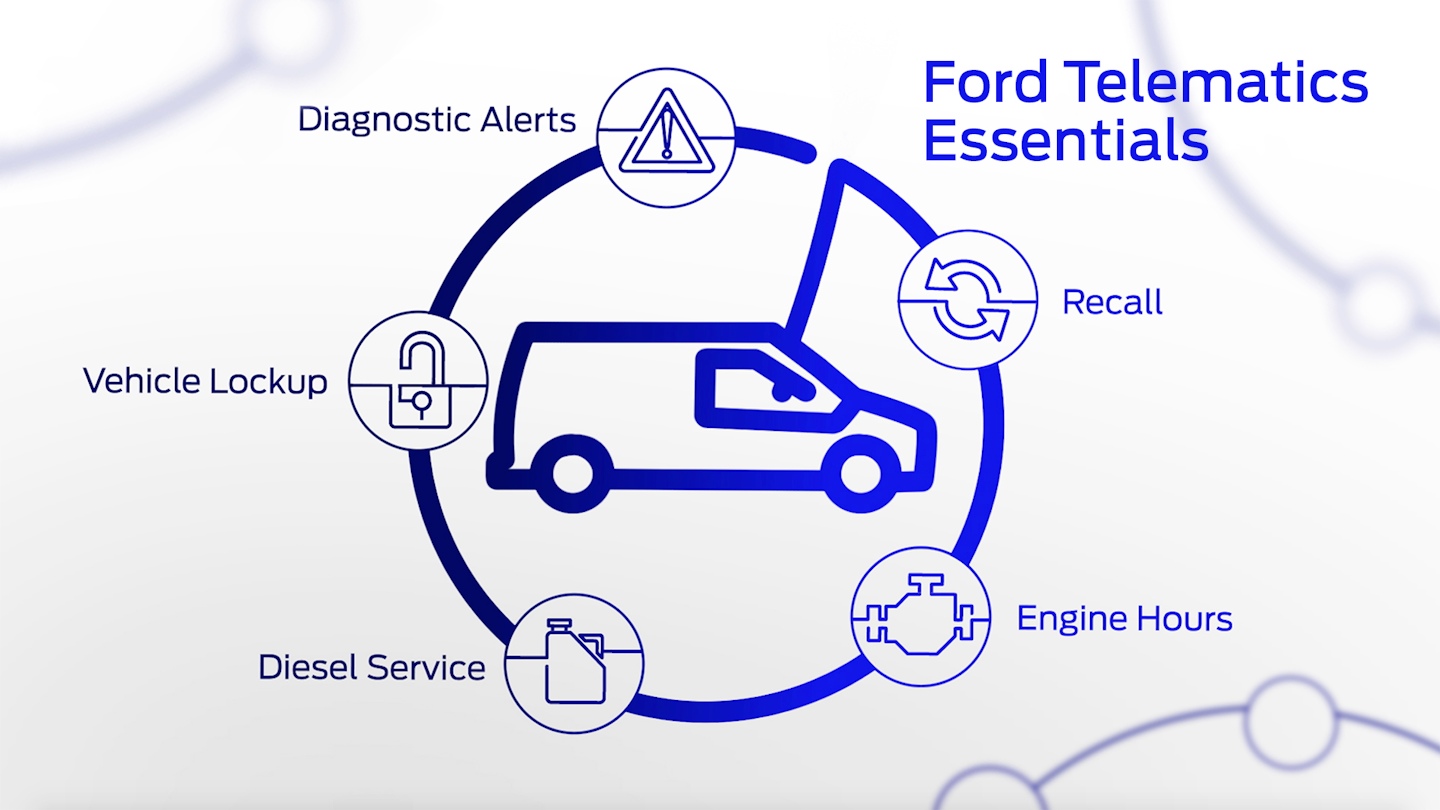 Ford Motor CompanyFord Telematics Essentials gives customers access to vehicle health insights such as odometer readings, diagnostic trouble code and information around oil life, engine hours and recalls. Later this year, this complimentary service will also allow fleets to digitally track and plan maintenance or repair services with local dealers.
Meanwhile, Ford Telematics continues to expand its feature offerings and the amount of data it can share with fleets about their vehicles, with support for more than 3,800 diagnostic trouble codes. These codes help identify potential issues with vehicles and are coupled with alerts that tell customers whether they should take action immediately or soon in order to remedy a situation.
Over the Air Updates Reduce Dealership Visits
Further bolstering Ford's mission to improve uptime for commercial fleets is the widespread adoption of over-the-air (OTA) update capability, beginning with the 2022 F-150. Vehicles equipped with this technology can receive updates and repairs wirelessly, reducing the need to visit a dealer for maintenance. These updates can be delivered in the background or scheduled by the driver at their convenience, creating another way to keep fleets up-to-date and on the road.
"Finally, we've introduced an onboard digital owner's manual, helping driver onboarding and training," notes Purdy.