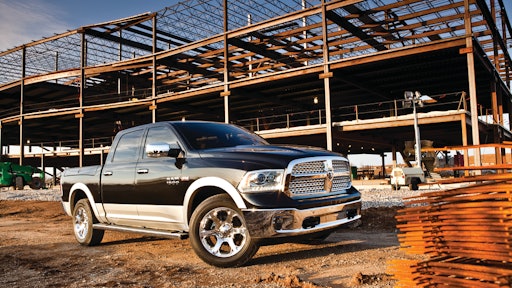 Chrysler is claiming best-in-class fuel economy for the 2013 Ram 1500 pickup well in advance of the release of 2013 Ford and GM trucks, and any EPA economy-testing results. The new Ram will come with a raft of fuel-saving, pioneering technologies starting with the 305-hp, 269-lb.-ft. torque 3.6-liter Pentastar V6 engine mated to class-exclusive eight-speed TorqueFlite 8 automatic transmission. The new Pentastar V6 features 42% more horsepower, 13% more torque and, with variable-valve timing (VVT), at least 20% better fuel economy when compared to the previous 3.7-liter V6 powertrain.
The 5.7-liter HEMI V8 with fuel-saving cylinder shut-off and VVT is also available with the eight-speed. The HEMI generates 395 hp and 407 lb.-ft. of torque and what Chrysler claims is best-in-class fuel economy for V8 trucks (at least 10% better fuel economy compared to the 2012 V8). The HEMI in the Ram 1500 Tradesman Heavy Duty trim delivers best-in-class towing and payload – 11,500 lb. and 3,125 lb. respectively.
A new thermal management system uses engine coolant to more-quickly warm transmission fluid to operating temperature in order to reduce parasitic load. As the engine temperature increases to pre-determined levels, warm engine coolant is circulated through a thermal exchange unit, which also contains dedicated pathways for transmission fluid. Chrysler says the system can improve fuel efficiency by 1.7%.
Another industry fuel-saving first in pickup trucks is application of stop-start on select 2013 Ram 1500 models. This new system improves fuel economy by up to 3.3% (adding about one mile per gallon to the truck's city drive cycle) by shutting the engine off when the truck comes to a complete stop. Accessories (radio, gauges, heating or air conditioning, etc.) continue to operate, making the operation transparent to the driver. The engine restarts automatically when the driver releases the brake, allowing seamless acceleration.
Request More Information
Fill out the form below to request more information about
2013 Ram 1500 Pickup Truck