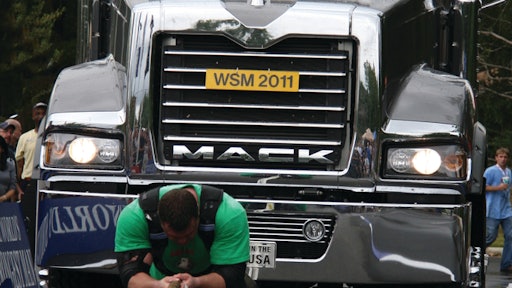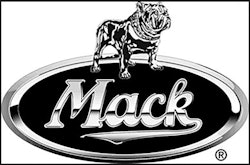 GREENSBORO, NC – The most powerful truck Mack has ever built has tested the strength of the world's most powerful men.
The heavy-haul Titan by Mack dominated the recent truck-pull event of The Met-Rx World's Strongest Man competition, held at Wingate University in Charlotte, NC. The battle pitched the Bulldog against 10 athletes in the truck-pull showdown in the Final of this year's competition.
The competitors pulled the Titan tractor, which weighed in at 22,000 lbs. (10 metric tons), over a distance of 27.3 yards (25 meters). Hapfor Julius Bjornsson was the winner, pulling the Titan the full distance in the shortest amount of time.
Created in 1977, the World's Strongest Man has become the premier event in strength athletics. Every year, bodybuilders and power lifters compete in a range of extreme events that test the limits of human strength and endurance. For the truck-pull event, athletes wear a harness and pull a truck, with the help of a rope. The winner is the athlete who completes the course in the fastest time.
Event organizers contacted Mack Truck Sales of Charlotte, Inc. and specifically requested a Titan for the two truck-pull events.
"Just like the competitors in this event, the Titan is all about tough and extreme," said John Walsh, Mack director of public relations. "It is engineered for handling the toughest jobs in the most extreme conditions – oil fields, logging, heavy equipment hauling. It doesn't flinch in rugged terrain or brutal weather."
The Titan model was introduced by Mack in 2008. It is powered by the Mack MP10 engine with a top rating of 605 hp and 2,060 lb-ft of torque and is built for strength with Mack's Cornerstone chassis. A short front axle position increases load capacity and maneuverability, while high ground clearance gives drivers maximum control for navigating sharp inclines and uneven terrain.