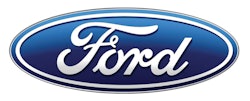 Ford will offer the new Transit full-size vans, wagons, cutaway and chassis cab models powered by a 3.7-liter V6 equipped with a prep kit for compressed natural gas (CNG) and liquid propane gas (LPG) fuel.
Each Ford engine that is factory-prepped for gaseous conversion comes equipped with hardened valves and valve seats. Super Duty trucks equipped with the 6.2-liter V8 feature a unique bi-fuel intake manifold to accommodate these cleaner-burning fuels. The prep kits allow conversion to CNG/LPG operation without requiring internal engine work.
Natural Gas Could Cut Your Truck Fuel Bills in Half
Sales of Ford vehicles capable of running on compressed natural gas or propane autogas have reached record levels -- soaring more than 350 percent since 2009 -- as businesses and commercial customers seek relief from constantly fluctuating gas prices.
Which is Better for Your Heavy Trucks: CNG or LNG?
Transit joins the current compact Transit Connect van, wagon and taxi lineup; Ford Super Duty pickups; stripped chassis, legendary E-Series vans, wagons and cutaways; and medium-duty F-450, F-550 and F-650 variants in offering factory-prepped engines for CNG/LPG conversion.
The next generation of the Transit Connect range will add yet another CNG-ready engine when it goes on sale later this year, offering a 2.5-L four-cylinder that is more responsive and fuel efficient due to its use of intake-variable camshaft timing.
CNG/LPG engine prep from the factory costs approximately $325 before the customer chooses a partner to supply fuel tanks, fuel lines and unique fuel injectors. Upfits run approximately $9,500 to $12,500, depending on fuel tank capacity.