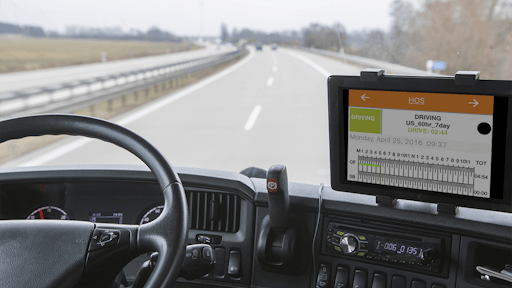 Electronic logging devices (ELDs) will soon be mandatory on your work truck fleet to meet Hours of Service (HOS) regulations. You will need a working system in place by December 2017 if you are not currently using an Automatic On Board Recording Device (AOBRD) solution. If you are using an AOBRD, then you have until December 2019.
An ELD connects to the engine and records data as it happens. As the vehicle moves, the ELD automatically tracks duty status. This helps regulators since the data logs are difficult to alter. "The ELD [requirement] was really put in place for worker safety," says Brendan Shaw, executive vice president, BSM Technologies. The goal is to reduce fatigue, which in turn results in fewer accidents and loss of life.
The upside to the legislation is that there are many business advantages to ELDs, provided you chose the right system. There are labor savings for the driver. "The ELD is transforming paper logs in an automated fashion into electronic logs," says Shaw. "Most of the solutions available are created to be easy for the driver."
You can also reduce duty hour fines or violations by keeping good records and current inspections; work with vendors to get vehicles turned around quickly; and integrate information collected from ELDs into your business systems.
Electronic Driver-Logging Mandate Promises Profitable Trucking

Webcast - Construction Pro's Guide to ELD Compliance

Maximize the Benefits
Advantages of ELD systems extend well beyond automatically tracking hours of service. But you need to select a vendor that most closely matches the needs of your business. Not all ELD solutions are created equal, and many offer unique features that may prove beneficial in your particular situation.
For example, ELD data can help you maximize utilization of a vehicle. "You can geofence repair shops and know when that vehicle goes into a shop and is down for a certain period of time," Shaw points out.
Insight into how the fleet is operating can help you better manage expenses. "Fuel cost is one of the biggest expenses with most customers," says Shaw. Being able to reduce idling and theft of usage of that vehicle after hours is a real benefit. With an ELD solution you can set up parameters to track that data. "You can also make maintenance and business decisions based on the data captured."
Driver behavior can be tracked, as well, using ELD data such as vehicle speed, posted speed, acceleration and braking. This allows you to coach drivers and potentially reduce risk exposure due to unsafe driving practices.
Vehicle inspections can be greatly simplified if the ELD has the proper capability. "There are a number of different features that are out there from different vendors," says Shaw.
The DOT requires 12 different inspection points on a vehicle as part of a pre- and post-trip inspection. ELDs have the capability to go beyond what's required.
"You may have trucks where you want to look at different types of inspections," notes Shaw. "Make sure your vendor gives you the flexibility to have custom menus and custom questions per vehicle and asset type. A good example of that is a boom truck. You may not be required by law to inspect the boom, boom hydraulics and boom cradle, but as a company regulation, you may want to inspect different components."
Don't forget that DOT vehicle inspections include the item being towed. "Make sure the vendor you are looking at has the flexibility that if you are towing, it will automatically trigger an inspection form for a trailer or specific other asset," says Shaw.
You may also need to tow assets other than trailers, such as light towers, generators, compressors, etc. You can maximize your investment in the ELD if the inspection form goes beyond what's required by the DOT.
Inspections can be handled differently depending upon the technology you select. "Most of the ELD applications work across a fix-mounted tablet in a vehicle," says Shaw. "That is the physical logging device. That is Android or iPad."
Many owners prefer fixed-mounted tablets since they stay secured in the vehicle. However, you may want to use bar codes or NFC (near field communication) tags for inspections. To use this type of capability, you would need a mobile tablet solution that enables you to walk around the vehicle to do your checks, scan QR codes and take pictures of defects.
A further consideration is the level of desired integration. You may want the device to operate on a common system such as iOS, Android or Windows so it can coexist and integrate with your company's other business systems. Look at the integration available from the ELD supplier.
Address the Regulatory Hierarchy
Before you select any ELD solution, however, you need to have a thorough understanding of how the revised HOS regulation impacts your business.
"A good example is if you are towing and the combined GVWR is over 10,000 lbs., you must have regulated logs," notes Shaw. "The towing rule is very common in the construction industry.
"For example, if you have a Ford F-250 and you drive the first four days of your cycle around a jobsite, technically it is under the 10,000-lb. GVWR so you are not required to have a graph log," he explains. "But as soon as you [tow] over the 10,000-lb. weight limit, you are required to have a graph log. Most construction companies that we work with are looking at outfitting all of their vehicles so that when they do end up towing, they have this covered and they have actual graph logs in the vehicle itself."
There are specific rules that can prove advantageous if you never travel outside of a defined area. "In construction, you can operate under the air-mile radius exemption — what is often referred to as the short-haul exemption," Shaw notes. Make sure the ELD supplier covers the air-mile radius rule set. "If you do business within a 150 or 100 air-mile radius, you don't need a physical graph log. You are able to use the system to track your on-duty and off-duty time and you are also not required to put in a 30-minute break."
This regulation is beneficial to the way most contractors work. "Most of the time, you are on the jobsite for a long period of time and you would want to take advantage of this rule set," says Shaw. But make sure your ELD supplier has the ability to track and convert the required information should you breach the air-radius limitation.
"Once you breach this circle, you would be regulated by your state or federal regulation," says Shaw. "You want to make sure you have the capability of tracking drive time or hours in case you go outside of that [regulated air-mile radius]. If you go outside of that radius, you basically have to go back and put in all of your associated drive time."
Think of the HOS regulation in terms of a hierarchy. "You have the federal mandate, which is the ELD mandate," says Shaw. "But as most people know, the states also have their own particular mandates. Make sure the vendors you consider have state-based compliance. Each state has a different set of rules."
Pickup trucks in the fleet add yet another level of complexity. "If you are using a bunch of different light-duty vehicles... you are adding another piece into the hierarchy of rule sets," says Shaw. Take the towing rule. "If [the vehicle is] under 10,000 lbs. and I start towing something, then I may move into an air-radius rule. From the air-radius rule, I move to state compliance and from state compliance I move out to federal."
The personal conveyance rule may also need to be considered. It applies when drivers are allowed to take vehicles home and have the capability to use that particular vehicle for non-work driving. "Make sure the vendors you choose have the personal conveyance rule set so you can utilize that, as well," says Shaw.
All of the rule sets available with a particular ELD system need to comply with the way your business operates. "Look at personal conveyance, air-radius and other [regulatory] components required from an ELD perspective, and then look for the right solution for your business," says Shaw.
"You have a hierarchy of rule sets," he adds, "and it is important that you make sure when you are working with vendors that they meet your business requirements and how you do business."
Train on Proper Use
While the final rule doesn't begin to take effect until December 2017, that is not a lot of time given all of the considerations that should go into making the best ELD choice. "It is a pretty tight timeline," says Shaw.
You need to have drivers trained and IT support in place well before the regulation goes into effect. This will require management support. "If management is on board and they are helping to coach the drivers in real time, you are able to see a much higher success rate using the ELD-based solution," Shaw comments.
Put programs in place to ensure proper ELD implementation. "Make sure there are actions to take based on the driver performance," Shaw advises. "If a driver is continually not signing into his vehicle as he is driving, or not doing the pre-trip or post-trip inspection, there [should be] ways put in place to coach those drivers to really help them learn the system and make sure things are going smooth from phase to phase as you move throughout the application."