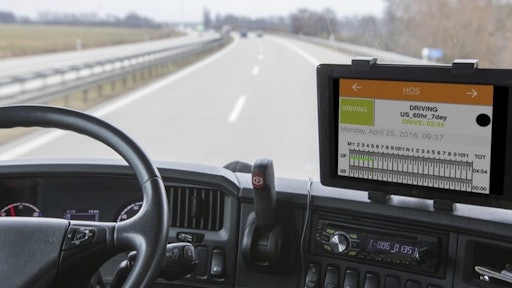 The Commercial Vehicle Safety Alliance (CVSA) reaffirms that roadside inspection personnel are enforcing the electronic record of duty status (i.e., e-log) mandate effective April 1, 2018.
According to CVSA, commercial motor vehicle (CMV) drivers are expected to have a registered electronic logging device (ELD)or a grandfathered automatic on-board recording device (AOBRD). If a property-carrying driver is operating a CMV without one of the two options, he or she will be placed out of service for 10 hours. Similarly, a passenger-carrying CMV driver will be placed out of service for 8 hours.
In addition, failing to have a required e-log device will appear on the roadside inspection report, and a ticket or civil penalty may be given to the driver.
Any e-log violation appearing on a roadside inspection report will count against a motor carrier's Compliance, Safety, Accountability (CSA) Hours-of-Service Compliance BASIC. FMCSA will determine appropriate actions against motor carriers that are out of compliance.
What happens after being placed out of service?
CVSA indicates that after being placed out of service for 8 or 10 hours respectively, the driver may continue to the final destination, but he or she must:
Accurately document his or her hours of service using a paper record of duty status, and
Carry a copy of the inspection report and/or citation.
If stopped again before reaching the final destination, must provide enforcement personnel with a copy of the inspection report and proof that he or she is continuing the original trip. This may be satisfied using a bill of lading.
After reaching his or her final destination, CVSA states the driver may return to the principal place of business or terminal empty to obtain an ELD. However, if he or she is dispatched again without an acceptable e-log device, the driver will be subject to the out-of-service procedures noted above.
This year's area of focus for CVSA'S International Roadcheck is hours-of-service (HOS) compliance. The annual enforcement campaign, scheduled June 5 to 7, 2018, is a 72-hour inspection blitz of commercial motor vehicles and drivers in jurisdictions throughout North America.
CVSA-certified commercial-vehicle inspectors will primarily perform North American Standard Level I Inspections during the event. The procedures for a roadside inspection are the same as any other day of the year, but the likelihood of being stopped for the comprehensive driver and vehicle inspection increases.
CVSA uses the annual event to emphasize a specific category of violations. Roadcheck 2018 will focus on HOS compliance. It was the top reason drivers were placed out of service during last year's Roadcheck, according to CVSA. The 2018 event allows enforcement a medium by which to educate drivers on the topic.
"Although the electronic logging device (ELD) rule that went into effect on Dec. 18, 2017, does not change any of the underlying hours-of-service rules or exceptions, the ELD mandate placed a spotlight on hours-of-service compliance," said CVSA President Capt. Christopher Turner of the Kansas Highway Patrol. "We thought this year would be a perfect opportunity to focus on the importance of the hours-of-service regulations."