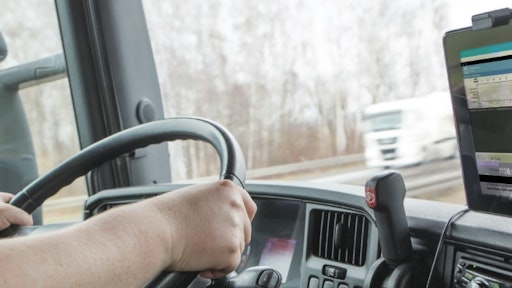 By Willy Schlacks, president and co-founder of EquipmentShare
By now, you've likely heard about the Electronic Logging Device (ELD) Mandate from the Federal Motor Carrier Safety Administration, which will require drivers currently logging record of duty status (RODS) to prove hours of service (HOS) compliance using electronic logging devices by December 18, 2017.
And just as with any new mandate, there's a fair amount of confusion about how exactly this will affect people, and I suspect there may even be a few folks looking for loopholes or ways around compliance. While there's no denying that compliance with this mandate will certainly require some investment from contractors and fleet managers, I believe it's one that doesn't need a workaround.
As a long-time contractor myself, I've come to realize ELD technologies — and the telematics solutions that power them — are a worthwhile investment. Not only does ELD technology save time, money and energy, but it also opens the door to a wealth of information on your assets that help you improve health, utilization and security.
Here's a roundup of the top myths and misconceptions regarding the mandate and a look at the truth behind why contractors will ultimately benefit from the changes to come.
1. The mandate only affects the trucking industry
Despite the lack of resources shedding light on how the ELD mandate will affect the construction industry, contractors should know they too fall under the same requirements and regulations. The new rule requires contractors who manage equipment and vehicles weighing more than 10,000 pounds to adopt ELDs by the December deadline. But there is one major caveat.
Aside from basic data like driver identification, date, miles and total hours of duty, telematics solutions which help fulfill ELD requirements differ greatly between the transportation and construction industries. While trucking telematics focus on aggregating data for HOS compliance, telematics solutions built for mixed fleets provide data which goes much deeper than the surface level insights.
And with many years of contracting experience myself, I'd consider this new mandate a blessing considering the amount of data you'll be able to retrieve, maintenance you can prevent and insights you'll have on underutilized assets after adopting a telematics solution built specifically for the construction industry and contractors.
2. ELDs just log hours of service
To understand the true benefits ELD technology can bring to contractors, it's important to look past just HOS tracking. The telematics solutions that also enable ELD technology gives contractors the ability to see and track the health and status of each piece of equipment, gauge asset usage and uncover answers to where utilization can be improved. And as any contractor knows, heavy equipment does not come cheap, which is why proper maintenance for these machines is so important.
Don't make the mistake of choosing a telematics system which provides basic ELD compliance data and functionality. Instead, look for a mixed-fleet telematics solution that will give insight into each and every piece of equipment, instead of just aggregated data (such as the data required for HOS). With mixed-fleet telematics, contractors can track issues, gauge maintenance and manage their equipment with a proactive mindset.
3. ELDs are an unnecessary cost
Purchasing ELD technology to fit your fleet is inevitable. And to this point, contractors will get the most ROI by choosing a telematics system built specifically for their needs. With the insights and data provided by these types of systems, contractors can cut unnecessary costs (actually save themselves money) and take a preventative approach to the way they manage their equipment.
By automatically scheduling maintenance using data pulled from mixed-fleet telematics, owners can prevent costly repairs and critical breakdowns. Additionally, heavy equipment tracking systems deliver savings through the insight into asset utilization. You can see where you might be underutilizing certain equipment and then take into consideration which machinery you might be able to rent or sell to make even more profit.
And, of course, let's not forget fees associated with non-compliance — an unnecessary cost that will only hurt you down the road. 
4. My current logging method works fine
While logging by hand may have worked for you until this point, it's an outdated system that often involves unnecessary time and too much room for error. And in my opinion, inaccuracies are worse than no data at all, as it alters analysis and understanding of the health, utilization and well-being of your equipment. Not to mention, contractors who currently use Automatic On Board Recording Devices (AOBRDs) are only "grandfathered" in through December 16, 2019. After that, all contractors and drivers must use ELDs to log all HOS moving forward.
5. Telematics technology is confusing
The truth is, the best telematics solution are turnkey. From install to implementation, telematics solutions are meant to do the work for you — tracking, recording and analyzing the equipment data you need in real-time. Test different tools to make sure the solution you choose has an online dashboard which organizes information in an easy-to-understand and useful manner.
And if you're a contractor who manages a mixed-fleet, seek out a solution which will pull insights that goes deeper than just HOS data. For example, mixed-fleet telematics can help you see and understand complex sets of data specific to your fleet, helping to automatically identify under-used assets, and making smart recommendations on how you can increase utilization.
When it comes to ELD compliance, choose a telematics system that is purpose-built and meets contractor's specific needs. Look for a telematics solution that will not only help you meet regulation but also vastly improve your overall asset and fleet management. In doing so, you'll get access to richer, more useful data — allowing you make cost-saving changes and increase the overall utilization of your equipment and entire fleet.
Willy Schlacks is president and co-founder of EquipmentShare, a construction technology company dedicated to helping contractors and heavy equipment owners increase the utilization of their assets. Driven by ES Track, the company's proprietary telematics solution, EquipmentShare enables contractors to see critical equipment data such as asset health and utilization.