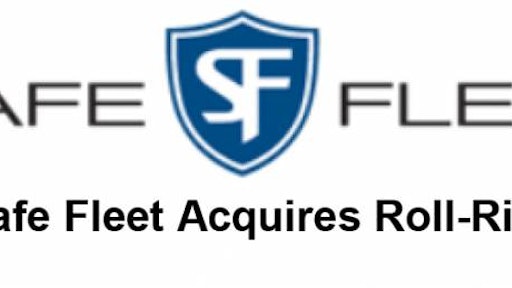 Safe Fleet, a provider of safety and productivity solutions for fleet vehicles,  announces it has acquired the Roll-Rite group of companies. Roll-Rite is a provider of innovative OEM and aftermarket safety products that protect cargo, reduce risks to drivers and roadways, and improve fleet efficiencies. Under the Roll-Rite and Pulltarps brands, Roll-Rite manufactures a complete line of application-specific automated and semiautomated tarping systems, motors, controls, and tarps for open body dump trucks, open top trailers and detachable containers. It is estimated that there are more than 150,000 trucks and trailers on the road today equipped with a Roll-Rite or Pulltarps branded system.
"Safe Fleet is thrilled to add Roll-Rite into the Safe Fleet family. It is an industry-leading, high-quality brand servicing a variety of industries," says John R. Knox, Chairman, President, & CEO, Safe Fleet. "Our products and technologies are highly complementary and our mutual focus on being the premier provider of safety-oriented products to fleet vehicles is a perfect fit. Additionally, both Roll-Rite and Safe Fleet are committed to establishing a national footprint of product install and aftermarket service locations to better service all of our customers. With the addition of Roll-Rite's Service & Install Centers in Henderson, CO, Council Bluffs, IA, and Torrington, CT, Safe Fleet now has six field locations across the US."
"Joining Safe Fleet validates Roll-Rite's intent to maintain our leadership position in designing and manufacturing state-of-the-art automated tarp systems for the global heavy duty trucking market while also providing a catalyst for growth we could not achieve on our own," says Brad Templeman, President, Roll-Rite. Current management of Roll-Rite will continue with the business going forward and operate as a separate Roll-Rite entity within Safe Fleet.