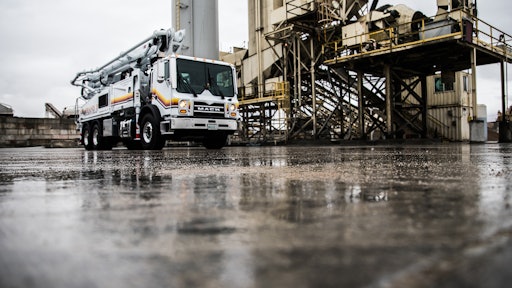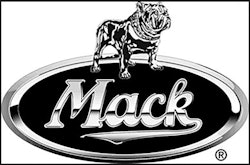 The fully integrated 13- and 14-speed mDRIVE HD AMTs give concrete pumper customers improved performance, proven durability and maximized uptime in an easy-to-operate package.
"The mDRIVE HD is the only AMT available with split-shaft PTO functionality, which enables us to offer concrete pumper customers all the benefits of the mDRIVE HD and our fully integrated powertrain," said John Walsh, vice president of marketing for Mack Trucks. "In addition to improved performance and productivity, the mDRIVE HD helps increase jobsite safety. Eliminating traditional shifting allows drivers to focus on safely operating their equipment."
All Mack mDRIVE HD AMTs come standard with split-shaft PTO functionality. Instead of taking power from a transmission- or engine-mounted PTO, split-shaft PTOs receive output directly from the transmission, supplying higher torque for large auxiliary equipment including concrete pumps.
The Mack mDRIVE HD is fully integrated with Mack's engines and axles, providing additional performance and efficiency benefits for customers. In TerraPro concrete pumpers, the mDRIVE HD will be paired exclusively with the 11-liter Mack MP7 engine, and will be available with higher horsepower and torque ratings than equivalent models with conventional automatic transmissions. That includes the MP7's top rating of 425 hp and 1,560 lb.-ft. of torque, which packs 13-liter power in an 11-liter engine. The mDRIVE HD for TerraPro concrete pumper models is available as a 13-speed direct drive or overdrive, as well as a 14-speed direct drive.
Like all Mack mDRIVE AMTs, the mDRIVE HD in TerraPro concrete pumper customers will be monitored by Mack's GuardDog Connect telematics solution. GuardDog Connect, which comes standard on all Mack models powered by Mack engines, provides proactive monitoring and repair planning, real-time diagnosis of issues, repair scheduling and confirmation that needed parts are in stock and ready to install. Together with Mack ASIST and Mack's OneCall uptime experts, GuardDog Connect delivers decision-critical information to maximize customer uptime.
All mDRIVE HD AMTs feature a transmission-mounted oil cooler to help maintain optimal operating temperatures, even in the face of repeated, heat-generating shifts commonly found at jobsites. The mDRIVE HD also includes advanced standard features like Rock Free, which allows drivers to free stuck vehicles by rocking the truck back and forth simply by pumping the accelerator, and Auto Neutral, which improves jobsite safety by automatically putting the mDRIVE into neutral when the parking brake is set. Additional features like Grade Gripper, which helps prevent rolling backward on an incline, are also included, as well as MaxBrake, Performance Mode and more.
The Mack mDRIVE HD in Mack TerraPro concrete pumper models will be available for order in February 2019.