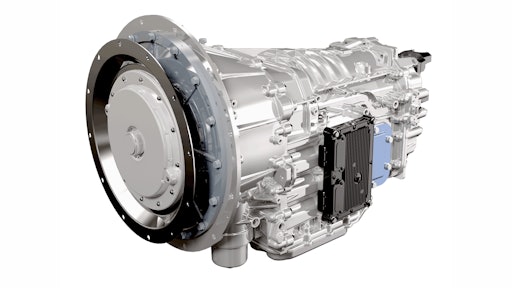 Eaton says medium-duty vehicles with its new Procision line of dual-clutch transmissions deliver 8% to 10% better fuel economy than a similarly equipped vehicle with a torque-converter automatic.
Scheduled to be available in North America in mid-2015, the new seven-speed Procision transmissions feature a dual clutch design and electronic shifting that uses grade, vehicle weight and throttle input to provide optimal fuel efficiency and smooth, continuous delivery of torque to a vehicle's wheels under all shift conditions.
"The all-new Eaton Procision is the first dual clutch transmission for Class 6-7 in North America," said John Beering, senior vice president and general manager, Eaton Commercial Vehicle Transmission.
Eaton says dual clutches offer more-efficient acceleration from a stop, and optimize shift points to efficiently get to the highest appropriate gear. Gear changes are made by swapping the engine torque between clutches with the next gear preselected.
"Dual-clutch technology with a closed loop control system significantly reduces slip and steady-state losses associated with torque-converter automatic transmissions," said Jeff Carpenter, engineering manager, Medium-Duty Procision.
Eaton Dynamic Shifting allows the transmission to automatically switch between economy and performance shift schedules based on mass, grade and driver demand. Base shift results are modified dynamically based on available torque, engine acceleration and grade.
Economy and performance shift tables can be adjusted to tune an overall calibration to meet any customer's specific needs. The calibration flexibility is the most ever offered on an Eaton transmission.
Optional and adjustable Urge to Move and Creep Modes provide what Eaton calls best-in-class low-speed maneuverability. Optional and adjustable Hill Helper technology prevents roll back or roll forward for up to three seconds while on grades of up to 8%. These features can be turned on and off using Eaton's ServiceRanger software.
There are three standard Power Take-Off (PTO) openings, and dealers can enable the PTO function using ServiceRanger software after purchase.
The Procision is fully integrated with Cummins Vehicle Acceleration Management, which can be used in conjunction with Eaton Dynamic Shifting to reduce the impact of an aggressive driver on fuel economy.
150,000 mile lube and filter change intervals
Brake-pedal-actuated Tap Down Shifting
Forward and reverse creep speeds are independently adjustable
In Low mode, Automatic Grade Braking downshifts to help slow the truck on long, steep grades and increase brake pad life
Eaton Procision transmissions carry a three-year/unlimited-mile warranty
Request More Information
Fill out the form below to request more information about
New Dual-Clutch Transmissions Master Medium-Duty Fuel Efficiency, Performance