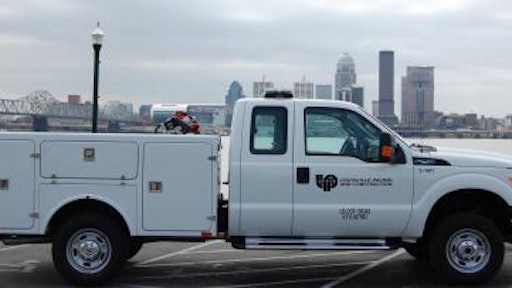 For Joe Dougherty, Ford Motor Company's MyKey technology is a feature his family's construction company uses to help keep their drivers safe.
MyKey, a tool that parents of teen drivers can use to encourage safer driving habits, is also an attractive technology for many fleet managers. MyKey debuted as standard equipment on the 2010 Ford Focus; it is now standard on nearly all Ford and Lincoln models.
Dougherty, president of Kentucky-based Louisville Paving Company, said his drivers need to be aware of their surroundings, and must be able to concentrate on busy, noisy construction sites. Thirty of his company's vehicles are now equipped with MyKey, which allows owners to program a key that can limit a vehicle's top speed and audio volume, and encourage safety belt use. The technology also routes incoming calls directly to voicemail on paired phones.
Louisville Paving Company, which was started by the Dougherty family in 1949, is a full-service contractor involved in highway and heavy construction. Dougherty plans to purchase more Ford vehicles with MyKey because he wants to put his employees in a position to focus on driving, even when working on unpredictable job sites.
"With us, safety is the No. 1 priority," says Dougherty. "These job sites can be high-risk situations if drivers are distracted by the radio, phone calls or texts."
One of the most recent applications of MyKey technology is the 2014 Ford Transit Connect, which has become popular with businesses for its fuel efficiency and class-leading configuration options.
"MyKey has been a great tool for fleet managers, giving them a technology that encourages good driving habits for their employees," said Megan Gillam, commercial vehicles brand and fleet communications manager for Ford Motor Company. "Many companies have safe driving guidelines for fleet vehicles, and MyKey serves as a reinforcement of some of those basic rules."
Louisville Paving Company leases its fleet vehicles from Enterprise Fleet Management, which markets MyKey as a safety tool useful for businesses.

"The versatility of MyKey for fleet owners makes it a great feature for our customers," says Kevin Kelley, Assistant Vice President of Business Development at Enterprise Fleet Management. "The feedback from our customers who select it as a feature has been positive, with several stating they'd like to have it added in future orders."
Some of the features and settings on MyKey include the ability to:
Encourages front seat occupants to wear safety belts
Limit vehicle top speed to 80 mph, or lower on some models
Issue a warning when the vehicle is at or within 5 mph of reaching the preset maximum speed
Limit vehicle's entertainment system audio to 45 percent of maximum volume
Sound a chime and mute the audio system until safety belts are buckled
Route incoming calls directly to voicemail
Issue an additional low-fuel warning when the fuel tank is one-eighth full
The 2014 Transit Connect, a smart choice for business fleets, is one of the latest Ford vehicles to feature MyKey as standard equipment with XLT van, XLT wagon and Titanium trim packages.