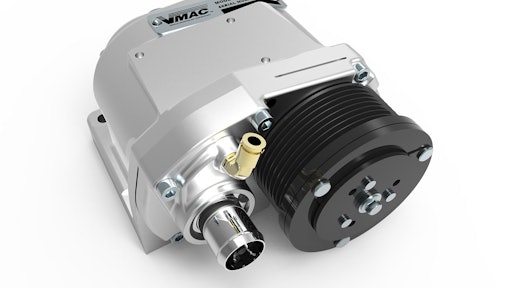 VMAC launches the latest UNDERHOOD30 Air Compressor for the Ford Transit EcoBoost commercial van. This Van Series air compressor offers up to 30 CFM at 100% duty cycle, making it the best choice for operators using air tools for light duty applications.
"We've seen tremendous growth in the commercial van industry in North America, as businesses introduce vans into their fleets", says Mike Pettigrew, VMAC's Marketing Manager. "VMAC has responded to our customers' evolving demands by producing the Van Series of UNDERHOOD30 Air Compressors for Ford, GMC, Chevrolet, RAM, and Mercedes-Benz models. The UNDERHOOD30 Air Compressor for the 2013-2017 Ford Transit EcoBoost is the latest addition to this popular Van Series."
Weighing just 62 lbs., the VMAC UNDERHOOD30 rotary screw air compressor is lightweight and compact. The compressor provides 50% more output of a bulkier standalone air compressor at a fraction of the weight.
There is minimal vehicle modification required, with the air compressor running off the van's own belt. VMAC works closely with van manufacturers to ensure vehicle warranties remain intact with the installation of UNDERHOOD air compressors.
Request More Information
Fill out the form below to request more information about
VMAC Launches Underhood Air Compressor for Ford Transit