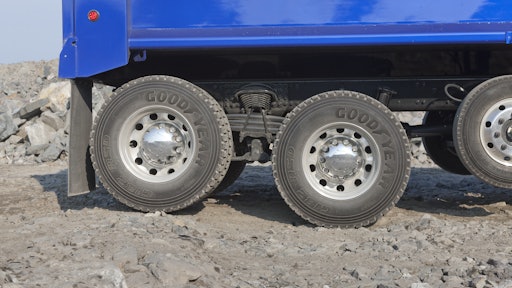 Every vocational truck suspension option comes with its own unique performance trade-offs. The best choice requires an understanding of how the trade-offs match up to your application requirements.
"The job of the suspension is to support and cushion the load," says Billy Alford, Southeast regional sales manager, Chalmers Suspensions International. The suspension absorbs shock loads that would otherwise be transferred into the frame. "If the truck frame is doing the job of the suspension by twisting and absorbing shock, then it stresses every component of the vehicle, eventually causing failures and maintenance issues."
The longevity for vehicle components and truck-related equipment such as bodies and trailers is directly related to proper suspension setup. "A primary function of the suspension is to isolate and absorb road inputs, which can help extend the overall life of the vehicle," says Charles Cook, marketing manager for vocational products, Peterbilt.
Understanding the application and performance demands is the first step. The capacity of the suspension; whether it is for a single, tandem or tridem configuration; if the system is for a tractor or straight truck; and the nature of the terrain all play a role in narrowing the choice between air, rubber or steel springs.
"There are multiple suspension options available to meet the many niches in the vocational truck market, each with unique features and benefits," says Gerry Remus, director of marketing, Hendrickson. "Compare the suspension choices available to meet application needs — reducing weight, improving off-road mobility, increasing stability, minimizing torque reactivity or all of the above — while balancing upfront cost."
The type of loading and unloading performed must be considered. A dump truck hauling aggregate requires a different suspension than a mixer truck, for instance. "There is more of a shock load factor when aggregate is loaded vs. ready-mix," says Cook. "Additionally, a stationary load has different needs than a moving load, such as liquid bulk haul or a concrete mixer."
Be sure to account for worst-case scenarios. "Sometimes the truck may be required to take on heavier loads than it usually does. These temporary loads may require a higher creep rating on the jobsite, thus requiring a heavier-duty suspension," notes Cook. "Where the truck will operate — the type of terrain — can create different needs for articulation and ground clearance."
Serviceability gains importance in remote locations. "For example, if it is going to be in the middle of an oil field with no immediate access to a dealership, it's important to spec the suspension to be serviceable by the driver," says Mark Howerton, product marketing manager, vocational and alternative fuel vehicles, Freightliner Trucks.
Narrowing the Gaps
Avoid relying on past history to spec today's suspensions. Suspension designs have become more streamlined and versatile over time, reducing trade-offs.
"In the past bigger, bulkier and heavier suspensions suited for tougher applications also provided a rougher ride," Howerton comments. "With the introduction of air ride suspensions as well as other innovations, drivers now have a more comfortable ride, and the loads are better protected from rough terrain. Suspension streamlining has helped reduce weight without compromising performance, structure or the ability to carry loads."
There used to be a large gap between the comfort of on-road suspensions and the durability and stability of their off-road counterparts. "The gap has closed significantly in recent years, with off-road suspensions getting very close to matching the comfort and performance of on-road suspensions," says Tim Wrinkle, construction product manager, Mack Trucks.
"With advancements in technology, the gap between lighter suspension weights and life-cycle durability has also narrowed," says Remus. For example, Hendrickson's HAULMAAX rear tandem rubber suspension is lightweight yet doesn't sacrifice on durability.
To further reduce weight and increase ride quality, lightweight air ride suspensions have gained off-road capability. "Traditionally, off-road suspensions were stiff riding, very durable, multi-leaf spring or beam designs — simple but effective," recalls Cook. "Newer air suspensions use casting technology and innovative designs for increased durability and performance."
The ratio of time spent on road vs. off road is important to determine if you need a dedicated vocational suspension. "Fifty percent or more time spent off road should definitely dictate that a true vocational suspension is required," says Alford. "However, the nature of the terrain is crucial in this choice, even if it is much less than 50% of the time. The bottom line is that you need a suspension that is designed to get the truck to and from the jobsite without any downtime."
Consider Maintenance
The suspension choice helps drive ownership cost. "An improperly specified suspension can result in costly repairs down the road, wearing out components faster and increasing overall maintenance costs and downtime vs. a properly specified product," says Remus.
Balance maintenance requirements and expected performance. "Different suspensions have different requirements for maintenance, such as frequency and type of lubrication and replacing bushings," says Cook. "The application and operating environments may also affect maintenance requirements."
The complexity of the suspension helps determine maintenance costs. "Generally speaking, steel suspensions are the least expensive to maintain, while air ride suspensions are more complex and therefore more likely to require maintenance," says Howerton. "This is because air ride suspensions have air in the system that needs to be regulated with control valves. Also, depending upon the type of environment or application, air springs can get cut or cracked if stones get embedded."
High Articulation Solutions
Mechanical suspensions typically offer greater articulation than air suspensions. They can also be designed to maximize stability. "A trade-off between articulation and stability is not necessary," says Wrinkle. Mack offers its Camelback and mRide as examples that both offer high articulation and stability.
It is important that any mechanical suspension used in a high articulation environment be able to evenly distribute the load. Freightliner recommends a trunnion suspension such as TufTrac, which is Daimler Truck North America's proprietary suspension for Freightliner and Western Star trucks. "Trunnion suspensions are best suited to handle bumps and ridges without bottoming out," says Howerton. "TufTrac specifically keeps a uniform load over each wheel during articulation."
Walking beam suspensions have traditionally been favored for high articulation applications. "Floating walking beam suspensions allow maximum articulation and can offer maximum roll stability," says Alford. "The floating beam suspension with soft ride restrictor can provide a superior ride quality that compares favorably with air ride when on the road. This feature is available for specific truck applications and tractors, as well."
Walking beam suspension systems are also extremely durable. "Depending upon the spring medium design, walking beam suspensions can have a little bit harsher ride and may require more maintenance, because they have a more complex design [than spring steel suspension systems]," notes Howerton.
The primary benefit of the walking beam design is its ability to equalize the load. "Modern walking beam designs are integrated into advanced rubber spring systems, which bring additional benefits to the suspension system," says Remus. "Walking beam suspensions have advanced to provide the highest amount of articulation while achieving the stability required for off-road work."
In high center of gravity applications, you will want to consider the benefits of a mechanical suspension. "Mechanical suspensions with high roll stiffness and high roll centers are best suited for high center of gravity applications like concrete mixers," Wrinkle asserts.
High center of gravity loads pose a unique concern. "Peterbilt generally recommends non-air ride suspensions with high center of gravity loads," says Cook.
The stability of a walking beam suspension can be a definite advantage in these applications. "It is important to choose one that can distribute the load equally to all four wheels even during severe articulation," advises Alford. "That can be done by choosing a floating beam suspension, which is suited specifically for high center of gravity applications."
Restricted movement in the spring translates to increased stability. "Walking beam suspensions are best suited for high center of gravity applications because they are the most roll stable due to limited movement and compression within the suspension spring," says Remus.
The design of the spring in a walking beam suspension determines several performance characteristics. "Walking beams offer articulation to some degree, but in most designs they are somewhat heavy. And when used in conjunction with [steel] springs, they become even heavier," says Alford.
"The walking beam when paired with rubber spring technology results in an ideal suspension configuration," Remus states. "Rubber spring components are less weight, easier to maintain and provide greater ride quality and stability over steel spring suspension systems."
Rubber load springs may also increase durability. "Component fatigue always finds the weakest point," says Alford. "But with the innovative design of the floating beam and rubber load spring, instead of the heavy leaf spring, a great balance has been achieved concerning weight and durability."
Finding the correct balance is key. "We can spec a suspension that provides the best balance between stability and articulation," says Peterbilt's Cook. "For instance, we offer suspensions with very high articulation, and when more stability is required, there are optional High Stability Restrictor Cans."
Air Suspensions Provide Best Ride Quality
It's hard to beat air ride for driver comfort. "Driver comfort and a shortage of drivers are the main reasons for the increase in the move to air ride suspensions," says Alford. "Creature comfort and the reduction of shock to other components of the chassis are real reasons to look at air ride." That said, it does have limitations. "No manufacturer has been able to offer both stability and articulation with air ride."
Air ride suspensions continue to expand in certain vocational applications, such as dump trucks and heavy-haul tractors. "Air ride suspensions provide consistent ride quality in any load condition, which will help lessen driver fatigue while protecting equipment and chassis components from damaging vibration and road inputs," says Remus.
A primary benefit is enhanced unladen ride quality. "Air suspensions have gained in popularity in certain vocational applications thanks to their better ride when empty, and constant ride height," explains Wrinkle. "Computer modeling has helped make many advances in suspension design at a faster rate than before. These advances have helped address some of the weight and strength concerns through the use of innovative materials and designs.
"Despite these advances, air suspension systems still demonstrate less articulation and stability than mechanical suspensions," he continues. "Specific driver training may also be required, with the need to evacuate air bags before dumping the load."
Weight savings is also an advantage with air ride systems. "Some mandated federal requirements, such as SCR and DPF, have added weight to trucks, which is one reason customers are moving to the lighter air ride suspensions," says Howerton. "While they are not the best for every job, they provide ample capability and capacity for dump applications."
Purpose-built air suspensions can overcome many of the previous limitations — primarily stability and off-road mobility. "Stability does not need to be sacrificed if choosing the proper vocational air suspension," says Remus. "For example Hendrickson's PRIMAAX EX promises up to two times the roll stability of competitive air suspensions, equaling the stability of a steel walking beam."
Steel Springs Offer Simplicity
Simplicity rules in certain applications. "Spring steel suspensions are simple, stable and durable," says Wrinkle. "Walking beam suspensions are usually heavier, depending upon the design of the steel springs."
"Steel spring suspensions are known to be simple suspension designs resulting in an economical upfront purchase," says Remus. "Common use of the simple design also leads to familiarity of maintenance."
Drawbacks for steel spring suspensions will often be heavier weight and the unladen ride quality. Maintenance requirements actually depend on the design of the steel spring suspension. The more complex designs may increase maintenance costs. For example, a multi-rod or six-rod type of suspension will require substantially more maintenance due to the fact that they have more bushings and end rod connections, as well as leaf springs.
"Three major drawbacks with steel springs are breakage, deflection change and weight," says Alford.
Seek Expert Advice
With all of the choices on the market, finding the best suspension for your operation is a daunting task. It's best to seek expert advice rather than go it alone.
According to Alford, the best steps are to:
Ask for advice and input from a well-known and respected sales professional/company with specific expertise in vocational suspension applications
Make sure they understand exactly what application the truck is being purchased for and how it will be expected to perform
Make sure they understand what your expectations are regarding all operational costs and what you expect in terms of return on investment over the life cycle of the truck
Get user feedback from other fleets/maintenance managers running their fleets in similar duty cycles and applications
Online tools can be a good starting point to help narrow down the choices. There are a variety available, including Hendrickson's Vocational Selector Tool, which provides a general guide to suspension recommendations and options.
But simply using online resources may not be sufficient. "Suspension selection tools are widespread. However, they are highly specialized," Wrinkle points out. "It's always best to consult with an experienced sales staff member to fully understand the truck's application and determine which suspension best meets those needs."
OEMs can be a great resource. For instance, Peterbilt's engineering team establishes guidelines for suspensions and applications. "Our proprietary spec'ing software is used by our dealer network to help customers equip trucks with the best suspension for their application and business requirements," says Cook.
Trust your local dealers for advice, as well. "Freightliner dealers help our customers spec solutions so they can run a productive business," says Howerton. "We have custom application engineers, proprietary systems and tools that help with the spec selection."