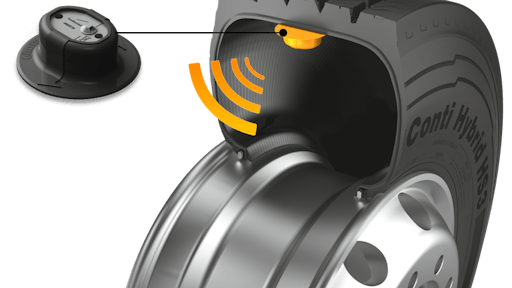 Continental Tire

Continental offers a wide portfolio of intelligent-capable steer tires, which can be ordered pre-equipped with Tire Pressure Monitoring System (TPMS) sensors from the factory.
Steer tires are especially important on a commercial vehicle, since they are some of the only tires running in a single rather than a dual configuration. The steer axle is free-rolling and pivots to control vehicle direction, meaning that steer tires need to be specially designed to prevent irregular wear. Maintaining proper tire inflation on a steer tire is critical, allowing fleets to extend the tread life, maintain casing integrity for future retreading to the drive and trailer positions, improve safety and handling, and help prevent steer tire blowouts.
Continental offers a full portfolio of digital tire monitoring systems to meet different fleet needs. Components of all systems can be combined to take advantage of different functionalities. Tire monitoring solutions include the ContiPressureCheck on-vehicle TPMS and ContiConnect Yard digital tire monitoring system with web portal.
Request More Information
Fill out the form below to request more information about
Continental Broadens Intelligent Steer Tire Portfolio Including Conti HSC 3 Construction Tire