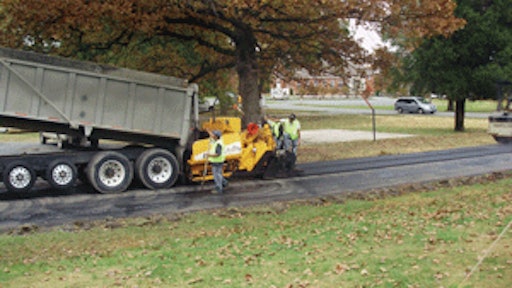 It wasn't a large project by any means, but the $300,000 repaving of three residential and three connector/business roads in the Town of Indian Trail, NC, represented a significant application to demonstrate the benefits of warm mix asphalt for other North Carolina road agencies and the NCDOT in particular.
Greg Tucker, project manager for Boggs Paving Inc., says the project was completed in early November, and it represented the first major resurfacing project of this bedroom community southeast of Charlotte. Part of the project was a typical mill and fill repaving, and the other involved resurfacing existing pavements.
"After we were awarded the project, we installed an Astec Double Barrel Green system (which uses water to create a hot foam asphalt to coat the aggregate) at our Monroe production facility," Tucker notes. "We then went back (to the Indian Trail's town officials in charge of road construction and maintenance) and presented them with the option to give us a shot at using warm mix on this project. We were scheduled to work on six different roads, and we wanted them to split the contract specifications 50/50, allowing us to use warm mix on half the work and hot mix on the other."
The Town of Indian Trail agreed to pave three town streets with mix produced at 270 degrees F with 25 percent reclaimed asphalt pavement (RAP) and PG 64-22 liquid asphalt cement (AC) binder. The RAP to be used would be fractionated (separated into the various material components), the AC would be foamed to reduce its viscosity in order to coat the aggregate, and Boggs Paving would produce and place the mix.
On the residential streets, Boggs' crews milled two inches of the old asphalt off so that the new surface mat would match the curb line. On the connector/business roads, crews placed a 2-inch hot mix mat over the existing surface.
"We were working on narrow roads (24 feet wide to as narrow as 18 feet wide), so we had to bring in smaller equipment to place and compact the hot and warm mixes used on the six different sections of roadway," Tucker says.
But as far as using warm mix, the township's engineer, field operations manager and city manager were more than willing to compare the performance of warm to hot, according to Tucker.
"We ended up placing 1,390 tons of hot and 1,397 tons of warm mix to complete the project's approximate six lane miles of resurfacing," Tucker says. "The pricing for warm mix was about the same on this project because we did not increase the RAP content, which is one of the benefits of using warm mix; and we've had a lot of success with high-RAP warm mix projects in South Carolina," Tucker explains. "We did, however, provide them (Indian Trail) with a cost saving credit that allowed them to do more paving."
Using NCDOT's approved Superpave mix design (S9.5B mix ? surface 9.5 mm PG 64-22), Boggs produced a warm mix to hot mix specifications, but at a lower temperature ? 270 degrees F for WMA, versus 325 degrees F for HMA.
"There was some concern (among road agency personnel who attended the warm mix portion of the project) about achieving density using warm mix in late October and early November," Tucker notes. "But we explained and demonstrated that compaction for warm mix is in the 270-220 degree range, whereas compaction for hot mix is in the 320-260 degree range.
"We only had to transport the mix six miles from our Monroe plant to Indian Trail, so that was not an issue at all," he continues. "The only requirement NCDOT has regarding placement temperature is that on the day you pave, it (the ambient temperature) has to be 40 degrees F and rising. When we paved the Indian Trail project it was between 50 and 55 degrees."
Executing the project demonstration
Boggs Paving crews executed the project by placing the hot mix portion first and then switching over to the warm mix application on the day road agency personnel from the surrounding area arrived to observe the demonstration.
"We invited a lot of folks, and we switched over to warm mix before we completed the hot mix portion of the project," Tucker explains. "We ran warm mix test strips prior to beginning the project, so we knew how to set up our rolling pattern to achieve density, and in fact we were able to use the same rolling pattern we used on the hot mix by just keeping the rollers closer to the paver."
With a vibratory steel drum roller (IR DD90) for breakdown, a tire roller (IR PT125) for intermediate compaction and a static steel drum roller (IR DD90) for finishing, the paving crew achieved the 92 percent density requirement quickly once the mat was placed with a LeeBoy 8510 paver.
"With hot mix you have a longer temperature time range before achieving final compaction," says Tucker. "You often have to wait for the mat to cool (after breakdown compaction) before another roller (usually an intermediate tire roller) can be put on the mat.
"With warm mix, we're able to keep the rolling pattern tight (directly behind the paver) and achieve density a lot quicker."
Promoting the Green advantage
As a strong proponent of the "green" advantage of warm mix, with environmentally friendly benefits that include - eliminating blue smoke and the smell associated with hot mix, providing a safer and more comfortable working environment for crews producing and placing the mix, reducing fuel consumption required to produce the mix, and increasing the use of RAP up to 50 percent - Boggs Paving is confident more road agencies will specify warm mix on major paving projects.
With the Indian Trail project being one of the first warm mix projects executed in the Charlotte area, and one of the first North Carolina warm mix projects produced using the Astec Double Barrel Green system, Tucker and Boggs Paving are optimistic about the future for warm mix in the state.
"There is a fuel savings when producing warm mix (between 10-15 percent), but the real savings is achieved when you increase the level of RAP used in a warm mix design," Tucker notes. "Right now NCDOT specifications only allow 20-25 percent RAP content, whereas SCDOT specifications allow 40-50 percent RAP.
"But we know there is a lot of interest in the market for warm mix," he continues. "The City of Monroe wants to switch over to warm mix. The Monroe Department of Public Works operates its own paving division, and they would like to use warm mix on all of their base and surface courses."
The fuel savings alone helps producers like Boggs reduce their operating costs and be more competitive in the market, which allows road agencies to address more projects with the dollars they have earmarked for projects.
The real cost savings for asphalt producers and their road agency customers comes into play when the levels of RAP can be increased, which is the case with warm mix because it is produced at a much lower temperature that results in a safer, more comfortable work environment, and improved workability.
As for the township's reaction to how the warm mix project worked out, Joe Tolan, field operations manager, says he is very satisfied with the results.
"The longitudinal joints are a little rough, but I think that's a result of the warm mix not meshing as well as hot mix does when the (ambient) temperature is a little cooling during the fall paving season," Tolan states. "I think that particular issue will be worked out next summer when the temperature is warmer and motorists are driving over that joint."
Tolan did note that paving crews were able to open the warm mix portion of the road to traffic sooner than the hot mix portion.
"Because the temperature of the warm mix is so much lower than hot mix, it doesn't take as long to achieve density and cool down to the point were you can put traffic back on the road," he says. "With the warm mix being a NCDOT specified design, we'll probably look at using it on future projects."
With representative from NCDOT, as well as road agency personnel from Charlotte and other municipalities, Boggs Paving is optimistic that future warm mix projects will become a reality.
"Our hope (after demonstrating warm mix in Indian Trail) is that as we go forward in proposing warm mix as a viable option, that there won't be a need for additional presentations," Tucker adds. "We've produced and placed over 100,000 tons of warm mix for various counties, municipalities and SCDOT, and they allow us to incorporate RAP in a range from 20 to 50 percent (milled from South Carolina road projects) back into the warm mix design.
"So, the Indian Trail project, which used 25 percent RAP, and our experience with SCDOT clearly demonstrates that warm mix is a cost-effective, high-performing paving option that benefits our customers."
Companies in this article