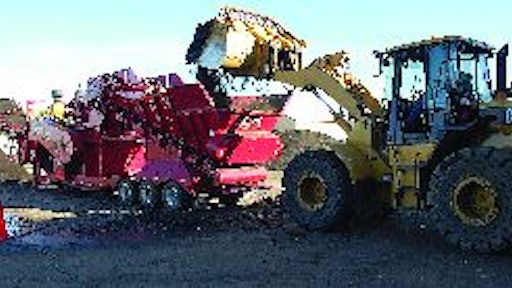 Recycling of tear-off asphalt shingles is ready for full-scale, commercial operations. That?s the message from two companies that sponsored a special event held in Shakopee, MN on October 21. The main barrier is the need for a permissive materials specification from the Minnesota Department of Transportation (MnDOT).
Dem-Con Recovery & Recycling, a subsidiary of Dem-Con Companies, is a local recycling company that has recently invested in the equipment and systems needed to turn tear-off shingles into a valuable recycled product.
Once residential asphalt shingles have been sorted and cleaned to remove contaminants and then ground, the product can be introduced into the mix at hot mix asphalt (HMA) plants.
Commercial Asphalt Company is a local HMA producer that has successfully tested the use of recycled asphalt shingles (RAS) material produced by Dem-Con. Commercial Asphalt, a subsidiary of Tiller Corp., is in the business of manufacturing high-quality asphalt. Commercial has been making and using reclaimed asphalt pavement (RAP) from old bituminous roads for over 20 year.
?Recycling of tear-off shingles will be a significant new step forward in abating the need for landfilling shingles,? says Jason Haus, vice president of Dem-Con. ?Our landfill alone receives about 50,000 tons per year of roofing waste.
?Based on other demonstrations in Minnesota and in other states, we not only invested in a new shingle grinder, but also a sorting and cleaning system to assure we can meet any material specification our customers need,? he continues. ?The quality and cleanliness of the RAS will differentiate companies that are looking to enter this market. The cleaning and sorting process to eliminate foreign debris is critical in producing a high quality RAS.
?The next needed step for large scale recovery of tear-off shingles is a permissive MnDOT specification similar to the specification granted for manufactured scrap shingles,? Haus explains. ?Once the permissive specification is determined and assuming virgin asphalt prices remain high, the land disposal of shingle material will become rare. Our industry is prepared to provide this material to HMA producers on a large scale. Without the MnDOT spec, we will have to continue landfilling valuable tear-off shingles.
?We have a great opportunity to reduce materials being landfilled while providing a substitute for virgin asphalt at a lower price.?
Robert Kuehborn, manager of Product Design/Quality Control for Commercial Asphalt Co., agrees.
?We have the capacity to do this,? he says. ?Recycling tear-off shingles is now a proven, feasible technology. When we bring this new technology up to full scale, it will help us conserve asphalt cement and save money.
?Part of this savings can be passed along to the driving public,? he explains. ?The time has come for tear-off asphalt shingles to be accepted as another standard recycled material into hot mix asphalt. Tear-off shingles should be part of permissive materials specifications similar to the way RAP and manufacturers? asphalt shingle scrap are considered by MnDOT today.
?In order to consume any meaningful quantity of tear-off shingles, the HMA industry needs a permissive specification because we want to produce MnDOT certified mixes on a standard, full scale basis,? Kuehborn adds.
One recent study indicated that on a statewide basis, tear-off shingles recovery could reach at least 156,000 tons per year by 2012. Given the oil content within tear-off shingles (at least 20 percent), about 32,000 tons per year of binder (virgin liquid asphalt oil) would be conserved by recycling shingles into HMA pavement.
Using a conservative price estimate of $400 per ton of liquid virgin binder, this savings has an equivalent value of about $12.5 million per year. Also, the savings is equivalent to about 200 kilowatt hours of electricity for every ton of tear-off asphalt shingles recycled.
Rotochopper Inc. is the equipment manufacturer that sold its ?RG1? grinder to Dem-Con.
?We have seen numerous successful tear-off shingle recycling businesses around the United States and Canada? says Vince Hundt, vice president of Rotochopper. ?Our RG1 grinder can produce a high-quality, finely ground RAS product in one pass. Recyclers like Dem-Con will be able to sell a valuable recycled product to HMA producers.?
Plehal Blacktopping installed the asphalt pavement at Dem-Con?s Shakopee plant.
?Our paving crew didn?t notice any difference,? says Jack Van Remortel, president of Plehal Blacktopping. ?The bituminous mixture was installed using normal equipment and procedures.?
MnDOT has been a leader in the country among other state departments of transportation when it adopted an earlier specification in 1996 for the use of manufacturers? shingle scrap for use in HMA.
This ?new? shingle scrap comes from the three shingle manufacturers located in Minnesota. Since then, MnDOT has participated in five demonstrations of road construction projects that have successfully incorporated tear-off or ?used? shingles into HMA pavements.
MnDOT is currently considering how best to write requirements for an updated new materials specification that would allow tear-off shingles in HMA.
Companies in this article