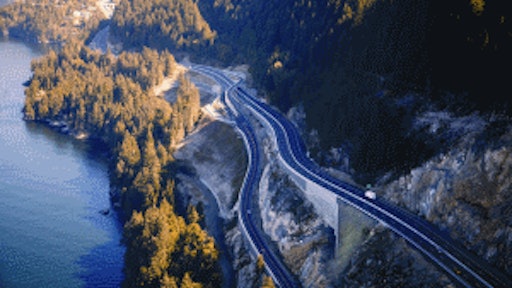 Long before Vancouver was selected as the site of the 2010 Winter Olympics, improvements to the Sea to Sky Highway between the city and the skiing enclave of Whistler to the north were being discussed - and for good reason.
Though one of the most picturesque highways in all of British Columbia, it was also one of the most dangerous, averaging 300 crashes per year and claiming more than three dozen lives between 1996 and 2000 alone.
Upgrades to the highway were inevitable; an impending Olympic Games just brought them about quicker. Working as a subcontractor to global construction giant Peter Kiewit & Sons (PKS), North Vancouver paving firm BA Blacktop, Ltd., tackled the massive 80 km (50 mile) project and, aided by some of the latest innovations in paving technology, helped turn an infamous "killer highway" into one of the country's newest, safest and most beautiful landmark thoroughfares.
Sea to Sky's the limit
Projects like Sea to Sky don't come around every day. With a price tag hovering around $600 million (CAD) and an undeniable pressure to get things done on time - and correctly - the highway job was one of the largest and most complex BA Blacktop has seen in its 50-plus years in business, according to Tom Kinnear, the firm's foreman/project coordinator.
"We've done our share of large jobs throughout the province, but this was a once-in-a-lifetime project," he says. "We actually started back in 2004 with a seven kilometer test section from Ansell Place to Lion's Bay almost at the highway's southernmost starting point. Since then, we placed about 475,000 tons of asphalt in some real challenging conditions. In fact, in some places, the road was literally more of a mountain pass than a highway. That's all been changed and we are really pleased with the way things went."
Let the games begin
While the main focus of the Sea to Sky upgrade project was improving safety, there's no denying the increase in traffic to and from the Olympic Village at Whistler also drove the project's design. A number of creative steps were taken to accommodate that higher traffic volume, says Kinnear.
"Essentially we were turning what has always been two-lane road into a state-of-the-art four-lane highway." he says. "That was not always easy for engineers to do given the terrain and location. As a result, there are several sections where the road narrows to three lanes, but in many of those areas we installed what we called 'Olympic Lanes.' That involved paving extra wide 3.75 m shoulders on either side so that during the Olympic Games there could be four 3.5 m lanes of traffic through those sections."
The beauty of the "Olympic Lane" feature, adds Kinnear, is that, regular day-to-day travel can easily be switched back to three standard lanes.
Giving a high five
Because of Sea to Sky's high-profile usage, ensuring quality in workmanship was ramped up even further for the project. A long-time proponent of advanced paving technology, the firm relied heavily upon Topcon's Paver System Five, a machine control package which included Sonic Trackers, Slope Control and a Sonic Averaging System (SAS), to give them the results they - and the project's owner, the Canadian Government - demanded.
"On most parts of the highway, we paved in echelon," says Kinnear. "On our lead paver, generally a Cat 1055B, we were running Topcon's Smoothtrac system which consisted of a pair of SAS booms. On the back echelon paver, usually our Roadtec RP-195, we had a joint matcher on one side and an SAS boom on the other. We ran that on both the base and top lift and the results were consistently excellent."
Each Smoothtrac boom consists of a 25-foot aluminum beam with five non-contacting sonic trackers positioned along its length. As mentioned, the last paver in the echelon replaced one SAS boom with a joint matcher to sense and match the lead paver, thereby reducing the risk of cracking and raveling.
In addition to the quality-driven benefits, Kinnear says improved efficiency was also a nice plus with the system.
"Setup and takedown, on a day-to-day basis was a lot easier than with a traditional ski: setting up, dragging a string line, and so on. Over the course of a multi-year project like this, that convenience and efficiency can really add up - and it did."
Consistently smooth
Even with a project as sizeable as Sea to Sky, controlling costs is still a reality and Kinnear says the techniques and technologies they employed on the project helped keep those in line.
"It's important to remember that, during the course of our work on the Sea to Sky, there was that dramatic run-up in oil prices. An increase like that can really mess with profit margins, so a company like ours has to look for every means possible to maintain efficiency. Technology like the Topcon system helped us in that regard. Pavement that fails to meet spec has to be redone, costing valuable time and money. That was never the case with us."
He adds that BA Blacktop was held accountable for its work under Provincial quality control specs 501 and 502, and profilograph testing was done throughout the project.
"There were two third-party maintenance companies, PKS and Miller Capilano, that represented the Canadian government and conducted the smoothness testing. We had to be within a spec of 1.2 IRI and were able to easily achieve that time and again. In fact, we never came close to failing a test for rideability."
Quality vs. quantity
BA Blacktop used three different mix designs on Sea to Sky: a Class 1 medium for all base lifts; a 12.5mm Superpave mix for the top lift; and in more heavily populated areas such as Squamish and Lion's Bay, a third mix design with open graded friction course (OGFC) asphalt to minimize both road noise and tire spray in wet weather. The company tried to put down about 3,000 tons of asphalt per day - not always easy given the number of drop-offs, ravines, river crossings, etc. According to Kinnear however, success for them, was really not how much was put down or how quickly, but rather, how consistently good the end-product was.
"A lot of that was attributable to everything from how well our crews performed, to the pavers, to the Topcon system providing the guys on the ground confidence in their ability to achieve and maintain tight specs,
With the world watching the Vancouver Winter Olympics and the activity taking place up at the Olympic Village in Whistler, Kinnear notes, "It's really kind of neat to know that we played a pretty big role in helping make every trip up there and back a whole lot safer."