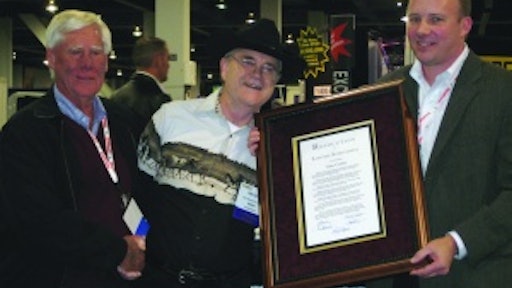 AIA Honors CHEC's Alan Curtis
Alan Curtis (center), CHEC Consultants, accepts a Lifetime Achievement Award presented on behalf of the Asphalt Interlayer Association by John Miner (left) and Jeff Rasche of TenCate Geosynthetics North America. The award, presented at National Pavement Expo West, recognizes Curtis's knowledge, experience, innovation, and insistance on quality workmanship, among other service to the industry.
Ennis Paint Purchases Company in Australia
Ennis Paint, Dallas, TX, has purchased a majority share in G.T. Industries, a manufacturer of pavement marking materials in Australia, according to Bryce Anderson, Ennis chairman and CEO.
Anderson said G.T Industries, near Sydney, will complement the company's operatons in Southeast Asia and will service Australia, New Zealand and the nearby islands.
G.T. Industries produces waterborne paint, thermoplastic coatings, preformed thermoplastic, cold plastic (MMA) coatings, and anti-skid products. In addition, the facility will be a stocking point for other Ennis Paint products produced in the United States and Europe.
Elgin Extends Rebuild Program
Elgin Sweeper will continue its factory authorized sweeper rebuild program to customers unable to purchase new sweepers due to budget constraints in the current economy. Begun in 2009, the program is available to municipal and contractor customers.
The rebuild program includes an all point inspection of the sweeper. Service and repairs are performed by factory trained technicians at the local dealer.
Companies in this article