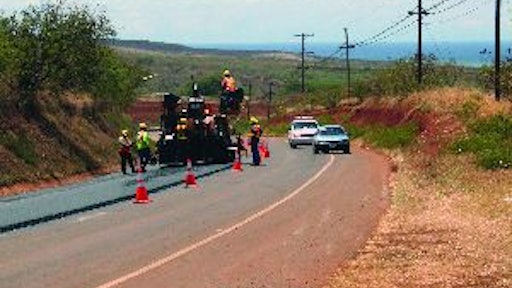 Road paving on the tiny Hawaiian island of Molokai is generally the same as it is elsewhere in the island chain — or on the mainland, for that matter. What sets it apart from any other paving job, however, occurs during a lane closure and can be seen in the attitude of those forced to wait while oncoming traffic is allowed to pass.
While the overwhelming majority of drivers elsewhere will sit in their vehicles, muttering or cursing the fate that has befallen them, Molokai's travelers will often get out of their cars and trucks and strike up conversations with other similarly inconvenienced travelers — or with the road crew itself. It's just one of the many reasons Molokai is said by many to be the friendliest of all islands in the Hawaiian chain.
Such interaction might be occurring a bit more frequently now, as Maui Paving takes on a project to repave a nearly six-mile stretch of the Maunaloa Highway, one of the main east-west thoroughfares on the island. The company is using some newer laser paving technology to move the project along, which, while threatening to shorten this decades-old tradition for some, will ultimately please a whole lot more.
Smooth landings
One of the larger paving companies in the island chain, Maui Paving was formed in 2005 through a merger between Grace Pacific Corporation and Goodfellow Brothers Inc. The company works (under various names) throughout Maui, Molokai and Kauai, most recently completing a repaving of the main airport serving Molokai. According to David Ortega, the firm's superintendent, that project's success was affirmed in typical Molokai-like fashion.
"I was on a flight into the island to look into some future business and got to talking with the pilot," he says. "When he found out what I did for a living, he was extremely grateful for the work we had done. Turns out, pilots appreciate a smooth runway as much as we drivers like a smooth road."
Ortega says there are other paving companies that serve the island of Molokai — two or three of them to be specific — but Maui Paving generally gets the bulk of the work.
"It's a combination of the fact that we do really good work, and are large enough that we can afford to have equipment here almost on a full-time basis. As you might imagine, it gets costly to barge paving equipment to and from Maui and those costs eat directly into a company's bottom line. We can eliminate that by keeping equipment here for extended periods of time. As a result, almost anything on the island that has been paved has been done by us."
Road to Maunaloa
The $6.6-million Maunaloa Highway paving project was started in late May and involves laying down better than 30,000 tons of asphalt. The road itself is one of the main thoroughfares to and from the relatively busy Kaunakakai Harbor on the island's south shore.
"Traffic here is nowhere near what it is on the other islands — in fact, one of the Molokai's claims to fame is that there are no stoplights anywhere on the island," says Ortega. "But Maunaloa Highway handles most of the traffic heading west from the harbor and the eastbound traffic from the airport. It has really been in need of a resurfacing for a while now."
The speed at which the project is proceeding has been slowed somewhat by the relatively small — 50 tph — asphalt plant Maui Paving has on the island. This has limited the crew to laying down a pair of 150-ton sections or "pulls" per day.
"While the plant is small, it was perfect for the first job it did here on the island: building a private landing strip to serve current residents of the one-time leper colony of Kalaupapa," says Ortega. "The only access into that area was by barge and we needed a plant that could be lifted by crane and set into place.
"That smaller plant from Asphalt Drum Mixers (ADM) fit our needs perfectly and, once we were done, we moved it next to the quarry and it's been there ever since."
Laser-driven quality
While the rate of progress might be a bit slower, the quality of the work on the Maunaloa remains high, thanks in large part to the paving equipment the company has come to rely upon.
"Many of us who have been with the company before it became Maui Paving remember when we relied almost entirely on a stringline to do paving jobs," says Dane Patao, project foreman on the Maunaloa job. "That changed a number of years back when we contacted Rick Dolan at Laser Transit Clinic in Honolulu and got our first Topcon laser equipment for our pavers. The difference was like night and day. We no longer had to worry about whether the string was too loose or if we were putting too much downward pressure on it, both of which could affect the accuracy of the pour."
Patao says laser technology has eliminated the need for almost constant manual adjustment and correction, particularly in matching joints between pulls.
"With the Topcon laser equipment, matching joints is easy and accurate. We dial in the thickness we need, compensating for the asphalt to be rolled, and the match is perfect every time. The same holds true for slopes which were really challenging in the past. Now we set the machine to slope control, dial in the degree of slope we need and it will hold that percentage for as long as we need it."
For instances in which the slope changes, Patao says they often have a superintendent walk along with a Smart level marking the degree of slope.
"He will indicate whether the slope is 3 percent, 2 ½ percent and so on. Then, as we are following along, we simply dial in the new slope and the machine does the rest. When talking about the Topcon equipment we like to borrow a phrase from a credit card company: 'we never leave home without it.'"
Upgrading the system
If Maui Paving sees the change from stringline to laser as being like night and day, it also sees the recent upgrade in that laser technology to Topcon's Paver System Five as being just as significant. The latest in Topcon's equipment for screed control offers two different technologies to ensure the smoothest, most consistent mat pour possible. Maui Paving relies upon Sonic Tracker II, which uses rapid sound pulses directed at any of several reference points including a curb, an existing surface — even a stringline.
"On the Maunaloa job, the sensor is sending a pulse down to the existing grade and, based on how long it takes that signal to bounce back to the sensor, adjusts the screed, giving us the smooth two-inch pour we need. For us, the biggest improvement going to System Five from System Four — which was already an impressive technology — has been an increase in accuracy and ease of use. We can start right up in the morning and be putting down asphalt in no time."
In addition to the Sonic Tracker, Topcon's System Five also offers the 9130 Laser Receiver which maintains grade by locking on to the beam of an existing laser. All the new technology and its increased levels of accuracy do have one downside, according to Patao.
"I used to have decent biceps from constantly having to crank the paving machine up and down," he says. "I'm not using those muscles anymore — but that's a small price to pay for the convenience we have now."
Down to the valley
The Maunaloa Highway project is slated to be wrapped up by this fall, after which David Ortega says, they will move several miles eastward to a project that will actually be more of a challenge for them.
"There is a narrow two-lane road that takes residents and visitors past some of the most beautiful scenery on the island on the way to Halawa Valley. It is a twisting, winding road with barely enough room in spots for two cars to pass. It has some areas that are badly sinking, so we have been contracted to go in and repave about a five mile stretch."
He adds that, during the time the project will be in progress, certain parts of the valley will not be accessible by car via that road, causing some real inconvenience for residents and Valley campers alike.
"It will be interesting to see how people will cope with that closure," he says. "But the new paving equipment will help keep that inconvenience to a minimum and, because it is Molokai, I suspect people will take it in stride — that's just the way they are."