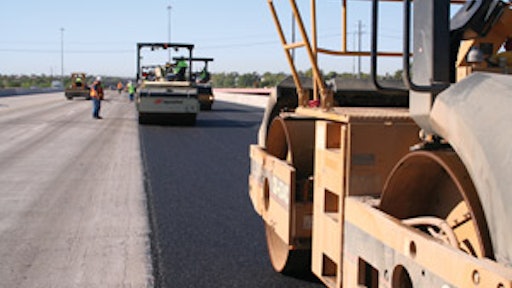 When a six-mile stretch of the Superstition Freeway in The Greater Phoenix area is completed this spring, FNF Construction will place over 50,000 tons of rubberized asphalt over the expanded roadway to cap a $73-million project that not only improves traffic flow, but also quiets the noise created by over 300,000 motorists that use this vital section of highway each day.
As general contractor, FNF is performing most of the improvements required to widen the existing freeway from three to six travel lanes in each direction from Gilbert to Power roads, including earthmoving to create the expanded travel lanes, placement of the concrete structural roadway, expanding bridge structures, realigning entrance and exit ramps, and finally placing the asphalt rubber friction course (ARFC) over the entire road surface.
The project will also include placing the rubberized asphalt wearing course over the existing concrete roadway from Power Road to Crimson Road, extending the quiet pavement application an additional four miles east of the main project.
This project is part of the Superstition Freeway improvement plan that began back in 1993 after the Federal Highway Administration (FHWA), Arizona Department of Transportation (ADOT), and the Maricopa (the project is located in Maricopa County) Association of Governments (MAG) determined that there was an immediate need for improvements to the freeway due to mass development in the surrounding areas, and environmental concerns.
Also worth noting, FNF placed over 32,000 tons of asphalt base mix in areas of the 12 different construction sections of the expanded roadway to add structural support to the heavily-traveled freeway.
According to Tom Billings, FNF project manager, the biggest challenge of executing this particular project was in doing so without impacting the day-to-day traffic flow.
"We had to remove curb and gutter, barrier walls and concrete ramps along the project in order to add travel lanes to the existing roadway," Billings notes. "And we had to do the work in a way that would not disrupt the daily traffic flow because this is a very vital part of the area's road system.
"For example, we had to build new ramps (entrance and exit) along side of the old ramps before we could remove the old ramps to accommodate the widening work required to add travel lanes," he explains. "We also had to widen three bridge structures and install sound walls again without disrupting access to the freeway."
Addressing the structural needs
While the construction design for the widening project required both asphalt and Portland cement concrete pavements, ADOT construction field engineer Robert Wade says the approach is quite common for a heavily-traveled urban roadway like the Superstition Freeway.
"In an urban area like Phoenix, where traffic volume on a particular segment of roadway can be as high as 300,000 vehicles a day we rely on our materials' analysis reports to determine the best way to construct a long-lasting structure," Wade says. "On this particular project we concluded that 11 inches of Portland cement concrete pavement (PCCP) was required on the ramps and 13 inches on the travel lanes to support the heavy usage this road receives. Our analysis also helps us decide where we need to use a four-inch asphalt base under the PCCP for additional structural support."
Make it quiet
For ADOT, meeting the traveling needs of taxpayers and visitors is not simply a matter of adding lane miles of structurally sound and safe pavements to accommodate economic growth and the resulting higher traffic volumes. The road agency has made a point of improving existing roads and adding lane miles of quiet pavements.
In 2002 ADOT overlaid a portion of the concrete-paved Superstition Freeway with a one-inch thick open-graded friction course containing an asphalt rubber binder. The reduction of noise on this particular segment of the freeway was so dramatic that motorists and property owners along the freeway and all across the Regional Freeway System (The Greater Phoenix area) began to inquire about why other sections of freeway could not be resurfaced to reduce noise.
In 2003 ADOT adopted a Quiet Pavements Program to overlay most of the Regional Freeway System with rubberized asphalt to address the annoying noise associated with the ever-increasing level of traffic. The program initiated its first project in the summer of 2003 by overlaying 23 miles of concrete freeway with 78,000 tons of the rubberized asphalt at a cost of $5.5 million.
Similar projects have been completed since then, with the intent to cover the entire Regional Freeway System with the quiet-riding rubberized asphalt surface.
On the current Superstition Freeway widening project, the rubberized asphalt to be placed this spring is a hot mix asphalt (HMA) that contains 9-percent liquid asphalt cement (80-percent is liquid AC and 20-percent is crumb rubber from recycled tires).
The rubberized asphalt overlay used on ADOT projects has reduced noise levels by three to five decibels, with greater noise reductions recorded in some areas.
FNF leads the way
FNF Construction, a leader in the general/heavy highway construction industry, has been a strong proponent in the utilization of asphalt rubber paving in the Southwest. The company has been promoting the smoother, quieter and more durable benefits of rubberized asphalt pavements since the mid-'90s.
Arizona has taken an aggressive approach in specifying and promoting the use of asphalt rubber pavements, and FNF has played an integral role in helping the state achieve its quiet pavement initiative.
The benefits of rubberized asphalt, particularly as a thin open-graded friction course that delivers a smooth, quiet and durable surface, have been validated by ADOT's aggressive usage on many road rehabilitation projects.
With traffic noise becoming more of an issue in densely populated urban areas, delivering a pavement solution that not only addresses the durability and smoothness demands of agency owners, motorists and taxpayers, but also mitigates pavement/tire noise is a bonus.
The FHWA's Noise Abatement Criteria requires noise abatement for residential areas when the traffic noise levels approach or exceed 67 decibels. Transportation agencies commonly build sound barrier walls that cost $1 to $5 million per roadway mile. Rubberized asphalt has proven to be a much more cost-effective alternative in reducing noise levels.
The partnership FNF and ADOT have built in designing quiet pavements will continue to benefit motorists, taxpayers and the environment, as old tires are put to a new use in reducing the noise pollution of urban areas while delivering a safe and smooth ride for motorists.
When the current Superstition Freeway widening project is completed in a few months with the placement of a one-inch thick asphalt rubber open-graded friction course, FNF and ADOT will have added yet another stretch of quiet pavement motorists and adjacent residential neighborhoods appreciate.