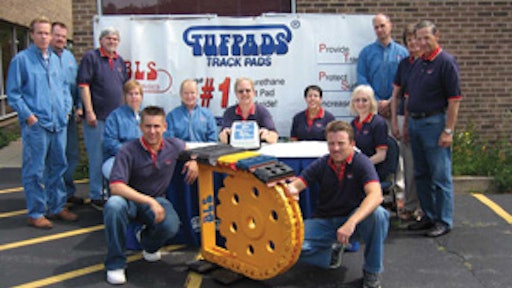 Cimline acquires Equipt and Duraco Industries
Cimline Inc., Plymouth, MN, has made two significant acquisitions in the last quarter of 2006, broadening its line of pavement maintenance equipment.
In early October Cimline acquired Equipt Mfg., Waconia, MN, manufacturer of high-density polyethylene tanks systems for sealcoating contractors.
"Applying new technology to established methods is a trademark of Cimline, and we were attracted to Equipt because they have applied industry-leading designs to their products," said Mark Hefty, Cimline president.
Craig Erickson, Equipt founder, will continue as president of the Equipt operation.
In early November Cimline also acquired Duraco Industries Inc., Jackson, MS, manufacturer of the Dura Patcher injection-type pavement repair machine.
"The Dura Patcher is a natural fit with our existing product line," Hefty said.
Bob Gilchrist, Duraco founder, will remain as president of the operation. David Sifton, Duraco general manager, and Nat Alford, sales manager, join Cimline's Brad Dunn, vice president, and Steve Johnson, sales manager, in managing the combined product lines.
Ingersoll Rand to acquire Geith Int'l
Ingersoll Rand Co. will acquire Geith International, a provider of attachments for construction equipment. The acquisition was expected to close in 2006.
"Geith's brand reputation, distribution channel and diverse line of attachments complement and extend the established attachments offerings of our construction and compact-equipment businesses," said Herbert L. Henkel, chairman, president and CEO of Ingersoll Rand. "In addition, Geith's technologies will enable us to more quickly and cost-efficiently bring to market innovative products across our attachment business."
Geith International will operate as part of the attachments business unit within the Ingersoll Rand Construction Technologies Sector.
Howell, Kordus join Pavement Advisory Board
Nick Howell, T&N Asphalt Services, and Robert Kordus, Asphalt Contractors Inc., are the newest members of the Pavement Advisory Board.
Howell is president of T & N Asphalt Services, a Salt Lake City firm entering its 10th year in business. T&N began as a striping contractor but moved into asphalt maintenance "because the demand was huge," Howell says.
T&N employs four full-time and four part-time employees and now offers sealcoating, cracksealing, and patching in addition to striping. T&N bids paving work and subcontracts that work out.
Kordus and his brother, Peter, started Asphalt Contractors Inc., Union Grove, WI, in 1979 sealcoating driveways with two 55-gal. drums in the back of a pickup truck. By the end of the first summer they had invested in a 1,000-gal. tank, melter kettles, and blowers. "We built this business by reinvesting," Kordus says. "We put money back into it all the time."
Today the company employs 35 people in peak season doing site work, and chain link fence and signage installation, in addition to their work as a full-service paving and pavement maintenance contractor.
The Pavement Advisory Board functions as a sounding board and informal consultant to Pavement magazine and the industry's two trade shows, National Pavement Expo and National Pavement Expo West.
Sharpco to market Sharpco drag shoes
Sharpco Inc., Monroe, LA, has assumed the marketing and sales of its sweeper drag shoes, which for three years had been marketed through Heavyquip, according to James Sharplin, Sharpco president.
Sharplin says Sharpco, which has manufactured the shoes for three years, bought the rights to market the line from Heavyquip after Heavyquip decided the drag shoe business did not fit Heavyquip's marketing mix.
Sharpco manufactures shoes for Masco, Scorpion, SK Sweepers, Tennant, as well as other sweeper models.
Bergkamp to expand facility
Bergkamp Inc., Salina, KS, will spend more than $2 million to almost double the size of its 42,000-sq.-ft. office and manufacturing facility, according to Scott Bergkamp, president.
"The office expansion will provide room for additional support, parts, engineering and sales personnel, while the new manufacturing space will help us meet the rising demand for all our products," Bergkamp says.
Ennis Paint to acquire Prismo Ltd.
Ennis Paint Inc., Ennis, TX, has agreed to acquire Prismo Ltd., Lancashire, United Kingdom, a road markings business that develops, manufactures, and applies road markings and specialized road surfaces including anti-skid surfaces and sells other road traffic products.
The purchase includes rights to the Prismo name and trade marks, including Prismo Contracting Services, Prismo Product Services, Prismo Traffic Products, and Prismo USA businesses.
Industry Appointments
G.E. (Jerry) Randecker is president of Bomag Americas Inc., Kewanee, IL, succeeding Charles M. (Mike) Simpkins, who is retiring....Daniel Sandonato is vice president, global marketing road development, for Ingersoll Rand, Davidson, NC.
Dale Starry joins Wirtgen America Inc., Antioch, TN, as manager, technical development, for Hamm Compaction Division and Vögele America Inc.
At Stone Construction Equipment, Honeoye, NY, Jeffrey Gambrill is vice president, marketing and sales; Steve Miller is director of strategic sourcing and logistics; Paul Waller is regional manager, southern region; new district managers are Carmen Gibilisco, Doug Krasowski, Richard Jeter, and Mike Sebree.