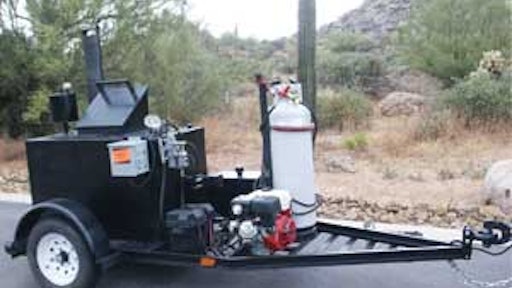 Brewer QwikFire Cracksealant Melter
Gravity flow melter with 8-hp electric start Briggs & Stratton engine and hydraulic controls
Oil-jacketed system allows heat-up time in less than an hour
46-in. sealant loading deck, bolt-on lid designed for easy cleaning and agitator service, and a sealed agitator shaft designed for low maintenance
Brewer Cote of Arizona
Allstates Black Elixer
Additive for coal tar and asphalt-based sealers
Increase sealer cure time by up to 80%
Reduces power steering and tracking marks, pick up photo and copy
Improves resistance to oils, fuels, grease, chemicals
Allstates Coatings Co.
Silent Knight
175 hp turbo-diesel engine
16-in.-diameter, 13-in.-long gutter broom
Stainless steel, 4-yd. hopper
Beacon light
Heavy-duty head and drag arm supports
SK Sweepers LLC
8515 Asphalt Paver
8- to 15-ft. paving width
7.5-ton hopper
Choose between poly-pad or continuous rubber tracks
Hydraulically raise hopper bed for cleaning, service ease
Paves up to 6 in. deep
LeeBoy
BW120AD-4 Roller
Operating weight of 5,732 lbs.
47.2-in.-wide drums
Maximum centrifugal force of 10,125 lbs.
Bomag Americas Inc.
PowrLiner 8900
Airless walk-behind line stripers, Speeflo slow stroking paint pump
Chassis improves balance, reduces operator fatigue
SureTrak front caster system with extra wide tire
Titan Tool Inc.
SP Series Sealcoating Machines
Round tank design with true full-sweep agitation
Available with sand pumper material pump for dual capabilities, spray and squeegee
300-gal. capacity
SealMaster
American Highway Products Manhole Protection
Smooth over and ease the transition from pavement to manholes during road construction
Manhole protector ring fits securely around raised utilities or manhole risers
Reusable ring made of 100% recycled rubber, offers grip-tight design, and offers fast and easy installation and removal
Available in 10-in., 26-in., and 31-in. interior diameters
American Highway Products
Smith Manufacturing X3 Triple-head Eraser
Mechanical eraser removes any type of coating, pavement marking, or surface without grooves
Choose among seven styles of surface prep tools to remove surfaces up to 20 inches wide dry
Powered by gas, optional diesel, or hydraulics
Mounts to any skid loader, tractor, or truck body
Removal speeds up to 5 mph.
Smith Manufacturing
Your Logo on Work Gloves
Your logo printed on leather work gloves
Variety of glove styles, quality available
Generate brand awareness
Economical, visible, enduring
Logo Work Gloves