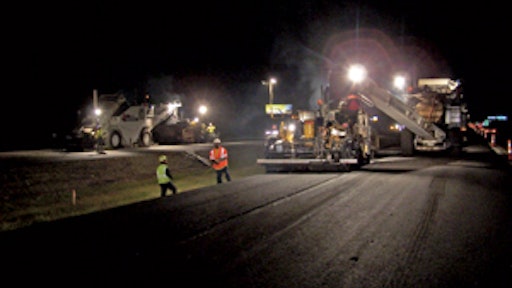 In the wake of Hurricane Katrina's devastating blow to New Orleans and the Gulf Coast, just getting back on your feet would be a monumental accomplishment for any business in this shattered part of the country, but to do so in order to successfully execute a major highway reconstruction project is simply remarkable. Well that's exactly what Barriere Construction Co. did this year when the asphalt producer/contractor pulled together all its resources to complete a $24.2 million, 227,000-ton asphalt overlay project of New Orleans' vital Interstate 10 infrastructure.
The 6.62-mile I-10 project is located in Slidell, LA east of Lake Pontchartrain from the northern end of the Twin Span Bridge to the French Branch Bridge. Interstate 10 is a vital six-lane highway that serves as a major evacuation route for the Greater New Orleans area. The project was designed to be completed in four phases to allow the traveling public to continue using the interstate with minimum disruption to daily and emergency evacuation use. Since work was scheduled to take place during the hurricane season, and other major infrastructure projects were scheduled to overlap in this area, Barriere designed innovative and aggressive scheduling solutions to minimize interruption should an evacuation be ordered, as well as to reduce interference with the other scheduled construction projects.
Phase I included rehabilitating the eastbound and westbound right shoulders in preparation to detour traffic for Phase II. The work required the removal of 76,000 square yards of surface and stabilized base material utilizing two milling machines working in tandem to increase production and achieve the correct slope and depth with minimal grading behind the operation, installing 35,600 linear feet of a shoulder under-drain system, installing 76,000 square yard of 4.25-inch asphalt base (Barriere proposed changing the stone base to asphalt to avoid disruption from stone base suppliers, and the DOT approved the change), and then placing 18,000 tons of Superpave asphalt. That work then allowed traffic to be detoured to the right travel lane and shoulder lane in preparation for Phase II.
Phase II consisted of widening the inside shoulder from 4 to 10 feet to accommodate traffic detours during Phase III. Reconstructing the inside shoulder included removing 39,000 square yards of surface and stabilized base material, and then placing 64,000 square yards of 4.25-inch asphalt base.
Once the shoulder work was completed, Barriere subcontracted Resonat Machines Inc. (RMI) to rubblize the three concrete travel lanes. The left travel lane and half of the center travel lane were rubblized then overlaid with 64,200 tons of a Superpave Level 3 binder course.
With traffic then redirected to the left portion of the roadway, Barriere then began Phase III, with RMI rubblizing the right travel lane and the remaining center travel lane. Once completed, paving crews then placed 47,600 tons of a Superpave Level 3 (1-inch aggregate) binder course, which was used as a leveling course, over the rubblized base.
Phase IV consisted of installing two 2-inch lifts of Superpave (97,000 tons) over the entire eastbound and westbound travel lanes as well as the expanded shoulder lanes. A Superpave Level 3 binder course with a PG 76-22M was used on the travel lanes, and topped with a Superpave Level 3F (3/4-in. aggregate) wearing course containing PG 76-22M. On the inside and outside shoulders Superpave Level 1 (1-in. aggregate) binder course and Superpave Level 1 (1/2-in. aggregate) wearing course with PG 70-22M were used.
Aggressive schedule from the beginning
The Louisiana Department of Transportation required a project scope of work and contract time (A+B value) bid on the project, valuing early completion at $15,000 per day with maximum early completion incentive capped at $600,000. The state also estimated the contract value at $20 million with a maximum allowable number of 510 calendar days to complete the project.
Barriere submitted and was awarded a $24.2-million contract with its aggressive completion schedule estimate of 210 calendar days. Barriere began work on the project on May 30, 2006 and finished the project in late October, completing the project well before its contract schedule called for by a remarkable 70 days. The contractor self-performed over 70 percent of the labor required to execute the project. All paving work was conducted at night with two paving crews working six nights per week supplied by Barriere's two asphalt production facilities. The paving crews were outfitted with two CAT AP1050D pavers, two Roadtec SB2500C material transfer vehicles, six CAT CB534D rollers, two CAT CB534XW rollers, a CAT PS150C pneumatic roller and a Hypac C530A pneumatic roller. All other work was conducted during the day during this 24-hour, six-days-a-week aggressive project schedule.
"We knew we had to submit an aggressive construction schedule in order to win the bid because of how important this section of interstate is to the state and the City of New Orleans," says Matthew Woods, Barriere project manager. "We also knew we had to execute an aggressive schedule to complete work prior to the upcoming hurricane season and to coordinate with other major projects going on at the same time. We also knew one of our greatest challenges would be having enough people to do the work."
A significant portion of Barriere's labor force was displaced by Katrina and the company provided temporary housing and financial assistance for workers who had no where to return because of the damage their homes sustained. Barriere had to aggressively recruit replacement workers and their production and field crews are now close to 100 percent.
Barriere also had allocate all available resources to fill the demands this project would require, from production of its two HMA plants to transporting the tonnage required to the jobsite. Barriere worked closely with two local trucking companies to make sure that the 60 trailers that were needed to feed both paving crews during peak production would be there.
Quality still paramount
Early completion was the primary goal of initiating an aggressive work schedule on the I-10 project, but quality remained high on the priority for the crews performing the work. Barriere has worked diligently in developing asphalt specifications that produce high-quality results that are incentivized whenever certain quality criteria are met, such as: asphalt density, smoothness and percent air voids from the production mix.
Barriere's two asphalt production facilities proved vital in propelling the project forward and ahead of schedule. Each plant, one in Boutte and one in Franklinton, needed to maintain enough inventory to satisfy the fast-paced project, as well as provide for the normal daily demand from other paving crews. The production incentive portion of the state specifications is tied to the percent of Air Voids of the mix designs produced for the project. Each plant not only kept up with the high-volume demand, but also met the incentive specifications.
Barriere's quality control manager reviewed all mix designs specified for the project, including the aggregate size and percent asphalt and its effect on mix temperature. Density requirements as outlined by the state's "percent within limits" guidelines were used to establish appropriate roller patterns.
Some compaction adjustments had to be made on a portion of the project due to subbase conditions that affected the smoothness objectives. Barriere added a rubber-tire roller to its rolling pattern to help alleviate the effect of the poor subbase conditions. This change allowed the contractor to maintain density specifications and also achieved the desired smoothness objectives.
Barriere met or exceeded all three criteria for acceptance and incentive (mix air voids, density and smoothness) for the project, making asphalt producer/contractor eligible for 80 percent of the maximum incentive offered by the state, which is expected to be over $260,000. The company also expects to receive an approximate $600,000 early completion incentive for finishing the project 70 days ahead of the 210-day bid.
"The Barriere team has been committed to the safe and efficient building of this project," Woods says. "Our planning to mobilize the project quickly in preparation for peak hurricane season, while avoiding conflicts with the other projects scheduled nearby, made this a great experience for our local and state representatives."