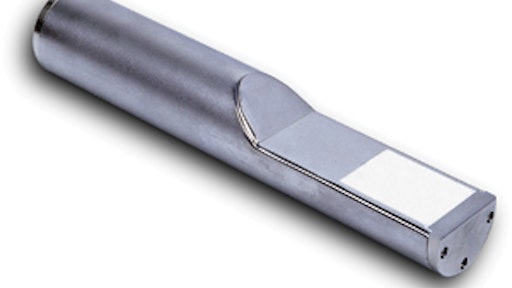 Hydronix Hydro-Probe II
The Hydro-Probe II digital microwave sensor is for on-line measurement of moisture in free flowing aggregates on conveyors, or in bins for asphalt production.
Robust housing and hard-wearing ceramic face
Simple to calibrate
Easily connects to control system
American Highway Products I.D. Locator
American Highway Products' I.D. Locator pops up after paving to easily identify utilities.
Developed from a new recyclable elastomer, which adheres to any surface and pops up after being paved over with up to 5 inches of asphalt
Ends time-consuming painting and measuring
Prevents inaccurate post-paving searching procedures
Replaces costly surveying and marking
Protects against expensive damage to covers and caps
BLS TUFPADS Blues
The new TUFPADS Blues from BLS Enterprises are available in the original bonded to a triple grouser style and the new bolt-on to a triple grouser style.
BLS Poly Bolt-on TUFPADS track pads bolt directly to the pre-drilled triple grouser of asphalt pavers and milling machines
Easily removed and installed
Steel grousers are reusable
Now standard for all new Roadtec milling machines
Troxler Model 3451
Troxler Electronic Laboratories' Model 3451 moisture density gauges measures moisture and density of soils, aggregate, asphalt and concrete.
Includes an on-board Global Positioning System (GPS) and a wireless Personal Digital Assistant (PDA) user interface
Measure the density of asphalt overlays from 1 to 4 inches without influence from underlying materials
Backscatter density measurement mode for full depth asphalt
Direct transmission for lifts of soil, soil aggregate and stone up to 12 inches
Gilson SP-55 Quartermaster
Designed to handle large samples required in Superpave specifications, Gilson's SP-55 Quartermaster divides any hot mix asphalt samples for quality control analysis.
Field samples of 120 pounds are quickly reduced
Large hopper reduces handling of hot material between procurement of initial field sample and production of lab samples
Rugged steel construction
Komatsu WA380-6 Wheel Loader
The WA380-6 is equipped with the latest Komtrax technology which sends the machine operating information to a secure web site utilizing wireless technology.
191 net hp SAA6D107E Komatsu engine meets Tier III requirements
Operating weight between 38,760 and 39,260 pounds
General-purpose bucket capacity of 4.3 cubic yards
Dumping clearance of 9 feet. 8 inches with standard bucket
Two selectable operating modes to adapt to working conditions
Terex Load King SA70
The 70,000-pound SA70 hydraulic sliding axle trailer includes a 12,000-pound line pull winch (20,000-pound optional) and a 6.5-degree load angle.
15-degree dump angle
20 D-Rings and multiple chain slot design
Features 80/100 KSI steel, cambered deck beams, crossmembers on 8-inch centers and Apitong decking
Hendrickson Turner HT air ride suspension
Asphalt Zipper AZ-500
The Asphalt Zipper AZ-500 harnesses the power of large recycling machines in a portable attachment.
Easily connects to the bucket of most loaders or backhoes
Transports on its own trailer behind most pickup trucks
Pulverizes asphalt up to 12 inches thick into 1-inch minus reusable material
Opens up to 300 linear feet of 48-inch-wide trench in as little as 20 minutes
Produces a straight, scarified edge
Companies in this article