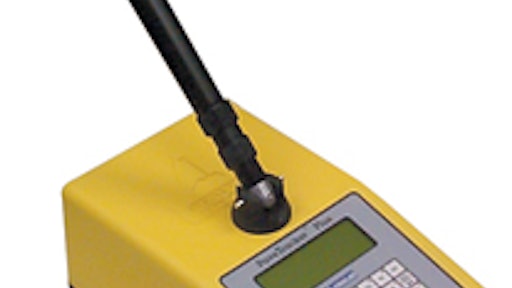 Troxler PaveTracker Plus
The PaveTracker Plus electromagnetic sensing device measure the dielectric constant of an asphalt pavement, slab or specimen and relates that constant to the material's density.
Quick indication of pavement segregation, areas of low density and overall pavement uniformity
Precise readings up to 1.5 inches on recently laid hot mix asphalt
Improved sensor cover features simple, self-adhesive disc design using upgraded materials; easy field replacement and installation; and cost-effective replacement kits
Bobcat High-Flow Planer
The Bobcat high-flow planer attachment is designed to mate uneven pavement surfaces, cut drainage in parking lots, perform street repairs and cleanup around larger milling machines.
Low maintenance
Side-cutting bits decrease drum binding in the cut and produce a vertical edge that improves the joint bond between a layer of asphalt and the existing layer
Hydraulic side-shift for planing close to walls and curbs
Anton Paar SmartPave DSR
The SmartPave from Anton Paar is a dynamic shear rheometer (DSR) combined with a new Peltier heating system.
New easy-to-use software
Fully automatic temperature calibration (no water flow around sample)
Fast Peltier heating and cooling
Fabick Poured-On Liner
Poured-On high-impact liners offer a durable, protective coating for your truck bed or trailer.
"Poured-on" technology offers a mirror smooth finish for cleaner, faster load release.
Takes up to 350 degrees including asphalt
Self-leveling liners — airtight and waterproof
No bolts, no holes — entirely seamless
Bonds directly to steel and aluminum
Sirocco 3K HTI from Airstar America
The Sirocco 3K HTI from Airstar America is designed to replace traditional floodlights on light towers.
Glare-free light
Can be adapted to existing tower
Will illuminate 72,000 square feet, 360 degrees with 300,000 lumens
Geneq Micro-Deval Apparatus
Geneq's Micro-Deval Apparatus evaluates the abrasion in presence of water for coarse and fine aggregates.
Tests the resistance of fine and coarse aggregates to degradation by abrasion
Available models include the one, two or three tier
Standard with jars, balls, timer and magnet
Available with electronic controller
Citrus King
Citrus Depot offers Citrus King tar and asphalt remover.
Non-toxic, biodegradable and 100-percent natural
Quickly and easily cuts through heavy tar, asphalt, black mastics, adhesives, wax, grease, gum, oil and other hard-to-remove substances
Extraction testing solvents and odor control products also available
Trail King Advantage Series Asphalt Trailer
The Advantage Series Live Bottom trailer deliver over 2,000 pounds more payload than previous trailers.
Lightweight, modular, high-strength design
36-inch, heat- and oil-resistant, two-ply rubber continuous belt moves entire load to rear for discharge
Options include manual and electric tarp systems, various tailgates, multiple-axle configurations, air- ride and air-lift suspensions and a 102-inch-wide body
Companies in this article